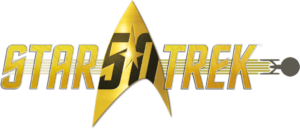 This month marks the 50-year anniversary of the classic Star Trek series.  The story of the starship Enterprise, first envisioned by Gene Roddenberry, and its five-year mission to "explore new life and new civilizations" has endured for five decades – spurring numerous TV series, nine movies (and counting), and a throng of Trek conventions. It's also inspired a new generation of people to pursue the stars as scientists, astronauts and engineers.
As a writer born in the year of the Apollo landing, I have pursued my own passion for space, covering technology and space trends for the satellite industry. In April, I watched from Cape Canaveral as a SpaceX Dragon  rocketed into orbit on its mission to resupply the ISS. Within minutes SpaceX successfully landed the first phase on a drone ship.
Organizing a Birthday Worthy of a Vulcan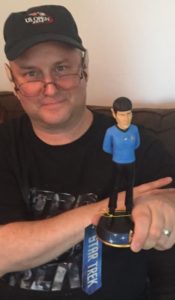 Fortunately for me, I married a Trekkie who had the good fortune to turn 50 recently. I marked my husband's special day around our beloved series, complete with a "Live Long and Prosper" birthday cake, Spock ears for the guest of honor and party guests who got into the spirit by wearing T-shirts and even costumes in homage to the show.
It was so fun, replacing my spouse over the face of Kirk in the famous Spock death scene in "Star Trek II: The Wrath of Khan," when he utters the famous words, "I have been and always shall be your friend."
I pulled together a Captain's log for everyone to sign, and handed out "irradiated tribbles" as party favors for the youngest celebrants.
Meeting Captain Kirk
The next weekend was Dragon*Con, the world's largest fantasy/SF convention, held annually in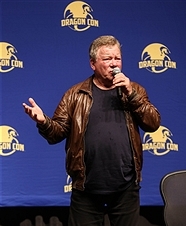 Atlanta, and whose guest of honor the last day was none other than Captain Kirk himself – William Shatner. My sister and I attended his standing-room-only talk, where he shared some of his recent activities, including working on "The Truth Is In the Stars," a feature documentary   currently in production expected to be out by the end of 2016. The program poses the question of whether our society has the capacity to live up to Star Trek's optimistic, inclusive vision for humanity's future.
Shatner examines the impact of Star Trek on popular culture, human innovation, discovery and creativity through one-on-one interviews with famous innovators, celebrities and politicians. He told Dragon*Con attendees about his conversation with Stephen Hawking, the world's most famous theoretical physicist, who also is a big Star Trek fan.  A sufferer of ALS, Dr. Hawking has no muscle control, so talks using a small sensor activated by a muscle in his cheek. He uses this sensor to 'type' characters and numbers on his keyboard.
Shatner recalled how when Hawking asked him to share his favorite episode of Star Trek, his first reaction was to admit that he hardly remembers individual  shows, but then he thought more and realized that it was "the ones that expressed those brilliant ideas that tackled social issues like the stupidity of racial hatreds." Shatner pointed to the episode, "Let That Be Your Last Battlefield" when two aliens from the same planet are differentiated due to one being black on the left side and white on the right and the other being the opposite.
"These stories appeal to our senses – these are the most powerful because they are based on something human," he says,
Shatner then asked Hawking to share his favorite episode, to which he responded not too surprisingly, "Anything to do with black holes."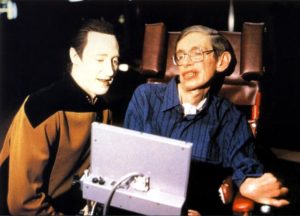 Interestingly, Hawking is the only person to ever play himself on Star Trek. In the Star Trek: TNG episode, "Descent,"  Data, Albert Einstein, Sir Isaac Newton, and Stephen Hawking are playing poker.
Shatner demonstrated his humor and seemed to really enjoy his interplay with the fans during the Q&A session. When asked if Kirk had ended up with one woman in Star Trek, whom would she be, he responded, "Given Captain Kirk's proclivities he would have liked to have ended up with all of them."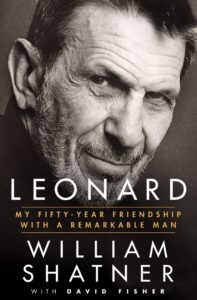 When the Q&A turned to his long-time collaborator, Leonard Nimoy, Shatner shared that he, like many men, struggled to have close male friends, and how their relationship grew over many years.
"He was my best friend," he said, recalling how a heartfelt friendship developed and grew when the two actors' paths continued to cross even after Star Trek was cancelled but then gained new life in syndication, which led to films and convention appearances.  Shatner said he wrote the memoir, Leonard,  in honor of their 50-year friendship, soon after Nimoy's death in February 2015, to get as many memories down as he could.
Watching Spock Documentary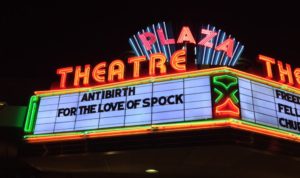 My husband and I capped off our month-long Trek lovefest by heading to the screening of "For the Love of Spock,"  a documentary and moving tribute to Nimoy written and directed by his son, Adam, which he funded through Kickstarter.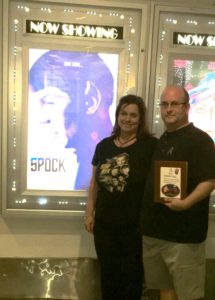 The screening, at the Plaza Theatre, Atlanta's landmark and the city's longest continuously operating movie theatre, was the perfect backdrop given its vintage feel. The documentary shed light on Nimoy the man, including his work ethic and family struggles.
I found the interviews with the elder Nimoy toward the end of his life especially moving as well as the many tributes from the original show and present-day cast of Star Trek, including filmmaker JJ Abrams.  Walter Koenig, who played Chekov, recalled how Nimoy stepped in when Koenig, Nichelle Nichols and George Takei were not cast in the 1973 animated Star Trek series.  Noting that the spirit of Star Trek was embracing diversity, and that the very cast members who most signify that diversity were being excluded, Nimoy refused to participate unless they were included.
There were many other behind-the-scenes tidbits revealed during the film, including the origin of the Vulcan greeting, which Nimoy devised from a letter of the Hebrew alphabet.
I knew how hard Nimoy worked throughout his career, how seriously he took his craft, and the long hours spent on set and doing appearances.  Nimoy was the only actor kept when NBC rejected the original pilot, "The Cage," as "too intellectual."  NBC was interested enough in the concept to give Roddenberry the go-ahead to try again with a new cast that included Shatner as captain in place of Jeffrey Hunter.
During the documentary viewers see an excerpt of Nimoy laughing as he read the original Variety review of the show, which dubbed "Star Trek" a "dreary mess of confusion" and called Shatner's performance "wooden" – hardly the description people use to describe Captain Kirk.  Overall, this documentary is definitely worth a viewing for those who loved the series and the character of Spock.
As for me, after catching up on some of my favorite episodes on the Star Trek marathon shown on the BBC America channel, I have resumed my normal routine with many fond Trek memories.
Thanks, Roddenberry, for your brilliant storytelling vision. It's been quite a voyage!
Save
Save
Save
Save