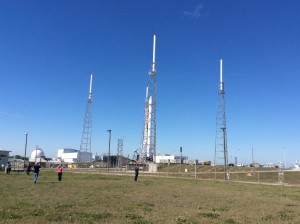 The Writing Well celebrates storytelling in all its forms, and I am thrilled  to post a unique blog  with some of the social media "storytellers" invited by NASA to observe and report online during the April 8th SpaceX  launch of its Dragon Falcon to the International Space Station, SpaceX's first launch of 2016.
Of course, it was SpaceX's experimental drone ship landing  of the first phase — a feat that had been attempted before but succeeded for the first time last Friday — that created just as much excitement and with good reason: it paves the way for developing reusable, lower-cost spaceflight since future missions in deep space will depend upon a sea-based landing.
"It's another step toward the stars," said SpaceX founder Elon Musk during a post-launch press conference at Kennedy Space Center.
For those of you who are not space enthusiasts, take note:  NASA and private-sector space innovators are entering into a new and exciting chapter, one that fosters collaboration and hopefully successful outreach beyond low earth orbit to Mars and beyond.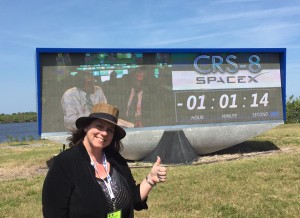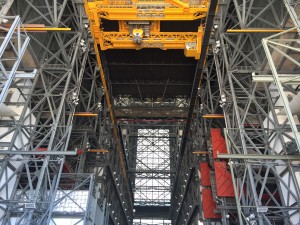 I was one of several bloggers and tweeters invited to take part in a "NASA Social," a special behind-the-scenes opportunity sponsored by NASA's social media team to experience the launch, tour key facilities and talk to some of the space agency's best and brightest.  On Friday afternoon we found ourselves on the NASA Causeway  a little over two miles from the launch pad as the Dragon rocket roared into a perfect blue sky – and made history minutes later with the historic landing at sea of its first phase.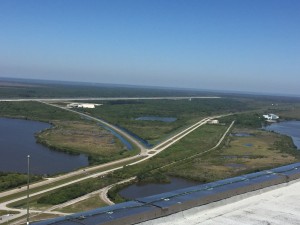 Before the launch we had the opportunity to tour Kennedy Space Center's famed Vehicle Assembly Building, or VAB, where engineers assemble large space vehicles. We headed several stories up to the roof where we enjoyed a breathtaking view of Cape Canaveral and took video and pictures of the launch pad.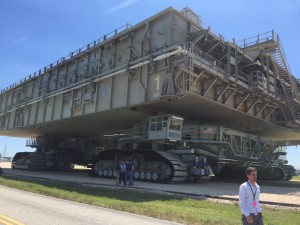 We also got up close and personal with NASA Crawlers, the 50-year-old giant transporters that have carried shuttles and rockets since the Apollo era from the VAB to the launch pads at Launch Complex 39. We learned how they are being upgraded to handle the additional weight requirements of future launches.   We also heard from scientists, engineers and astronauts who are shaping NASA's next chapter and the future of space exploration.
We gained a richer appreciation of the agency's focus on supporting private partners like SpaceX to build the capability to support space exploration beyond low earth orbit. Who can't wait to see the first launch of Orion in 2018 and follow its mission to take human exploration to Mars?
Below is a snapshot of a some of the bloggers, tweeters and YouTubers from across the country who I met and who are helping tell the new story of NASA and SpaceX to an increasingly excited public.
********************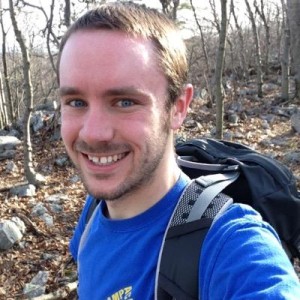 Brian Lada, Meteorologist and Journalist for Accuweather
City: State College, PA
Social platform of choice:    Twitter  / @wxlada
"I loved space as a kid. Growing up I wanted to be an astronaut. I loved watching all the rocket and shuttle launches on TV, but when it came time for college, I decided to go for meteorology because my other passion is the weather.  Fortunately, I can pursue my passion for astronomy as well. I help to manage our astronomy Facebook page and I talk about space all the time on my Twitter. Down here I am fulfilling my childhood dream of seeing NASA, meeting NASA, watching a space launch while still being in my weather world. I was sponsored by Accuweather and am reporting live from the ground for the company."
"The one message I want to leave with my social media followers is Just how much weather can affect launches. I've been nervous the last few weeks about the winds and the probability of postponing the launch. Everyone is down here for this one day and if the weather is wrong, a lot of people are going to miss out. Fortunately, it is looking good."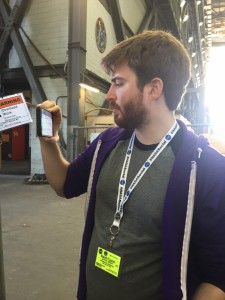 Matt Anderson, Live Broadcaster, Twitch Interactive, Owner, Bad News Gaming
City: Dallas, TX
Social platform of choice: Twitch   @thebadnewsbaron
"What excites me most is seeing people get excited about space.  It's been amazing. There's been so little energy around the space program for a long time in the U.S. and it seems like that's starting to come back again. SpaceX is starting to kick that into gear again a little bit, and a lot of entertainment media has brought that back, and what we saw with the Orion project I think will be absolutely astounding when it's finished."
"The one message I want to leave with followers is that the future of the space program is so incredibly bright – there is so much to look forward to with the technology that they are working on."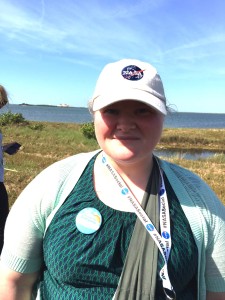 Kelley Rowe, Data Integration Specialist, Madison Children's Museum
City: Madison, Wisconsin
Social media platform of choice: Facebook
"The most exciting part about being here is just getting to see the rocket launch in person and also I've heard that the roar from the engine you can feel even at this distance is kind of indescribable and can't be experienced in any other way than seeing and feeling it for yourself.  That being said, everything we've done – the exclusive access to  the Vehicle Assembly Building, everything we've seen on our tour,  getting to go on the rooftop, getting to see the crew module being worked on for Orion, how can I pick a favorite from these really incredible and amazing experiences?"
"My one message to my followers is that I hope that they become aware of what's out there – of the opportunities that especially STEM presents of what the U.S. and our space program is capable of, what they are capable of.  We've had some amazing interviews with NASA staff people who talked about dreaming of being involved in the space program since they were 5, 8, 10 years old. I hope our followers who are children are exposed to maybe something that they didn't realize existed before, or hadn't understood the scope of before and that somehow galvanizes or inspires them."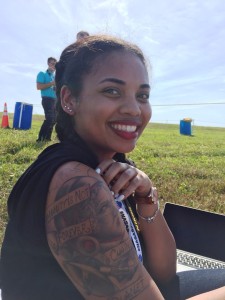 Kayla Robinson, College student majoring in engineering /insurance agent
City: Virginia Beach, Virginia
Social media platform of choice:  Instagram  @kaylajdr
"My dad had me into space since I was a kid. This is what I want to do. It's been great, meeting different NASA workers, getting the inside scoop on what it takes to work here in the future.  For the past few months I've been thinking about going to school around here. Just being in this area and around this kind of environment makes me want to come even more.
"It's really important for the general public to get into space and science – the American people are the ones who will be funding the federal program and will support all the private industry efforts—and that kind of broad support is going to get us to where we want to go."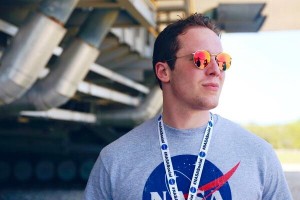 Jake Counselbaum, social media consultant
City: Chicago, Ill.
Social media platform of choice: Twitter /@jakecbaum
"What excites me most about space is the thought that we are not alone! Being at the SpaceX launch was an incredible opportunity to see the next generation of space travel, sustainably, reusability and exploration."
"The one message I'd leave with my followers is this: keep using social media to impact people, not to just impress them."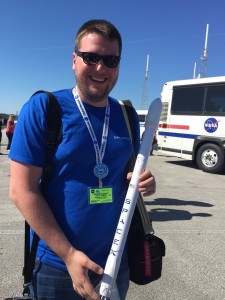 Brandon Thonen, Photographer, Disney Digital Marketing
Orlando, Fla.
Social platform of choice:    Twitter   /  @HipeRFin
"What excites me about space is [the idea that] we have yet to reach the farthest we can go. There's always going to be a further point.  The best part about being here today is being the closest I've even been to a previous launch. I usually watch from the crew ships."
"My one message to social media followers is how impressive and massive every different part of NASA Kennedy Space Center truly is – no matter how many photos I take, it will never make up for it."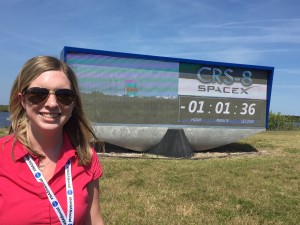 Ashley Demers, Software developer, Application Development Branch, IT, NASA Kennedy Space Center
City: Titusville, Fla.
Social Media Platform of Choice: Twitter /@ashley_demers
"What excites me about space is the ability to inspire and the ability to do research that you can't physically do on the ground, the ability to learn more about our universe – there's nothing you can't love about space exploration.  I am very excited to be a part of this group, see the launch and go on the Vehicle Assembly building roof. Going on the roof is not something employees can easily do.
"The message I want to leave with my social media followers is that NASA is active, alive; we're doing amazing things and all the science that's going to be accomplished on this payload is going to be amazing. We're doing really cool things."
Jeff Dunn, Education and Outreach Manager, Google
City: Mountain View, Calif.
Social platform of choice:   Google+ / @googleforedu
"The best  part about space is it's our future whether we like it or not, and there are both for-profit companies and governments working together to develop an actual future that we can all live in and keep us safe and not extinct.
"The best part of being here is that I got to meet a lot of interesting people both from NASA and via social media — I look forward to keeping that conversation going. Just seeing the passion from everybody has been overwhelming…you see it on webcasts, you see it on hashtag chats, but it's nothing like seeing it in people jumping up and down as a rocket blasts off in front of you.
"My one message to social media followers is to get excited about the new opportunities for invention and exploration."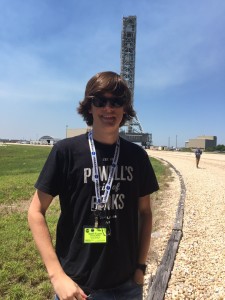 Carter Dempsey, High school senior
City: Orlando, Fla.
Social platform of choice:   Twitter /@carterdemp
"What excites me about space is Just the idea of people living there every day and the possibility of being to another planet and just being self-sustained and getting to the point where there's constant missions back and forth.  The commercialization of space is really cool — seeing people get more interested in space.
 "My one message to my social media followers is that I hope they would be more interested in the future of space – and just in science in general."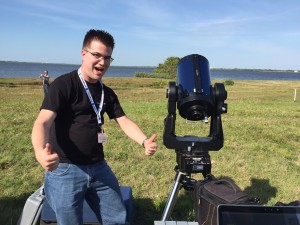 Scott Ferguson, Neuroscientist, software developer and astronomy hobbyist
City: Tampa, Fla.
Social platform of choice:   YouTube
"I grew up in Titusville and saw a ton of launches.  I've seen some bad launches and some good launches.  I was sitting on my front lawn when Challenger exploded. That was a bad day, but today was a great day. It was the best launch I've ever gone to.  Another highlight was getting to stay on top of the VAB – I'll probably never get to do that again. That was an incredible experience.  That was just an amazing view – words can't do it justice. 
"In terms of social media, I hope to inspire young people to pursue math and science, and show what human effort can accomplish – and what we can accomplish when we work together. I think [the launch shows how far America can push the space industry and push forward with new innovations – when we unleash unbridled capitalism into the space program. What's SpaceX is doing is really incredible and [their latest launch] proves they are really leading the competition in lowering space costs and that's going to change the whole ballgame, I think, for spaceflight in the future."
____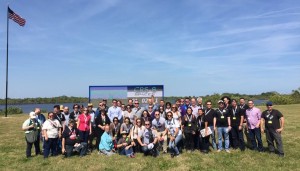 More Reading

Check out my blog Q&A interview with "Orphans of Apollo" filmmaker Michael Potter.
Read my Via Satellite article on the 'SpaceX effect' in the launch vehicle market.
Check back with The Writing Well for more insights from my time at NASA Kennedy Space Center.