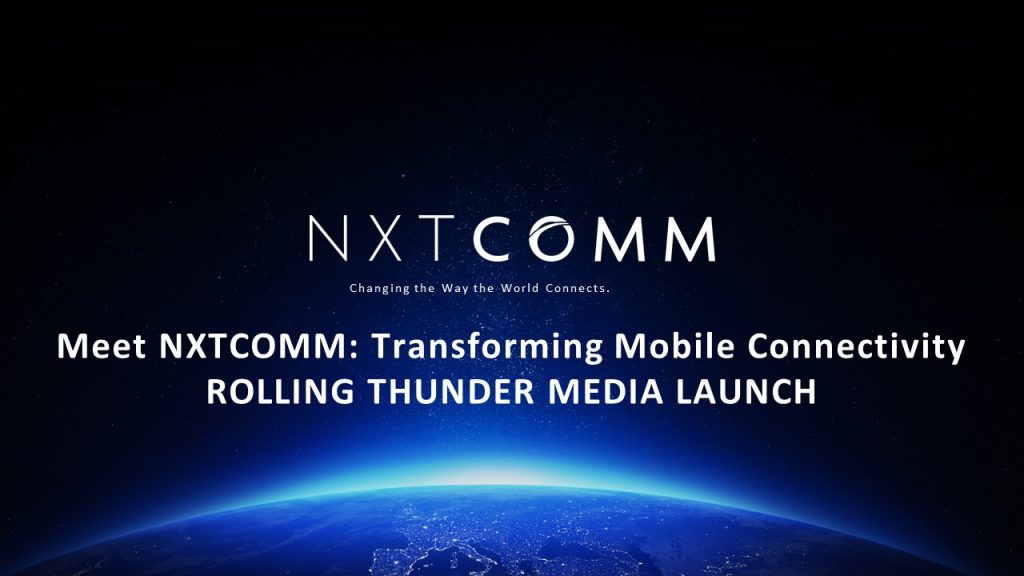 The Challenge
NXT Communications (NXTCOMM) is on a mission to bring proven, affordable connectivity technology and services to broadband mobility markets.
But, how best to reach satellite and aviation decision makers and ultimately future partners and investors when the world was consumed by a global pandemic that had stalled air travel? Adding to that challenge was the fact that the satellite industry and aviation market was understandably skeptical of any antenna firm claiming it has solved the last-mile ground segment challenge.
The Solution
We timed the NXTCOMM "Rolling Thunder" launch campaign in mid-June, when the market was ready for post-Covid growth and innovation stories. Our media strategy included both traditional news releases and thought-leadership blogs shared on the company's LinkedIn and Twitter channels that clearly articulated what made NXTCOMM's antenna unique and game changing.
Before the main media push, we published a thought leadership blog article by a broadcast satellite pioneer and company adviser who introduced NXTCOMM to the market.
Then we conducted a pre-launch analyst briefing with a leading satellite analyst firm that resulted in NXTCOMM being featured as an emerging antenna player in the firm's  Flat Panel Satellite Antennas 5th Edition Report.
Then — in quick succession — we issued four strategic news releases over PR Newswire that effectively put NXTCOMM on the map as an innovator to watch.
We also developed custom pitches to top aviation, satellite and microwave publication editors and local Atlanta business press. The resulting interviews gave NXTCOMM leaders the opportunity to communicate the company's antenna benefits and features compared to current phased array antenna approaches.
Our news highlighted:
Our collaboration with Georgia Tech Research Institute to bring its proven aperture to the commercial market
Our CTO appointment of a top satcom antenna industry veteran
Completion of the first antenna design for the aero market
The opening of a production facility in metro Atlanta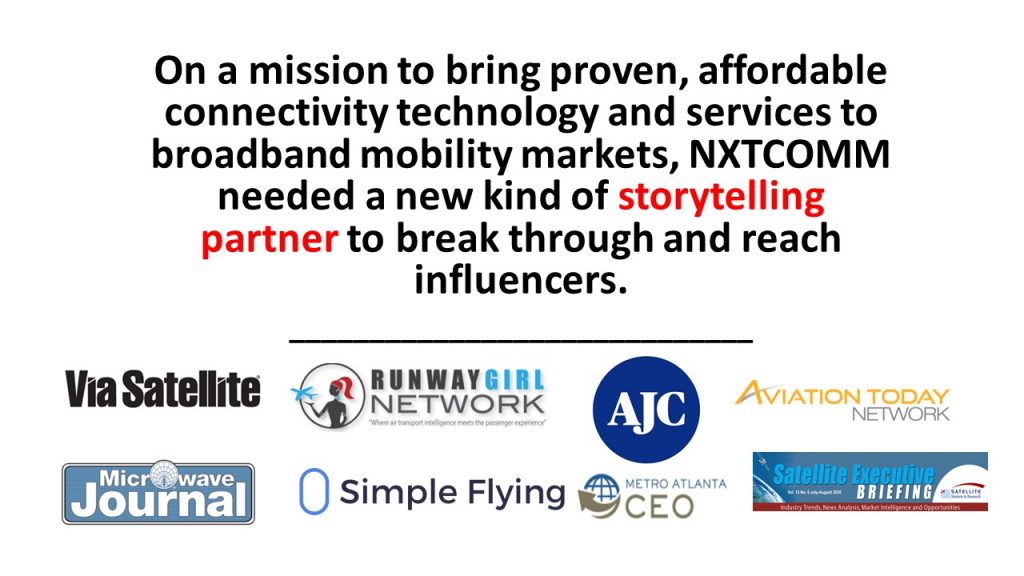 The Impact
Our launch efforts resulted in a massive jump in brand awareness of NXTCOMM as an innovator that will help enable global broadband on the move.
We secured pick up in nearly 500 news outlets, 15,000 views and hits, 5,045 multimedia downloads and 1,165 engagements, including interviews in major aviation and satellite publications, such as  Runway Girl Network.
NXTCOMM's LinkedIn page saw nearly a 400% increase in unique company LinkedIn page visitors, over 450% jump in page views by desktop users and 286% by mobile visitors (May-June 2020).
More importantly, the company received 200 job inquiries, including 60 from engineers, and interest from investment banks, private equity firms, the U.S. Executive Branch, satellite operators and aerospace and defense firms.
Communication Excellence Recognized
NXTCOMM's media team recently received the International Association of Business Communicators' Atlanta chapter 2020 Golden Flame Award.