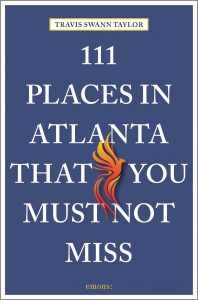 Today's new Covid reality of social distancing doesn't mean you can't explore your city's treasures —  just ask first-time book author Travis Swann Taylor, author and photographer of 111 Places in Atlanta That You Must Not Miss. His 2020 vibrantly illustrated book is part of the popular 111 Places series first launched by German regional publisher Emons Verlag in 2008 and that today includes over 500 titles produced and distributed in German, Italian, English, and French.
I had the honor to attend Travis's book launch on Sept. 2 at the Booth Western Art Museum in Cartersville. He and I share a love of history, books and blogging (not to mention space), and of course, Atlanta! When my own Atlanta book was published in February 2016, Travis was the first blogger to feature it on his Atlanta tourism blog, www.wanderlustATLANTA.com.
Not surprisingly, Travis doesn't take you to typical tourist sights (think Georgia Aquarium and World of Coca-Cola). Instead, he uncovers Atlanta's historic and eclectic destinations that are off-the-beaten path even for locales, engaging readers with fascinating back stories that bring these pieces of Atlanta's identity to life. Many of the places are found outside — making them easily accessible and Covid-safe. Below, Travis shares his writing journey, including what he found most challenging and surprising on the path to writing his first book.
Q. You mentioned at your launch that writing a book has long been on your bucket list. How did this come about?

Travis: We moved around a lot when I was a kid. Actually most of my life until the last 10 years, but as a kid, the only way to stay in touch with friends that were left behind was to write letters, and taking so long to make new friends in a new town gave me plenty of time to write friends in towns and cities where we'd left other lives behind. I remember writing when I was a kid with great fondness. It was probably Ray Bradbury who was the first to unknowingly encourage me to write a book. The first book I read cover to cover was his collection of short stories, "The Illustrated Man", thanks to a caring, compassionate middle school librarian who knew I was bullied by my 6th grade teacher. I've loved science fiction since. Later in life I discovered a new level of passion for writing during a career in Corporate Communications, requiring many styles of writing for many audiences. I absolutely loved it! I've always hoped a book was in my stars.
Q.Publishing in the tourism genre must be challenging in the middle of Covid. What's it been like to have a 2020 release?
Travis: There is plenty I could say about 2020 but allow me to focus on the positive that's relative to writing, publishing, and marketing a book right now. Actually, now can be viewed as the perfect time for this book to come out! People are not traveling long distances as much right now, but things are opening back up locally and we are all a bit anxious to get out and have some fun, right? "111 Places in Atlanta That You Must Not Miss" is perfect for planning a 'staycation'! A great many of the places in the book are open (or never closed, such as monuments) and others are re-opening in various capacities. I certainly encourage anyone who goes out to please do so safely. Things will get better and this book makes a fantastic holiday gift, birthday gift, or a wonderful 'Welcome to Atlanta' gift! You don't have to see everything immediately and there's a lot of interesting content—it's more than just a what and where book—there's a lot of interesting factoids, histories, stories, and connect-the-dots than I would have ever realized. This series also offers its #111PlacesChallenge. When you visit 50, 75, and 111 places in the book, you can win guidebooks for other cities around the world! Check out the website to sign up. I have had at least one person who signed up for the Atlanta Challenge within days of its release!
Q. Atlanta is a wonderful place filled with so many great places to explore. How did you narrow down your must-see list to only 111? What is different about your approach? Editorially, stylistically, content-wise? 
Travis: There certainly are considerably more than 111 places of interest in this magnificent city of ours! This book is part of a global series of guidebooks. There are approximately 400 books in the 111 Places series, about 95 of them written in English. I have a half dozen in my personal collection already! The books are written first for locals and then for the seasoned traveler. It is filled with hidden gems, not so well-known places, and places with fascinating stories. There are even a few places that are popular tourist destinations, but those are written about through the lens of something at the place that even locals may not know about. The books include places that are geographically dispersed throughout the city they are about—mine covers Metro Atlanta, not just the City of Atlanta. I personally do not feel you've truly experienced the real Atlanta unless you've explored ITP and OTP—that's to say inside the perimeter (I-285) and outside the perimeter. About 10 percent of the places in my book are OTP.
The type of places are varied as well. There are a few restaurants, a few parks, a few monuments, a few statues, a few theatres, a few museums, and quite a few things that I hope people find totally unexpected! When I was contracted to write the book, I already knew of a lot of places I wanted to include.
I've now written my blog, www.wanderlustATLANTA.com, for more than 10 years. Then there was the research for other places to include. So. Much. Fun!  I compiled the list from places in my blog, from research at the Kenan Research Center at the Atlanta History Center, old newspaper articles (some incredibly old), actual visits, and interviews with owners or executive directors at places. The research was quite extensive!
Fairly rare for this series, I'm the author AND photographer of this book. Being the photographer for this book was the icing on the cake. That has given me as much joy as being a first-time published author. Photography is as much a love, if not a bit more, for me as writing.
Q. Anything you learned about Atlanta that you didn't know before starting this project?
Travis: Having written my blog, wanderlustATLANTA  for more than 10 years, I thought I knew Atlanta rather well. Stop the presses! I learned so much more

in the year it took me to write the book than I have learned living here now 25 years. And now I realize that there is so much more to learn even beyond what I have discovered so far.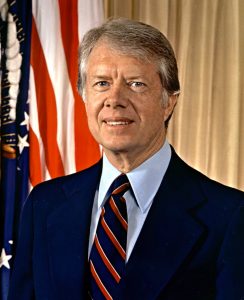 I did not know of the multitude of U.S. presidents who have lived and worked here, have had friends here, or have visited here for a wide variety of reasons. I did not know that Hardy Ivy Park in downtown has been home to so many historical icons for Atlanta or even who Hardy Ivy was (one of our earliest settlers) and that his home once stood where John Portman's Marriott Marquis now stands. I did not know we have so many observatories for viewing the night skies. I did not know that Ray Charles sang "Georgia on My Mind" in the Senate at the Georgia Capitol Building before it became the State Song. Yes, to answer your question, there is a lot I did not know before I wrote this book. I hope you and your readers find it as fascinating as I do.
Q.  As a first-time book author, what have you learned about the process of writing and now marketing your book? Any advice for other new or wanna-be authors? What would
you have done differently?
Travis: I was warned by my editor and did not immediately heed her advice that "discipline" is the primary ingredient in writing a book. You can't procrastinate, you can't get so lost in research that you're not writing, you can't "think" you'll make up tomorrow what you didn't do today, and then still believe that you'll finish your book on time—and it be of a quality that you truly want it to be or that truly represents who you are. You must focus. Write and edit and rewrite. Focus. Focus. Focus. That said, if you're not having fun doing the research, the writing, the editing, the rewriting, more research, and more writing, then perhaps this isn't your cup of tea. But, if you find the anticipation of being back a your laptop almost unbearable, digging into the relevant details of what you're writing about—and sometimes you give into it and find yourself back at your laptop in the middle of the night or long before the rooster crows—then you've found something that you do indeed love doing.
I did not find any of the process tedious. I found that I merely had to have discipline. I had to focus. And when I did, I was having so much fun that the time passed like an H.G. Wells novel and when the time machine dials stopped, I could hardly wait to find a friend to share the fascinating lost history I'd discovered or the fascinating lens through which I could now tell an even familiar story.
The marketing part is much the same, but it begins with the writing and research. Much of the marketing will be done through the connections you make during the research and writing process. If you have friends in marketing and media—such as print, radio, television, and social media influencers—add those to all your new connections and then your marketing plan can almost write itself. The important thing to remember in the marketing phase is—like many things in life—you will only get out of it what you put into it.
Your publisher will do their part, but you as the author have the greatest power, the greatest opportunity to get the word out about all the words you wrote. As an author, you are not quite done when your book arrives at the bookstores. And you never know what the catalyst might be for your next book. Perhaps you will find it while marketing your current one!
Q. What do you hope visitors and residents take from your book? Who is your ideal audience? 
Travis: Much the same as why I have been blogging for more than 10 years, I hope to encourage locals to get out and explore their own backyards. To learn about their city. To become (even more) proud of where we call home. And then to then go forth and tell others of Atlanta's wonders. In my experience, oftentimes people tend to take visiting friends and family to the same three places every time they visit, which are usually the most popular tourist destinations in the city. Those are amazing and I highly recommend visiting those! But, on subsequent visits, show them the fascinating, the quirky, the surprising…there's a whole undiscovered city out there just waiting for stories to be told and retold around the world!
About the Author
Writing si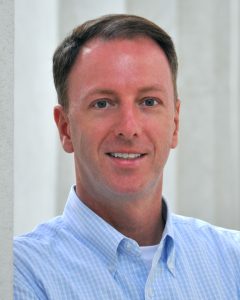 nce he could wield a pen, 
Travis
 Swann Taylor has an ever-growing sense of wanderlust and stories to share from around the world. A self-taught photographer, he has carried a camera since the age of 10. 
Travis
chose Atlanta to call his home and the focus of his 10-years-plus blog, Wanderlust Atlanta, and today, he continues to find awe and fascination throughout the city, which his first book demonstrates through his writing and photography.  Follow Travis on
Instagram
,
Twitter
and 
Facebook
.
Buy his book: