For today's author interview on The Writing Well, meet Ricky Steele, author of The Heart of Networking, the newest edition of his networking opus. Ricky illuminates, through memorable storytelling and plain-spoken prose, the true mission of networking – to build relationships and serve others.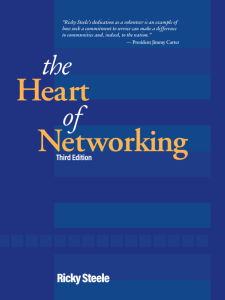 Written with first-hand stories and Ricky's legendary humor, the book is much more than a "how-to" of networking; it's a blueprint and philosophy for life – of how to change lives through networking. Ricky should know: he's leveraged his considerable connections to do good in the community.  In 1986, he founded Atlanta's Table, a program of The Atlanta Community Food Bank as a nonprofit organization that takes leftover food from restaurants, hotels and catering companies to places that serve folks who are hungry.
As founding chairman of Atlanta's Table, Ricky helped create "a perishable food rescue program that quickly became a model for cities around the country," said Bill Boling, founder and (retired) executive director of Atlanta Community Food Bank and founder and chairman of Food Well Alliance.
When Ricky came to Atlanta from small-town Georgia, he knew very few people. Within months, he was at the heart of the city's business community and, over the years, has built one successful enterprise after another, enjoying association with the likes of Accenture, Atlanta Braves, The Coca-Cola Company, Dell, Delta Air Lines, NCR, and PricewaterhouseCoopers, among many others.
As Allan DeNiro, former co-chairman of the Board for Chicago-based candy giant Brach, remarked, "Ricky Steele simply knows everybody."
Ricky's hard to miss – at 6'3 with a booming laugh and larger-than-life personality, he makes networking appear effortless. But it's a skill essential for success in life. Currently the chief development officer for Talent 360 Solutions, a boutique staffing and recruiting firm, Ricky sat down with me to share his latest book-writing journey, the role models who inspired him and what he hopes readers get out of his book.
Q: What made you decide to write The Heart of Networking, now in its third edition?
Ricky:  When I wrote the second edition of The Heart of Networking, I thought that was the last book; I didn't realize I would live this long or still be working at 70 years of age. I finally got to a place about two years ago, towards the end of COVID, that I realized we've been cooped up so long. We need to look at who we are as people. I met with my editor and started book number three in September 2021.
Q: Who are you trying to reach with Heart of Networking?
Ricky: The book works for just about anybody who can fog a mirror. If you're breathing, are a college student or a working professional, I believe you'll get something out of this book.
Over the years, I've advised college students that if they don't have at least 1,000 LinkedIn first connections between their classmates, their colleagues, their fraternity or sorority brothers and sisters, their professors and important alumni when they graduate, they should pay their mother and father back for every dime they spent on their college education. I don't care how smart you are, if you don't have a network, you're going to be the smartest person in the room without a job or business.
Q: What is networking at its core? Do people sometimes have an over-simplistic view of it?
Ricky:  Many people think networking is about boozing, schmoozing and patting people on the back. Networking is more about collaboration. The great companies you see across the world have figured that out and they are very open, honest and direct with a lot of interchange between the different department heads and their staff. The other part that is important to me is the humanity of networking – treating everybody with respect and love. One of the themes in this book is love, empathy and compassion.
Q: I've found Atlanta to be a special place to be an entrepreneur. What has it been like for you to build such a phenomenal network and successful career here in Atlanta?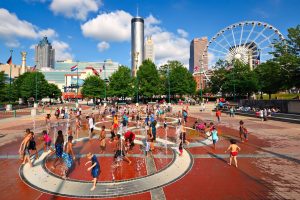 Ricky: Atlanta is a very collaborative city. There is this sense of humanity that we have in the Southeast that is unique and not common in other parts of the country. Many of the personal stories in the new book came about because of the collaborative nature of this city.  The collaboration is evident here both at the business level and in the non-profit world. One of the rites of passage in the city of Atlanta, if you're a C-level executive in any corporation, is you've got to give back to the community. You can't sit in your ivory tower and make a bazillion dollars and be well respected without being involved in the Atlanta Community Food Bank, the United Way, battered women's shelters, or other community not-for-profit programs. That is the ethos of what being in Atlanta is about. You've got to be a giver.
Q: Who has made the biggest mark on your life and helped inspire you to be a servant leader?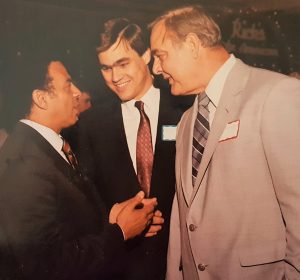 Ricky: Number one, my dad. He was a people person. Dad played football at the University of Georgia. He was also in the ROTC program and after graduation at UGA, Dad went to Fort Benning, Georgia for Officer Candidate School. During training, dad re-injured a knee that he had surgery on while playing football at Georgia. He was given a medical discharge from the Army in 1953 and stayed in Columbus, Georgia, for the rest of his life. Upon his discharge, Dad had no job, a wife and a six-month year-old son. Dad began selling insurance door to door and struggled to live on $200 per month. He built a decent portfolio over the next 50+ years because he worked his tail off and never met a stranger.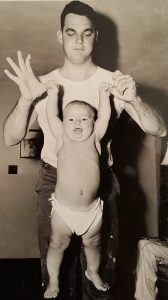 Dad was networking long before anyone had heard of networking or knew what it was. He met the mayor, the gas station owner, waiters in his favorite restaurants and he treated them all with respect and dignity. He was a man who never lived with a balled-up fist. Rather, his hands were always open to be able to give to others when he had the opportunity, but also to receive when he needed somebody else's help. That to me was a powerful life lesson.
My wife and I moved back to Atlanta in 1979, which was where I was born in 1952. I worked hard and in 1985, I was chosen to be a member of the Leadership Atlanta Class of 1986. During our second or third program, we had lunch together at St. Luke's Soup Kitchen. Our speaker after lunch was Mr. Bill Bolling, the founder of the feeding ministry at St. Luke's as well as the Founder of The Atlanta Community Food Bank. Bill Bolling changed my life. Next to my dad, Bill has had more impact on my life than any other person. When our son died five years ago, Bill conducted the funeral service. He is the most honest, open and dedicated servant of God I have ever met. Bill says everybody wants to be a giver. Everybody wants to make a difference and be involved. You just have to make it easy for them. Create opportunities in bite-sized chunks and they will stand in line to help you. The Food Bank has tens of 1,000s of volunteers that come in each month to package food and create meals for hungry brothers and sisters across the metro area.
Q: Over the course of telling your story about networking over three books, what did you learn about yourself?
Ricky:  Probably that I'm a real person – what you see is what you get.  I've made a bazillion mistakes in business and in life. I've had more ups and downs that the outside elevator at the Peachtree Plaza Hotel. I've made millions of dollars over the years, and I've lost millions.  It doesn't matter how much money you make or how many possessions you acquire in life – "they don't make hearses with luggage racks," as Don Henley references in his song, "Gimme What You Got." We're not taking any of it with us. I've never seen anybody purely satisfied by the amount of money they have but I know a lot of folks who do not have a huge net worth, but they are very rich in the things in life that are most important.
Touching another life – seeing somebody who may have struggled and providing a little help along the way – that to me is the great joy of living. In fact, I am a very, very wealthy person.  I've never done anything by myself; I might come up with some crazy idea, but I'd immediately go to my network to do all the hard work because they're smarter and have the money and influence to see it through. I've been able to leverage those relationships to make some pretty fun things happen in the community.
Q: Any advice to people who are not natural networkers?
Ricky: I believe God created us all unique human beings and there is great value in that. If you're the most introverted person in the world, there is someone just like you down the street. You've got to take some changes and risks – get in a "Meet-Up group" or look on LinkedIn for lefthanded bowlers who went to Princeton but who also like to watch professional wrestling on television and eating sushi. When you find a meetup group of likeminded individuals and you get 10 or 12 introverted people in the room, you have 12 new friends…and one of you is going to have a connection that's going to find the other one a job, a contract, a sales pitch, a bride, a husband, a confidante. You're going to be able to do some great things. But first, you got to be comfortable in your own skin.
Q: I'm aware that for many people, writing a book is on their bucket list, but it's not easy, as you know. Why should someone pursue being a published author?
Ricky: I read a quote a while back that is about as true as anything I've ever read. It said that many people have a book in them, but it takes a special kind of freak to leave the land of laziness, cross the plains of procrastination, climb the mountain of insecurity, find the blade that no one made you do this and use it to cut your chest open and yank that book out. There's a lot of truth to that. 😊
In every speech I make, I suggest the audience to write a book. It is truly one of the best things I did to advance my career and create additional steams of income. You have some inside knowledge on some subject that others would find helpful and interesting. A book gives you credibility. I barely finished high school, but I have credibility that perhaps I don't deserve because I wrote a book about something I knew something about. You can't write a book about chemistry if you've never taken a chemistry course. You can't write a book about aerospace if you haven't taken a course about aerodynamics.
I've taken a lifelong course on networking because I watched my dad and others network. I take great pleasure sharing what I've learned. I know that if people use it, it will help them be more successful in life – not just in earning potential, but also by making them a valuable part of their company, their club, their community. Networking opens doors.
I think everybody should write a book if they've got something they believe is unique to offer. Tim Sanders, in his book, Love is the Killer App: How to Win Business and Influence Friends, said the only reason to write a book is to change the world. If that's not your goal, why the hell do it?  When I write or when I speak, I want to change the world. Making a difference in someone's life? That's the most satisfying thing in the world in my opinion.
About the Author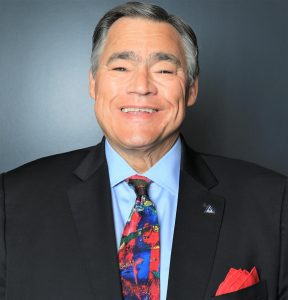 Ricky Steele is the author of The Heart of Networking, Third Edition (published in December 2022), where he shares the principles of networking through "servant leadership and living the Golden Rule."
The ultimate Rainmaker, Steele has a long history of developing new business, expanding the brand, marketing, public relations, and community engagement for clients across many industries. A native of Georgia, Steele has served as director, Emerging Growth Technology Practice at PricewaterhouseCoopers, where he was instrumental in helping PwC take the dominant position among the Big 4 within emerging growth companies. Today, he is chief development officer for Talent 360 Solutions, a boutique staffing agency specializing in IT/Technology and Accounting /Finance full-time and contractor positions.
A lifelong entrepreneur, Steele received the Georgia Small Business Person of the Year Award in 1986 and currently serves on The Carter Center Board of Ambassadors and the Atlanta Community Food Bank Advisory Board. He has also served on the Board of Trustees for Leadership Atlanta and The Ron Clark Academy.
Connect with Ricky on LinkedIn or on Facebook. Find his book at http://www.heartofnetworking.net or on Amazon at: https://amzn.to/3YKc6PS.