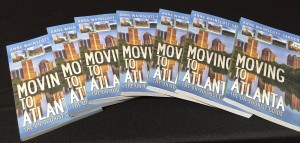 The last seven months spent researching Atlanta's amazing neighborhoods and the entertainment, economic and environmental drivers of the metro area culminated yesterday as we celebrated my book launch at Atlanta Movie Tours in Castleberry Hill, an up-and-coming artist loft neighborhood and popular filming spot in south downtown. More than 40 people made it to my event, in spite of light rain and the Donald's appearance at a rally at the Georgia World Congress Center less than a mile from our venue.
The story of this book project and the way I approached both writing and marketing it are probably worth a few words on The Writing Well — at least for the benefit of other writers.  First, a bit about the book.
Moving to Atlanta: The Un-Tourist Guide is the seventh guide book published by Newt Barrett of Voyager Media based in Estero, Fla.  His other books have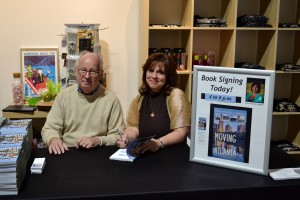 spotlighted medium-sized cities such as Charleston, Tampa, Sarasota and Naples.  Atlanta is by far his most ambitious city to tackle based on its sheer size and diversity. It was a big challenge to capture the story of Atlanta in 152 pages.  I felt strongly that I needed to quote actual residents, who knew Atlanta's diverse neighborhoods the best, and that's what I did.
For the chapter on education, I talked to two Atlanta moms who have navigated Atlanta's public and private school systems in meeting their children's learning needs ,and an academic dean of continuing education who briefed me on the many adult continuing education courses available to residents.
For the chapter on entertainment, I talked to the editor of Creative Loafing Atlanta, the president of Atlanta's Lawn and Tennis Association, and the founder of AtlantaTrails.com.
For the chapter on choosing where to live, I quoted realtors and residents in 18 intown neighborhoods and six suburban communities.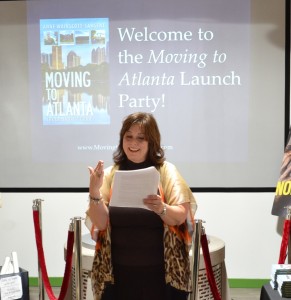 In remarks to guests at my party yesterday, I thanked all the people who have contributed to my book. I said, "You've made Moving to Atlanta something more than a typical guide book …you've helped present an authentic picture of what it's like to be a part of this amazing city. Your input, I'm sure, will help people decide if Atlanta is right for them. They'll be able to begin to narrow down which neighborhood or community they could call home."
I hope it will meet the needs of prospective new residents, but I also hope it is an enjoyable narrative for Atlanta natives. That's why I was so happy to read this comment from an early Amazon reviewer:
"As someone who has lived in this wonderful state and city for almost 35 years… I have to say I'm impressed. 'Moving to Atlanta…' is up to date… contemporary with a wide range of information and tidbits about the city… its politics, people and culture. Spending 20 years here as a journalist has given me a unique perspective and access to all of the city and its neighborhoods… both inside and OTP (outside the perimeter, as they say..) The author covers the good and the bad (traffic and rush hour!!). But anyone contemplating moving to our city will soon learn the ebb and flow of the city and its interstate. Recommending the Wayze App is a good start."
Writing a book as good as it can be is only the start of what we as authors must do. Marketing is when the real work begins! Here are 4 tips that I took to heart when developing my own marketing plan and author platform:
#1 Partner with people, brands and businesses that can help elevate your book.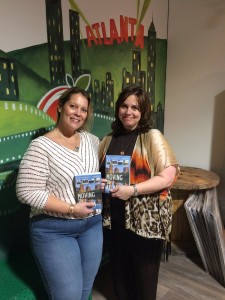 For Moving to Atlanta, I ended up aligning myself with Carrie Burns of Atlanta Movie Tours, the center of Atlanta's film tourism movement. I interviewed her for the Hollywood of the South chapter and learned that she was president of the Castleberry Hill Neighborhood Association, so was able to tap into her insights of having lived in that community for 15 years in my "Choosing Where to Live" chapter. Carrie not only offered to host my author party, but also brought in The Smoke Ring, a hip BBQ restaurant nearby, and both of these businesses contributed gifts to raffle at my party, and are now active on social media promoting my book by retweeting highlights of the launch.
#2 Don't just post or tweet your book, engage people on social media.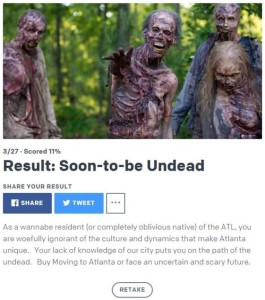 Share your journey along the way – I posted milestones as I was writing key chapters and shooting photos around the city on Facebook. Photos are a great way to engage followers to envision your book coming to life and feel invested in its success.
Do a contest – I asked Facebook followers to weigh in on the top 10 reasons to move to Atlanta for a chance to win a free book.
Embrace trivia  surveys – I created a survey to test people's knowledge of ATL – the answers found in my book. I incorporated humor into the summaries where people are ranked based on how well they answered questions. They could be an "All-knowing Atlanta Insider" or a "Soon-to-be-Undead" in homage to the zombie-hit TV series, "The Walking Dead" filmed here.
#3 Build relationships with journalists, PR influencers and bloggers.
They are powerful allies to get word out on your book because these folks already have a platform and readers! In a sea of so many other books being published, this is one way to be strategic and position your book that can really help boost your profile.
The key here is to target outlets that fall into one of these categories: (a.)  they love your book topic — it ties to what their readers care about (b.) they are looking to feature local residents doing interesting things (especially a publication more local or hyper local focused such as the Patch) or (c.) they want to help you succeed because they know you and your capabilities as a storyteller, interviewer and writer. I find featuring other authors on my blog, The Writing Well, creates a lot of goodwill and willingness to blurb and blog about your book to "pay it forward." I know at least one 11-time fiction book author who says a major factor in him being able to attract 50,000 Twitter followers is engaging with other writers.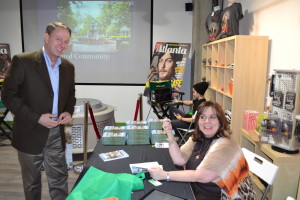 Some of the blogs and news sites that are either covering Moving to Atlanta in editorial, or are promoting it on social media include: ALTA's Net News magazine; Vinings Lifestyle Magazine; Points North Atlanta magazine; wanderlust Atlanta, a blog exploring some of Atlanta's most popular tourist destinations; AtlantaTrails.com; and "Mitch's Media Musings," an Atlanta Media blog by Mitch Leff, who is interviewed in my book on what the media environment is like in Atlanta.
In late March, I will be featured on BlogTalkRadio's show, "Write Books that Sell Now," where I will talk about Moving to Atlanta and other book-writing projects that cross genres. One of the hosts of that program, Anita Henderson, known as the "author's midwife," is a respected colleague who has been interviewed on "The Writing Well."
#4 Get your book reviewed early on Amazon…and don't forget to secure a few book blurbs.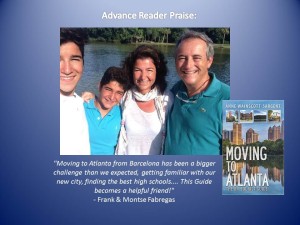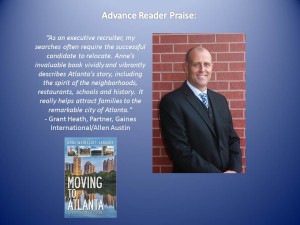 This is important, and it means thinking strategically  about who would be the best person to blurb your book. In my case real estate agents who know Atlanta and executive recruiters who are focused on attracting talent to Atlanta as well as new residents or people thinking about moving to Atlanta. I was fortunate to secure all three for Moving to Atlanta, with two making it on the book jacket.
One Final Thought
Finally, the hardest thing about marketing is turning it off so you have time to write…I am still working on that as I carve out time to finish my novel this year while continuing to market my current book. There's no question that being an author today is not just about great writing and research skills. It's also about being strategic with your time, and finding ways to get your network of connections to work with you to get the word out.
I wish all writers the best in their efforts on both fronts — don't be afraid to reach out and ask for people to support you. Believe it when I say, it takes a village to be an author.
Let's Get Social!
Follow Anne's new book adventure on social media or visit her book website at these links:
Website: www.MovingtoAtlantaGuide.com
Twitter: @MovingtoAtlanta
Facebook:   http://bit.ly/M2AFacebook
Amazon: http://bit.ly/M2AAmazon
Moving to Atlanta Trivia Quiz:     http://bit.ly/MovingtoAtlantaQuiz