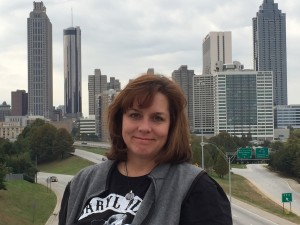 It's a new year, and a time to reflect and make resolutions. For me, 2016 will be the year I finish my book on moving to Atlanta and my historical novel. Both of these projects are special for different reasons. I last wrote a book in 2005, after losing my mother to lung cancer.
 From Mother-Daughter Memoir to Moving Guide to Historical Romance
A Breath Away: Daughters Remember Mothers Lost to Smoking, my anti-smoking memoir, was
written while grieving the loss of my own mother as I was becoming a mom.  I find myself saddened that many of the daughters in my book have been stricken with cancer, including my friend  Jackie Graff, who passed away last month from lung cancer.  At the time my book was independently published, and it it didn't benefit from today's social media environment, where you can create an author platform and connect with your readers.
My next book is called Moving to Atlanta: The Un-Tourist Guide, It came about by a chance meeting with Newt Barrett, publisher of Voyager Media in Estero, Fla. We met through a mutual friend right before my family's move back to Atlanta this past June. I learned that Newt, a fellow Ohio buckeye, was a successful publisher of city moving guides, mostly in Florida and other Southeastern cities. Why not Atlanta?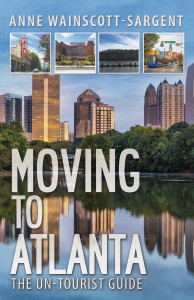 We agreed that I would be able to tackle this since I was moving back to a city where I'd lived for 16 years — and also the place where I had met my husband, had a family and started my writing company. I've enjoyed researching what makes Atlanta such a cool place to call home…and have met and interviewed some amazing Atlantans along the way, including Ryan Gravel, the visionary behind the Atlanta Beltline.  
I included a spotlight on key intown and suburban communities, where I interviewed residents on what makes their neighborhood unique. I believe these firsthand accounts set my book apart from other guides. Expect to see Moving to Atlanta: The Un-Tourist Guide on bookshelves this spring.

I also intend to finish my historical novel, Torrential, set in my hometown of Dayton, Ohio, at the time of the 1913 flood. The last year of relocating to one city and coming back made it difficult to do the final editing of this turn-of-the-century love story focused on an Irish seaman who survived the sinking of the RMS Titanic only to find himself facing a catastrophic flood after moving to Dayton to start a new life.
I fell in love with this story, partly because it was loosely inspired by my grandmother's family, who owned a boarding house in Dayton at the time of the flood. My grandmother met and fell in love with a boarder, a theme that I bring to life in Torrential.  I wrote this manuscript in 2013 and 2014, received feedback from numerous advance readers and even had it evaluated by a professional editor. Many people think this story is made for the Big Screen, including a screenwriting coach who I've consulted with. I will begin the final content edits for Torrential this month.
One thing the last few years has taught me is that I am happiest when I can write stories about people and events that resonate and inspire me. Atlanta is fertile ground for this exercise, and so is my historical novel.  What a great time to be a storyteller!
Author Bio
A native of Dayton, Ohio, Anne Wainscott-Sargent moved to Atlanta in 1998. She is a writer, blogger and strategic storyteller specializing in the tech and education sectors. An avid history buff and movie-goer, she loves following Atlanta's growing film industry, connecting with other writers in the Atlanta area, and enjoying the natural beauty of the Chattahoochee River's many bicycle paths.  She and her husband live in Roswell with their two children. She hopes to finish her first novel, a work of historical fiction, in 2016.
Visit Anne's consulting website at: https://annewainscott.com/writing-consulting-services/ or her blog, The Writing Well, at: https://annewainscott.com/blog/. Connect with her on Twitter: @annewainscott.