Mountain View Group Shares Best Practices in
Digital & Video Communications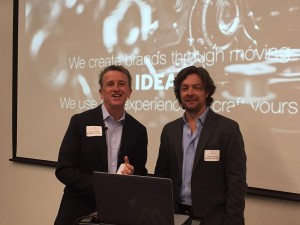 Mountain View Group, an award-winning Atlanta-based creative communications agency founded in 1981 by a documentary filmmaker, wowed professional communicators on Jan. 26 with their insights on the power of video storytelling.
"Story is ultimately about affecting change – it could be change in what someone knows…it could be change in what someone believes…and it could be change in what one does," Thom Gonyeau, Mountain View Group's principal and founder told the Atlanta chapter of the International Association of Business Communicators (IABC) during the organization's first meeting of 2016.  "Story is the means, and change is the end."
Gonyeau, a creative storyteller for over 20 years, was joined by principal Stephen Pruitt, as they shared the keys to engaging people's hearts and minds in today's video age.
Noting that "a very high value is placed on video content," Gonyeau cited a statistic from B2B Marketer that over 80% of B2B marketers now rely on video content in their annual communication plans, posting video via corporate websites, YouTube, video blogs and even six-second Vines.  ChiefMarketer.org, reports an even higher percentage of video usage at around 96%.  "In the B2C space, you are talking about 100%," he added.
Gonyeau called the "holy grail' of video storytelling is when companies take a long-term approach to their video strategy rather than doing one-off videos.
"One thing we've learned is that no one really needs a video. What you need is a solution to a business problem," said Pruitt, explaining that is how his firm always starts conversations with new clients. "If you start to think that way about your video content or any creative content, you start to think more strategically about your message and what you need that content to do for you."
Pruitt explained that video isn't always the best communication tool if one needs to present a lot of detailed information. But it's a great medium to excite, engage and emotionally connect with people. "Video can stir the imagination – it's a great vehicle to showcase people, places…it's also a great way to motivate people to want to learn more," he said.
One thing is clear, Mountain View Group knows its stuff.  Pruitt said the team tackles an average of 150 projects a year, from corporate videos, animation and commercials to graphic design, communications strategy planning to social media. Last year at the IABC Atlanta's annual Golden Flame Awards, the Inman Park creative firm won eight Golden Flames for their work.
Gonyeau said there are three ideal times for a video story:  at the birth of a new company, when a company is going through major change, and when it is facing real challenges. In the case of change, video can "bring some certainty to the chaos." During times of challenge there's "an incredible opportunity to use story in an authentic and purposeful way to get your message out there," he said.
Mountain View's team of 15 full-time creatives takes a process-driven approach to helping their clients strategically think about their video project. They start with the "Creative Brief" – a consensus-building tool that enables client and agency to jointly define the project deliverables and the purpose and objectives, including audience and key messages.
Gonyeau considers the purpose and objectives "the real meat" of the brief.  It's where he asks clients, "Why this?" "Why now?" "What's changed?"  It's also when the agency helps the clients define the creative challenge of "What do you want the audience to think, feel and do?"
From the Project Brief, Mountain View's team defines their client's story. A storytelling worksheet helps the process along – it embraces the classic three-act screenplay structure, including the concept of a hero.
An important detail is distribution of the video, leveraging a company's internal and external social media, video and PR channels. "Too many people leave this as an afterthought,"   said Pruitt.  "When  you tell stories with video, you are making an investment and you want to make sure you are getting the most out of that investment. Creating a multi-channel distribution plan is the way to do that."
He advised, "Look at what the core communication channels are to reach the target audience, whether it's internal, external, corporate marketing, PR, social media. You can figure out which ones to take the most advantage of and which ones you didn't think of to get this message out. Then, once you have the distribution plan mapped out, promote it."
Mountain View's principals then shared examples of their agency's video work from clients such as Coca-Cola, Raytheon and GE.  Check out videos showcasing:
The two presenters summed up their talk by sharing a quote by Seth Godin: "Marketing is no longer about the stuff that you make, but about the stories you tell."
Following the presentation, communication pros shared their impressions:
"I loved the talk and the Creative Brief leave-behind in how to construct a story. Very worthwhile!" – Scott Dixon, President, CATMEDIA
"The most valuable takeaway from the talk was the necessity of doing a Creative Brief and to know the one key message you're going to give. In my experience working as freelancer for corporate clients, we sometimes forget to ask, 'What is your objective?' 'Why do you need a video?'"- Elisabeth Holmes, The Writing Studio
"The point that no one needs a video; what they need is a solution to a problem, really stood out for me because it brings everything back to the business and keeps us focused, allowing us to drive the business forward. " –Uzo Amajor, Internal Communications Manager