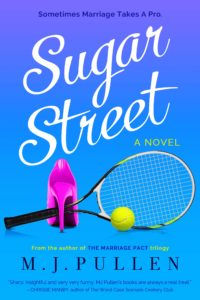 MJ Pullen has a new romantic comedic novel out August 7th that combines two things I love — tennis and girlfriends.
Set against a fictional Atlanta enclave of Sugar Mills, Sugar Street takes you into the lives of four married Atlanta friends, who decide to take drastic steps to rekindle their marriages — hiring the hot local tennis pro who isn't just good at backhands and serves to make their hubbies jealous. As you might expect, things don't go as expected.
In the Q&A below, MJ shares her inspiration for Sugar Street, including the setting in tennis-obsessed suburban Atlanta, as well as her tips on how to stand out in this incredibly popular writing genre.
I highly recommend this novel, her fourth, which Kirkus describes as a "glitzy romp that features suburban wives making unconventional – and haphazardly disastrous – attempts to break out of the safe patterns of their lives."
Q. What was the inspiration for Sugar Street?
MJ: Like many suburban moms—especially ones who are typically late for the bus—I've spent many hours of my life sitting in carpool. At my kids' school, I noticed that one of the police officers directing traffic was, well… pretty easy on the eyes (he also happened to be the most efficient at keeping crazy carpool parents in line, so that helps!). I had a thought one day as he waved me into the carpool lane: as a parent, how embarrassing would it be to get arrested in your local town and have the safety officer from your kids' school see you in jail? I pictured this awkward moment where the supercilious PTA mom is being led through the police station in handcuffs, and reminds the cop that she's the one who bakes him cookies every year at the holidays. The whole idea of a crime ring in affluent suburbia grew from there. That seed of an idea later became the jail scene (with Maizy Henriksson and her cookies). The other three main characters and the super-hot tennis pro fell into place shortly thereafter!
Q. The setting of your book is Atlanta's tennis scene — did you find it easy to make that your setting given how vibrant tennis is here?
MJ: You know, I didn't know much about tennis when I started this novel: just that many of my friends and neighbors are really into it. (I'm more of a softball/Jazzercise girl myself). Tennis made a great backdrop for the story of four women desperate to rekindle the spark in their marriages… but the more I've learned about the Atlanta tennis scene, the more fascinated I've become. I now realize I could've included much more about tennis in this novel; there are whole books begging to be written about the tennis scene itself. It's a world of its own!
Q. I really enjoyed the story and the vivid characters — women in mid-life crises who take a crazy risk to breathe passion back into their marriages. Which character in the book do you most identify with?
MJ: This is such a writer thing to say, but in some way or another, I see myself in every character I write. If I don't relate to a character on some level, it's hard for me to write genuinely about her motivations and behavior. If I had to choose, I guess Jess is the character I related to most while writing this novel – the book is slightly skewed toward her point of view, and while there are no direct parallels, her relationship dynamic with Tom is probably most similar to my own marriage.
Q. As a writer, how do you make these women so full-dimensional and "real?"
MJ: Honestly? I'm a people addict; I find all our flaws and foibles (as well as our capacity for goodness and redemption) endlessly fascinating. This may be why I became a psychotherapist, and it's certainly one of the main reasons I write. While it's rare for me to base a character on a real person, I do try to reflect the complexities I see in myself and real-life friends and family in my characters. That's how I love my characters as a reader, and I'm not sure I could write any other way!
Q. What do you hope readers get out of this story?
MJ: First and foremost, I hope they enjoy it! There's a very specific half-laugh, half-cringe experience I try to elicit with every book I write. I also hope readers will find at least one character or situation to which they can relate – whether they have a friend who's always selling something like Delia, or they relate to Maizy's desperation to find a place in the social circle. The need to belong doesn't end when you graduate from high school or college, and "real life" can sometimes be just as isolating and frustrating for adults. I guess I'm trying to normalize that for myself and others.
Q. The genre you write for is a pretty crowded place – chick lit / romantic comedy. How do you stand out in this space? What advice would you give new writers seeking to make their mark in romantic comedy?
MJ: The market may be crowded in this genre, but I believe we need all the romantic comedies and funny, light fiction we can get right now. Whether it sells or not, I need to write it, because it gives me hope and serves a reminder of what's worth fighting for: love, humanity, acceptance, friendship. So, I guess that's my advice for writers in any genre: write the book you want to read, and readers will find you. You might be on your seventh revision of your fourth novel when they find you, but eventually they will! (Also, watch your posture. The struggle is real.)
About the Author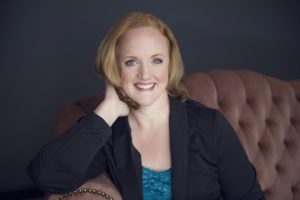 M.J. (Manda) Pullen is the author of playful women's fiction and quirky romantic comedies, including the bestselling MARRIAGE PACT trilogy and the forthcoming SUGAR STREET series. She has also worked as a non-profit fundraiser, corporate trainer, psychotherapist and mom of two young boys. Each of these jobs has eroded her sanity and contributed to her writing equally.
Manda loves cheap wine, expensive beer, and coffee at any price. She lives in Roswell, Georgia, with her husband, two young boys and Zelda and Zora the Wonderpups. You can connect with Manda on her author page and blog, The Distracted Writer, or on Twitter (@MJPullen) and Facebook.