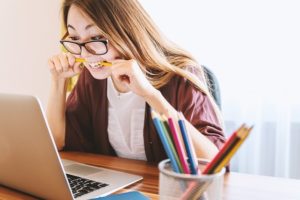 "I'm no writer."
How many times have I heard that mantra from a harried salesperson or business executive?Too often.
Yet writing well can make all the difference in getting a prospect's attention, securing a meeting
, or even closing a deal. Sometimes it comes down to how well you convey who you are and what drives your organization in a short email or cover letter. 
An innovative company started by a former English middle school teacher aims to help business people improve their how they communicate on paper (or on the screen). Their tool? A pool of virtual, expert writers well versed in grammar and how to write persuasively following a set of proven principles, including one shared by literary greats: to first put yourself in your audience's shoes. The company calls itself Write Well — and I love it (and not only because I chose a similar name for my blog).

Write Well Founder Matt Pasternack began his editorial startup because he believes "that the
 sharing economy presents an opportunity for talented writers to help people succeed by 

writing

 

well

."
"We focus on companies that make complex mid-market, enterprise, and government sales requiring executive level communication," Matt says.
Prior to starting his editorial venture, this talented wordsmith led sales and growth at a high growth education technology startup for five years. Before that he taught middle school English in Harlem.
Below,  Matt shares insights into his craft and what all of us can do to be better communicators given that people's attention spans — and schedules — are short.
Q.  What is the biggest mistake business people make when they 

write

 a sales email or other business communication?
Matt: They assume their readers will read every word of what they wrote, and as a result they are not concise.
Q. What made you start your 

Write

 

Well

 service?  
Matt: I started 

Write

 

Well

 because I think we don't teach 

writing

 

well

 in school and bad 

writing

 is the silent killer of deals. I believe the sharing economy presents an opportunity for talented writers to help sales and customer representatives succeed by 

writing

 

well

. We're different because we're baked into a rep's workflow and our revisions go far beyond spelling and grammar – we redline fearlessly in order to dramatically improve 

written

 communication.
Q. Your company's value proposition centers around the "

Write

 

Well

 principles" — can you share a few of these principles and their importance to achieving clear, concise communication?
Matt:
Persuading people is difficult. The 
Write
Well
 Principles grew out of years of wins and losses in the sales trenches. Each principle begins with the 
writer
's willingness to put herself in her (skeptical) reader's shoes.
Your reader makes decisions, so you should be humble.

Your reader is easily distracted and slow to act, so your 

writing

 should be concise, direct, and strategic.

Your reader distrusts you, so your 

writing

 should be logical, error-free, and upbeat.

Your reader is human, so you should share stories.

Your reader wants you to be human, so you should show that you care.
Q.  Please share two or three ways business people can improve their business 

writing

.  Any resources you can point them to?
Matt: Start by making sure your 
writing
 is grammatically correct. If you're not already doing so, you should use a spelling and grammar checker. Then find the person at your company who you think is the best 
writer
 and show your draft 
writing
 to him or her. Ask for tough feedback and rewrite what you've 
written
. Or use 
Write
Well
 :).
_______