Two Amazon indie authors, Angela J. Conrad and Kathy Hesser Skrzypczak, have never met face to face. That hasn't stopped them from leveraging their mutual passion for storytelling to co-write Vodka & Vice, a romantic comedy book series set in New York City.  The initial story takes readers into the lives of NYC couple, Naomi Swanson and Bradley Dobrov, as they go from happy lovebirds to heartbroken ex-couple against the backdrop of hidden speakeasies, luxury high rises, Russian dance parties and winter blizzards in the Big Apple.  As a cast of colorful characters gets in the way of them getting back together, the two soon realize that their break-up is no accident.  I found the story a fun, easy read, with characters and situations that were laugh-out-loud entertaining.
I belong to the same Facebook writing group as these two wordsmith collaborators, and am delighted to talk to them about writing as a team and what it takes to be part of a creative duo in today's ever-changing independent publishing world.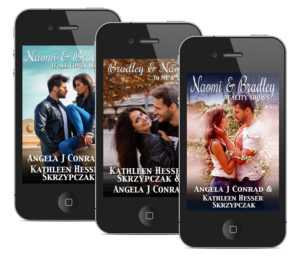 Q.  How did your newest series, Vodka & Vice, come about?
Angie: I'd been on Facebook a few years, to be connected to family and friends.  I wasn't promoting my books on blogs or author pages.  My illustrator suggested I join a writing group, so in early 2016 I joined Write Life.  I'd started a story in the group, with each writer adding a paragraph.  It was hilarious, witty, and showed me what other author's styles blended with mine.  In a few months I'd made numerous friends, started three of my own groups, and met Kathy.  I was finishing Body Double, Million Dollar Legs, and Kathy read it, we talked, I sent her an idea I had for my next series, and somehow we just decided to write a book together.  It was a mixture of perfect timing, her NYC knowledge for the story's location, and complementary styles.
Q. What has been most surprising aspect of collaborating with another writer on a book?
Angie: How wonderfully easy it was.  I'm in northwest Arkansas and Kathy's outside NYC.  We did everything through email, Dropbox, and inside our co-author Facebook group.
Kathy:  For me, it was the way it sharpened my writing.  Once I found Bradley's voice, the story developed so naturally, it was almost as though it were writing itself.
Q. What was the process like? How did you two divide up writing responsibilities?  What about book promotion?
Angie: I had the first chapter idea already written.  In my last ten books, I've written in several characters' POV, bringing the reader inside each character's head.  So in this one, I started as Naomi, sent it to Kathy and she became Bradley.  We used each other's strengths.  I'd already published 22 books/boxed sets on Amazon.  I knew their formatting, rules, could design the front/back pages, and had an illustrator and a cover designer already in play.  Kathy was a professional copywriter and worked on ads in NYC.  She writes cleaner, and is a strong editor.  Kathy knows the location; she also took the pictures for the interior of the book.
I write fulltime — usually 12 to 14 hours a day.  Kathy and I are both character-driven writers.  We don't do a plot and know the ending in advance.  We become the characters and they tell the story.  It flowed so well, we turned Naomi & Bradley's story into the series Vodka & Vice and wrote four cliffhangers.
Kathy:  I would have never had the courage to publish on Amazon without Angie's expertise.  Every step of the way, she had advice and methods she had used before that led to her previously successful books.  Originally, we had planned on releasing the first book in around five months, but the chapters flowed so easily, we were able to finish the entire four volumes in a little less than that.
Q. I felt that you both were very much "in tune" from a voice perspective. I couldn't tell that two different people wrote this book. Did one of you gravitate to the voice of one of the characters more than another?  
Angie: Thanks, several readers remarked on that and it's wonderful that the story flows and there are no breaks or different styles to interfere with the story.  For both of us, it's all about the story.  I think Kathy had the harder job being a cocky, gorgeous Russian male.  She did it superbly.
Kathy:  Ha!  I completely disagree.  Angie had it harder because her character was a strong and passionate woman.  She actually had to delve into the complexities of female thought and emotion.  And she did it beautifully.  All I had to do was be a guy, which is as easy as I've always suspected it is.
Q. What I liked about Naomi & Bradley besides the story line and sexual chemistry, is the lively dialogue and pacing of this story. Any real-life people that you based these characters on? If you got an option for the story to be adapted to film, who would you envision playing Naomi and who would play Bradley?
Angie: Not for me.  All my characters develop inside my head before I actually start typing.  I give them dimensions, a past, a personality, maybe even an elevator phobia, I want them to be real people.  We used the same models for our four covers, and we studied hundreds of other photos picking those four.  Their faces are so ingrained inside me that I guess I'd hope they could act, because to me, they are the real Naomi & Bradley.
Kathy:  Great question!  Angie wrote the first chapter and sent it to me, so that's when I met them both, already formed.  Some of the other characters who introduced themselves to me during the writing process do have elements of people I've known, but not one of them is a straight up homage.
Q. What did you learn about yourselves from this experience?  Would you do it again?
Angie: As an author, my main focus is to give the reader what they want, and we asked at the end of the book, if they would enjoy more of Naomi & Bradley.  If they want more, Kathy and I agreed to continue.  We already have ideas for the secondary characters.
Kathy:  I learned that I don't have to sit and labor over each and every word.  I was writing "serious" stuff that felt laborious.  Writing with Angie felt more spontaneous.  Also, when you know someone you respect is waiting on your chapter so she can move on to hers, it really lights a fire under your desk chair.  No procrastinating!
Q. Any advice for other writers who might want to team up on a novel?  Is it best to establish yourself on your own first before collaborating with another writer, or does it matter?
Angie: I don't think it matters, but it doesn't hurt to have a following first, know Amazon's twists and turns.  Join a writing group, make friends with other authors, write a short story together, and see how you mesh.
Kathy:   I agree.  I knew from writing our improvisational stories that Angie and I would work well together.  I had a little trepidation at first because I've never thought of writing with another person.  When I worked in advertising, occasionally my art director would come up with the headline or I would create the visual, but I wrote all my copy alone.  I think you have to have respect for your partner's opinions and writing style, which we certainly do.
Q. As of this writing, have you two met in person? Any plans to? 
Angie: We've never met in person, and have no plans to right now.  We are far apart in geography, but in spirit we are joined.  We've talked on the phone and daily in our group.  We speak through our characters and a funny thing, when I'm Naomi and Bradley is with another woman, I actually found myself getting angry, even jealous.  It was super to be so into a story.
Kathy:  Although I would be delighted to meet Angie in person, I don't feel I need to in order to continue our partnership.  We already know each other's strengths very well and of course the writing speaks for itself.  She makes me a better writer.
Q. What's next for you two either individually or as a writing team?
Angie: If we don't continue with the series, we can always begin another one after a short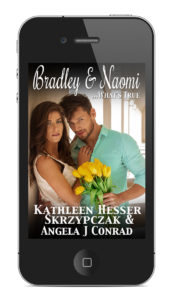 break.  All options are open.  We're also both working on other books.  I'm usually working on two at once, overlapping.  As I waited for Kathy's chapter, I'd work on my next book, Gillian, Go Away.  Oh, and book 4, Bradley & Naomi …What's True will be released in early July.
Kathy:  I have another completed novel and I'm in the process of querying publishers right now.  So much 'hurry up and wait' that it was wonderful to be able to create and produce work in the interim.  I had started a third novel just before meeting Angie.  It's a paranormal novel about all the ghosts trapped in a single building in Gettysburg, PA, and their relationships to each other and to the physical world around them, titled "The Corporeals."  I'm also working on a script for an animated film.  Of course, all this will come after I put "Bradley & Naomi…What's True" to bed.
Check out the first three books in Vodka & Vice at these links:
https://www.amazon.com/dp/B01F6BXGV2
http://www.amazon.com/dp/B01F7GH5TA
https://www.amazon.com/dp/B01GQV96JW
About the Authors
Angela J. Conrad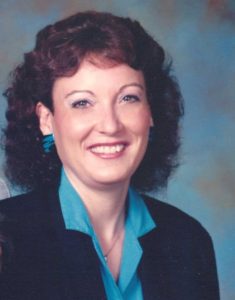 Angie writes fiction full-time, creating characters "who live colorful lives, people who often need redemption, and one more chance while facing pivotal moments in their lives." She has published 18 books, four novellas, and boxed sets, and over 125 short stories on Amazon, internet sites, and news magazines.  Her books have been downloaded in thirteen countries totaling over 9.8 million pages in the last eighteen months.
She considers full-time fiction writing another great adventure. She has crossed the US and Canada alone, taken extreme chances in the stock market, bet often in casinos, and yet balanced it with serious jobs in managerial finance.  "I'm kind of an adrenaline junkie," she says.
Connect with Angie on her Amazon page:    https://www.amazon.com/author/angelajconradaceshigh11, or on Facebook:     https://www.facebook.com/authorangelajconrad.
Kathleen Hesser Skrzypczak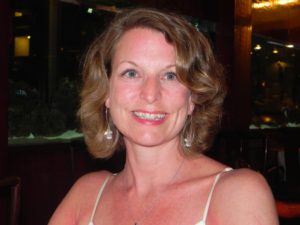 Kathy was born and raised in Pine Grove, PA.  A small town girl with big city dreams, she moved to New York City with two-hundred dollars in her pocket and a degree in English Literature from Gettysburg College to pursue a career in advertising.  After winning awards for clients like Penthouse Magazine, Tanqueray Gin, and Johnnie Walker Black Scotch, she left the glamorous life of the city to live in New Jersey with her husband and raise her three awesome kids.  Her most recent success was publishing a popular blog about a family RV trip to Nova Scotia.  Her latest adventure is a romantic comedy book series she's co-authoring with accomplished Amazon author, Angela J. Conrad.  When she's not writing, Kathleen loves to dance, sing, and cook, sometimes all at the same time.
Connect with Kathy on her Amazon page: amazon.com/author/kathleenhesserwriter, or on Facebook:  https://www.facebook.com/authorskrzypczak/.
Save
Save
Save
Save