Good biographies chronicle a person's life, serving as honest portraits that take you through the lows and the highs of a life well lived. 
Great biographies transport you there — moment by moment — making you laugh, smile and at times tear up as you experience the triumphs and tribulations of the person's life.
In the case of Open: An Autobiography, by Andre Agassi, you experience it all — from Andre's early years under the tutelage of his tennis-obsessed father in Las Vegas, to his rebellious teen years spent at junior tournaments and doing time at The Nick Bollettieri Tennis Academy, to his bumpy ride to tennis greatness, and finally, to his notable post-tennis career as a husband, father and education crusader.
You don't have to be a tennis fan to appreciate Andre's struggles with the physical and mental demons that dogged him as an athlete (the opening of the book is him waking up, disoriented and in unspeakable back pain, in a New York City hotel bed the morning of his last U.S. Open match in 2006.)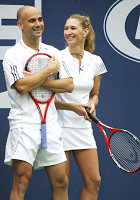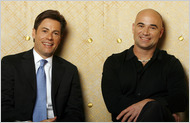 J.R. and Andre. Photo by:
New York Times
The book is a compelling read — filled with emotion and honesty, vivid personalities, lessons of forgiveness and acceptance and finding yourself.  It also is incredibly well written — the narrative is at times inspired, a credit to Andre's collaborator J.R. Moehringer, a Pulitzer Prize-winning journalist. Andre discovered and courted Moehringer for his book project after reading his memoir, The Tender Bar, about growing up fatherless in Manhasset, New York.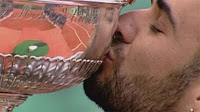 Andre winning the 1999 French Open.
One of the more dramatic parts in Open was Andre's nail-biting final against Andrei Medvedev to capture the 1999 French Open. Andre recalls his lackluster playing early in the match and Brad Gilbert's meltdown in the locker room during a rain delay. The experience jars Andre to get his game back, enabling a come-from-behind victory.  I love the minute-by-minute recreation of the match, where the changing weather and Andre's mood are masterfully interwoven.
Here are a few of my favorite excerpts of Open. I hope you enjoy them as much as I do.
He steps up, well inside the baseline, sending me a message that he anticipates a softie, and when he gets hold of it he's going to ram it down my throat. He wears a look on his face that unmistakeably says: Go ahead, bitch. Be aggressive. I dare you. 
This moment is the crucial test for both of us. This is the turning point in the match, perhaps in both of our lives. It's a test of wills, of heart, of manhood.
— the pivotal moment in the third set of the 1999 French Open final against Medvedev
She smiles. Off she goes. I go tearing after her. It feels as if I've been chasing her all my life, and now I'm literally chasing her. At first it's all I can do to keep pace, but near the finish line I close the gap. She reaches the red balloon two lengths ahead of me. She turns, and peals of her laughter carry back to me like streamers on the wind.
I've never been so happy to lose.
— racing Stefi on a San Diego beach early in their courtship
It's early evening. The sun is just disappearing behind the masts and sails of the boats at the dock. Perry and I are early, Brad is right on time. I'd forgotten how distinctive looking he is. Dark, rugged, he's certainly handsome, but not classically so. His features aren't chiseled; they look molded. I can't shake the idea that Brad looks like Early Man, that he has just jumped from a time machine, slightly out of breath from discovering fire. Maybe it's all his hair that makes me think this. His head, arms, biceps, shoulders, face are covered with black hair. Brad has so much hair, I'm both horrified and jealous. His eyebrows alone are fascinating. I think: I could make a beautiful toupee out of just that left eyebrow.
— the first time Andre and Brad Gilbert meet and begin working together