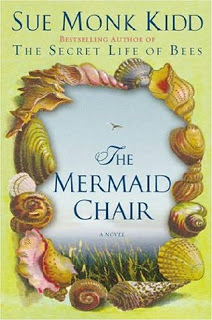 "At forty-two, I had never done anything that took my own breath away, and I suppose now that was part of the problem–my chronic inability to astonish myself. I promise you, no one judges me more harshly than I do myself; I caused a brilliant wreckage. Some say I fell from grace; they're being kind. I didn't fall. I dove."
                                                ― Sue Monk Kidd, The Mermaid Chair
There is much to enjoy about Sue Monk Kidd's novel,
The Mermaid Chair
, which followed the author's debut book,
The Secret Life of Bees
.
When I picked up the book while perusing titles in my favorite used bookstore, I was immediately intrigued by the premise: "A vividly imagined love story between a woman and a monk, a woman and a husband and ultimately a woman and her own soul…"
Who wouldn't want to read more? I soon became immersed in the story of Jessie Sullivan, a conventional wife who feels stifled in her marriage of 20 years; an unconventional artist who has lost her desire to create; an empty nester mourning the loss of her daughter to college.
Into this listlessness, Jessie learns that her estranged mother had inexplicably harmed herself. She leaves Charleston for Egret Island, a tiny barrier island off the South Carolina coastline where she grew up.
It's there that she confronts painful memories of losing her dad in a boating accident and the traumatic aftermath of no longer having a "present" mother. On the island stands an abbey of a Benedictine monastery, and it is there that Jessie finds herself drawn to Brother Thomas, a sexy, complex monk who is months from taking his final vows. The monk's real name is Whit, a former attorney who joined the monastery after his expectant wife died in a car accident.  
I found it hard to put down the story at times as the heroine grappled with the tension of desire and the struggle to deny it, and her eventual surrender to it.  Kidd writes the story with beautiful imagery, weaving together unforgettable characters and a compelling plot that keeps you turning the page.
In the end, we learn about the hard path to finding one's true self, of letting go and of forgiveness.
About the Author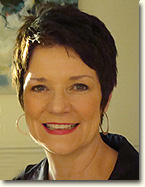 Sue Monk Kidd is a writer, novelist and memoirist. She was born in Albany, Georgia, and raised in the tiny town of Sylvester, Georgia.When her first novel, The Secret Life of Bees was published by Viking in 2002, it became a genuine literary phenomenon. The novel tells the story of fourteen year old Lily, who runs away with her black housekeeper in 1964 in South Carolina, and of the sanctuary they find in the home of three beekeeping sisters. The Secret Life of Bees has sold more than 6 million copies, spent over 2 ½ years on the New York Times bestseller list and been published in 35 countries.
Sue's second novel, The Mermaid Chair, has sold nearly 2 million copies since its publication by Viking in the Spring of 2005. 
Firstlight, a collection of the author's early writings, was released by Guideposts Books in 2006 and Penguin in 2007. A compilation of inspirational stories, spiritual essays, and meditations, it has been translated into several languages and has over 200,000 copies in print.
Sue's newest book, Traveling with Pomegranates: A Mother-Daughter Story, co-authored with her daughter Ann Kidd Taylor debuted September 8, 2009, appearing on numerous bestseller lists, including the New York Times Bestseller List
Sue's website features some timeless insights on her writing.  Her pearls of wisdom include:
The quality of a writer's work directly correlates to how much the writer pays attention.
The single most important question a novelist should ask is: "What does my character want?" That thing will then become the driving force of the book.
"The well springs of the creative life are deep inside each of us" — therefore, we must "tap" into that river.
"It's not the first thing I think of that works magic, but the third." — find the third thing.
Allow yourself to write badly – "Perfectionism kills the spirit of writing faster than anything I know of."