While I was unable to secure a guest blogger for The Writing Well today as part of the Blogathon (I am too much of a procrastinator), I committed myself to uncovering a writing-focused blogger who inspires me.  It didn't take long for me to find that special blogger: Judy Stone-Goldman, Ph.D, an emeritus senior lecturer at the Department of Speech and Hearing Sciences at the University of Washington.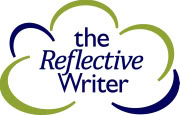 Judy created The Reflective Writer  to help people use writing to achieve personal and professional balance. On her blog home page, she asks readers, "Are you looking for personal-professional balance?" "Would you like a way to reduce your worries, clarify your goals, and be comfortable with your boundaries?" "Reflective Writing can help you do all this as you give voice to your thoughts and feelings. You don't have to 'be' a writer or see yourself as a writer to participate."
What a great message!  We need more bloggers like Judy, who effortlessly share milestones and struggles and then pose helpful tips (and writing prompts) to get others thinking and and journaling. 
Judy states in her expanded bio that she was a professional counselor who ran workshops across North America. Many of her workshop participants – both families and individuals — were energized after attending these workshops, but hungered for a way to keep working through their issues. Her answer was starting this blog.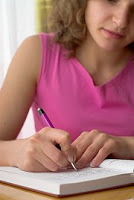 I find it interesting that The Reflective Writer debuted in October 2009 — the same month I launched my own writing blog, The Writing Well.
At the time, I expressed my feelings about joining the blogging community this way: "I am just glad to be a part of a community where everyone can have a voice, a perspective, a story to share. It's an exciting milestone for me — and I know I am going to learn a lot from all of you who are established in this medium."
I have to say I continue to learn a lot from bloggers like Judy, who know why they're here and how to engage, share and inspire through example.
Which bloggers move you? Share them here.