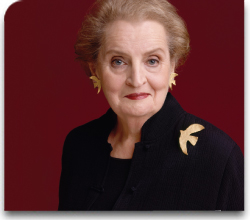 I'm devoting today's post to a feminist, a diplomat and a role model for women around the world: Madeleine Korbel Albright, who turns 74 today. She was born in Prague under the name, Marie Jana Körbelova on May 15, 1937, the daughter of a Jewish Czech diplomat.
In 1997 — the year that Britain ceded Hong Kong (a British colony since 1841) back to China and Princess Diana died in road accident in Paris, France — Albright became the nation's first female secretary of state and, at that time, the highest ranking woman in the history of the U.S. government.
During her four-year term, Albright reinforced America's alliances; advocated democracy and human rights; and promoted American trade and business, labor and environmental standards abroad. Prior to her appointment, she served as the U.S. permanent representative to the United Nations and as a member of the President's Cabinet from 1993 to 1997.
I know something of Albright from a close military officer friend who actually met her on numerous occasions at White House functions and dinners. He expressed to me at the time how genuinely nice she was – in fact, the regard must have gone both ways as my friend was invited to have tea at her residence not long after she retired from public service.
In an interview with Austin Woman Magazine, Albright said her greatest achievement in her term as secretary of state was accomplished in Kosovo. "In Kosovo, we were able to stop ethnic cleansing. It was a complicated effort, and satisfying when it was over," she said. The same interview, she noted the significant progress for women globally that occurred during her time as secretary, t politically and economically empowering more women throughout the world. "That was no small feat," she remembers, "and I'm proud to have helped spearhead that movement – a movement that continues today."
Albright now serves as a Professor of International Relations at Georgetown University's Walsh School of Foreign Service.
Happy birthday, Madeleine! Here's to you.  I leave you with some of her more memorable quotes. They reflect her sense of humor and her strengths as a woman, a politician, a world traveler and an advocate of Democratic ideals.
"I was in Europe and it was at this stage that I fell in love with Americans in uniform. And I continue to have that love affair."

"I've never been to New Zealand before. But one of my role models, Xena, the warrior princess, comes from there."

"To understand Europe, you have to be a genius – or French."

"We will not be intimidated or pushed off the world stage by people who do not like what we stand for, and that is, freedom, democracy and the fight against disease, poverty and terrorism."

"While democracy in the long run is the most stable form of government, in the short run, it is among the most fragile."