As someone who writes scripts on a regular basis, it's always refreshing when I uncover presenters who are natural communicators. These folks know their subject intimately, and speak to it from a place of authenticity. They get their point across well, engaging their audience with their own experiences, relevant statistics and, above all, a call to action.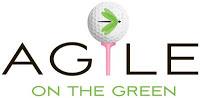 Earlier this week, I attended a breast cancer golfing event in Atlanta called Agile on the Green. The event has raised more than $130,000 in its six years of bringing Atlanta's IT community together to make a difference in breast cancer outcomes. The event's founder, Tricia Dempsey, started her IT staffing company and the fundraising event six years ago while recovering from Stage 3 breast cancer. Both she and Kelly Dolan, executive director of Komen Atlanta, spoke passionately about the need for more awareness and support for affordable mammograms in a state where one in three Georgians has gone without health insurance over the past two years.
Everyone's ears perked up when Tricia shared a comment from her recent oncologist check-up. When she asked, "How is the cancer business going?" her doctor replied, "The cancer business is terrible." That was her segue into an alarming trend of job losses leading to lost health insurance, which in turn, has led to fewer clinical exams and later cancer diagnoses. Kelly stood up and urged everyone in the room to break the 1,000 mark of company participation next year, and provided undeniable stats on the pervasiveness of breast cancer (one in eight women will be diagnosed with the disease at some point in her lifetime). What I found most memorable was Kelly's personal tribute to Tricia, saying, "To have started the tournament the way Tricia did out of the adversity of breast cancer is a great testament to Tricia's strength and commitment to this cause, and that is what motivates this entire cause."
These ladies are inspiring role models who have mastered how to speak well to get their message across memorably.