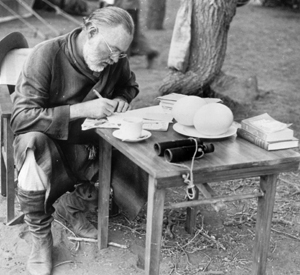 Ernest Hemingway, East Africa, 1954.
Photofest
Ernest Hemingway is one of America's great and original literary figures. Known as a man's man, Hemingway lived a colorful life on his own terms — as a member of the "lost generation" of WWI, as a war-time journalist and author, and as an avid outdoorsman. His stories of war and sacrifice and of men finding redemption in nature feature his trademark style of simple, straightforward prose.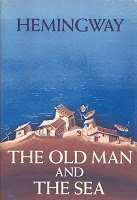 In a letter to his publisher Charles Scribner in 1951, Hemingway described how he felt about his book, The Old Man & the Sea, a story set on the Cuban coast that tells of an old fisherman battling a swordfish for four days and four nights alone in his skiff: "This is the prose that I have been working for all my life that should read easily and simply and seem short and yet have all the dimensions of the visible world and the world of a man's spirit."
Hemingway would go on to win a Pulitzer Prize for that novel, whose main character exemplified the type of courageous heroes the novelist often created…men who faced danger straight on with courage and fortitude.
The name of my blog is inspired by Hemingway, who once wrote, "I learned never to empty the well of my writing, but always to stop when there was still something there in the deep part of the well, and let it refill at night from the springs that fed it."
Here are six trademarks of Hemingway's writing approach that should make you a better, more effective writer:
•Start with the simplest things
•Boil it down
•Know what to leave out
•Distrust adjectives
•Learn to write a simple declarative sentence
•Tell a story in six words