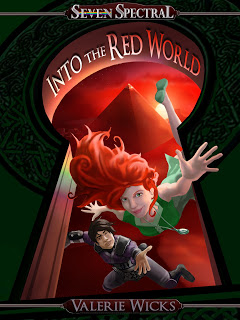 I am a fan of YA fantasy and talented young authors, and LA-based writer, film-making grad and video gaming expert Valerie Wicks personifies both. Valerie is the author of Seven Spectral: Into the Red World, her colorful debut novel (the first of seven in a series), featuring a strong flamed-haired heroine named Emerald Drizzleweather Bogwater (Emer for short), who takes us on an unforgettable quest into a new world to find her mother.
As Valerie's book introduction reads, Emer has an unfortunate name, unfortunate red hair, and an unfortunate tendency to rebel. When she escapes her small green village to see the world, she discovers something she wasn't bargaining for…a whole new one. Now she must solve the mystery of the Red World, before its dangers ensnare her forever.
One Amazon reviewer called Into the Red World a " fun, fierce adventure set in an incredibly inventive world" while another said, "I can't wait to see how Valerie Wicks progresses as a writer and what bizarre, beautiful worlds she will take us to with our plucky heroine, Emer!"
I knew I'd met a kindred spirit when I visited her author website and read these words: "My name is Valerie Wicks and I love worlds, characters and stories."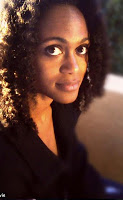 The Marietta, Georgia, native, who now makes LA home, was set on a path to her first full-length novel on a visit home last year when she discovered some floppy disks containing fragments of seven different stories she had written as a child. Each was set in a different colored world.
"The writing reeked and the spelling…well…I wrote it when I was ten. But I still loved the idea so much that I brought it back to Los Angeles. A year later, I finished the first book," recalls Valerie.
In December, Valerie gave back to her community at a special "Give the Gift of Reading" event at her local Barnes and Noble's store at The Grove in LA. Many young people participated and Valerie did a reading and book signing benefiting 826LA, a non-profit organization devoted to improving literacy among students.
Below, read an excerpt of her debut book and a candid chat on what she hopes readers get out of her story and advice for other young writers. I wish this energetic and talented young storyteller every success. I enthusiastically recommend that you spend some time in her colorful world; I promise you'll enjoy the journey as much as I did (and your kids will, too)!
Learn more about Valerie and her book series at www.sevenspectral.com, which features a cool book trailer and links for ordering this fun read on Kindle or in other formats.

 
* * * * * * 
     Suddenly Emer found herself falling through a foreign sky. She screamed, plunging through a nest of rope-like vines, which tangled around her body. Seconds before impact with the ground, the vines taughtened, bouncing her back up into the air. She flew high above a canopy, but this wasn't the mossy world she'd grown up in…
     The fiery evening sun made everything, everything the color of her hair! It was just like the band of light she'd traveled through. The shock of it still hurt her eyes. This place was the very definition of the word "wild". It was thick trees whose exposed roots looked like a tangle of snakes frozen in time, huge fan-like leaves dripping water down through layers of vegetation, vines that coursed like veins through every inch of the forest body.
    …Not a forest. This was something else. Something hot, muggy, and poisonous. A tangled jumble — a jungle. That was the only way to describe it.
— from Seven Spectral: Into the Red World


Q. Who are you trying to reach with this novel? What message or universal truths do you want to get across to your readers?
Valerie: I care a lot about character. For me, each character has a lesson to learn, but the common theme in this book is "Live a life of dignity." Emer feels like she will prove herself if she goes on brave adventures like her mother. Shigeru feels like he has lost his pride and must find it again. Even the villains must deal with this theme. I think pride is a deeply Red emotion — it's powerful and passionate, so I wanted to center the Red World around it.
Q. What was your process as a writer? Who do you model yourself after?
Valerie: I have a degree in filmmaking, and much of my storytelling comes from that perspective. I love cinematic, *colorful* adventures. Some authors I admire are J.K. Rowling, Neil Gaiman, Orson Scott Card — but at the end of the day, I take a lot from film and television writers like Steven Moffat, Steven Spielberg, and Hayao Miyazaki.
Q. What was the biggest challenge in completing this work?
Valerie: Actually completing it! Really, they say writing a book is hard, but I thought that since I did it as a kid it wouldn't be too hard (I finished four terrible books before the age of eighteen). I was wrong. It proved nearly impossible. The Orange Book has been much smoother sailing, though. Really, I'm still young so the difficulty for me was just learning to write a book, and I had to learn really fast. It's an unforgiving process, but I'm a million times stronger, smarter, and more talented for it.
Q. From the event you did at Barnes and Noble, I know you are interested in inspiring young people to read. Any advice on creative book publicity?
Valerie: I will actually be speaking about this at the Southern California Writer's Conference in mid-February. I believe in a visual approach. Maybe it's the filmmaker in me, but I wanted to have a trailer — a quick and easy way for readers to get a taste of the book. I also believe in a beautiful, interactive website. Since I'm a self-published novelist, I'm trying to break the barriers between my independence and visibility. So I try to appear at big brick and mortar stores like Barnes and Noble. My advice would be to keep building, building, building. Each step you take will open up new avenues — take them, don't give up. People tell you it will take years and you don't want to believe it (I still don't want to, haha), but they're right. The best you can do is use that time wisely and always go big. That way you have the best chance of making a splash.
Q. What's next for you as a writer?
Valerie: I am currently working on the second book in the Seven Spectral series. It takes place in a world we haven't seen yet — the Orange World. It's going really well! And I'm super excited to release it later this year! In the meantime, I will be posting tidbits all over my website.
Q. What advice do you have for other writers who are not yet published?
Valerie:
Into the Red World
is self-published. I am looking for a publisher to pick up the Orange book. Quite frankly, a self-published marketing campaign is a full-time job plus overtime. I have to work a day job to do the whole living thing, so I just don't have the time a true marketing maverick needs. Even with a publisher, an author has to do 70 percent of the work, but 70 is better than 100 percent! In the meanwhile, self-publishing 'Into the Red World' has earned me the sort of following I need to grab a publisher's eye. It all works together in the world of 2013. My advice would be to study the industry…a lot. Save up and go to a good writer's conference. Everyone's path is completely different, so only studying will allow you to decide what is best for you.