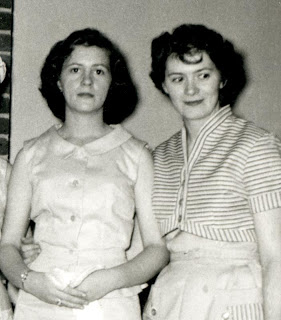 An early photo of Mom and Aunt Bob.
M

other's Day for me is a mixed blessing — I have two beautiful children and a devoted husband to share this holiday with. I don't cook on Mother's Day. I avoid housework. I do something that's rare these days: relax. 
My cousin Teri, Mom, Aunt Winne and Aunt Bob.

This holiday is about celebrating. But if I'm completely honest, it brings both smiles and sadness. That's because I don't get to spend the day with the one person who understood me better than anyone — Mom. It's hard to believe that she's been gone almost eight years. I know because she passed away three weeks after the birth of my son in the early evening of August 3, 2004. Unconsciously I mark the years of her passing by my son's birthdays.
Last year on Mother's Day I wrote a tribute to Mom. And this year, she's more on my mind than ever. That's because a month ago — on April 14th — we lost her beloved sister Winifred (Winnie for short).
Aunt Winnie was the second oldest of seven children born to Mary and James Siler. I never knew my grandfather, but his kindness was legendary in our family. He died from Black Lung when my mom was only 16. His passing devastated my grandmother (Mama) as well as Mom and her sisters, who worshiped him.
Aunt Winnie and my mother were incredibly close…more like mother and daughter than sisters because of their 20-year age difference. Mom was born in September 1939, and by the time she was three years old, World War II had broken out. As a young bride and mother to a newborn daughter, Winnie came to live with Mom and their parents while Winnie's husband, Alfred, served overseas.
Later, as a young woman, Mom lived briefly with Alfred and Winnie when she first came to Dayton. She had been in the Air Force and began working as a telephone operator at Ohio Bell. A favorite aunt to Winnie's kids, Mom would spoil them by taking them to the movies and baking them little birthday cakes.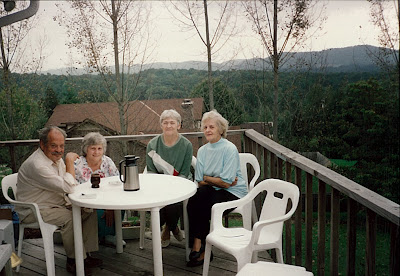 Three sisters and Uncle Bill — with the Smoky Mountains in the distance.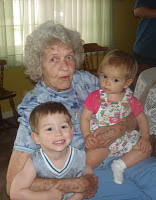 Aunt Winnie with my kids.
 
Once Mom met my dad and they married, the sisters remained close — they lived one town apart in northern Dayton, Ohio. Another sister, Bob (short for Barbara), the family's "storyteller," was also very close in their hearts but lived farther away in Oak Ridge, Tennessee.

There are many happy memories of the Siler sisters together. My siblings and I spent part of our summers in Tennessee visiting Mom's family. I can still see my mom and her sisters sharing coffee on the  patio at Aunt Bob's house, laughing, reminiscing and making up for lost time. There never seemed to be enough time. I loved sitting with them, hearing the family stories and how gullible my mom, the baby of the family, was to the pranks of her brother and brothers-in-law.

I was so lucky to have had a chance to see Aunt Winnie before she passed. She outlived both her younger sisters — Aunt Bob was 69 when God claimed her; my mother a month shy of her 65th birthday when she passed. Both exited this life within two years of one another — from lung cancer.  I felt both of their presence with Aunt Winnie on my final goodbye. My kids and husband came with me to her hospital room, and she visibly perked up and smiled as my five-year-old daughter sang "Amazing Grace."    
It was obvious to all of us that Aunt Winnie was ready to leave us and be reunited with her Lord and her family in Heaven. She passed away a week after I returned to Atlanta. She was 88, and was survived by her son and daughter, many grandchildren, great-grandchildren, nieces and nephews. I miss Aunt Winnie dearly. Her letters. Her simple faith. Her kindness. Her love of gardening. Her shared memories of my mother. I think of her kids, my cousins, spending tomorrow — their first Mother's Day — without their mom.   
But, even as I write these words, I can almost see Mom and her sisters in my mind's eye… sitting around that porch with the eastern Tennessee mountains over their shoulders, laughing — their eyes crinkled in merriment. Their spirit still lingers — built over a lifetime bonding as sisters, mothers and friends.