"I declare after all there is no enjoyment like reading! How much sooner one tires of any thing than of a book! — When I have a house of my own, I shall be miserable if I have not an excellent library."                                             ― Jane Austen, Pride and Prejudice 
How true those words are in my life…though my "library" is Amazon, sites like Goodreads and the multitude of bookstores within a 15-minute drive of my home.
We all deserve to take a break from the daily grind and to immerse ourselves in a captivating story. This Mother's Day, I offer some of the books that have made me laugh and cry — stories that keep me up reading late into the night.
Depending on my mood, I enjoy a good biography, romance, historical fiction, or fantasy novel, as well as a smattering of Civil War narratives. I've listed some perennial favorites as well as a few new titles at the top of my reading list.
What books make your all-time favorite list? Share them here.
Biography
Seabiscuit: An American Legend by Laura Hillenbrand
Open: An Autobiography by Andre Agassi with J. R. Moehringer, Jr. (Read my book review.)
Team of Rivals: The Political Genius of Abraham Lincoln by Doris Kearns Goodwin 
Shadow of the Titanic: The Extraordinary Stories of Those Who Survived by Andrew Wilson

 
Romance  Classic / Contemporary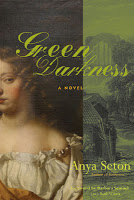 Redeeming Love by Francine Rivers  
Green Darkness by Anya Seton 
Splendor of Silence by Indu Sundarsan  
Pride and Prejudice by Jane Austin
The Orchard by Jeffrey Stepakoff (read author interview.)
Dreaming of You by Lisa Kleypus
Historical Fiction 
The Killer Angels: A Novel of the Civil War by Michael Shaara (This Pulitzer Prize winner topped my list of three must-reads of the war-time experience.)
11/22/63: A Novel by Stephen King
Gone with the Wind by Margaret Mitchell

The Postmistress by Sarah Blake
The Dovekeepers: A Novel by Alice Hoffman
The House of Velvet and Glass by Katherine Howe
One Thousand White Women: The Journals of May Dodd by Jim Fergus
Fantasy   
The Talisman by Stephen King 
A Game of Thrones by George R.R. Martin 
The Hunger Games by Suzanne Collins 
Other Fiction
Midwives A Novel by Chris Bohjalian
The Joy Luck Club by Amy Tan
The Next Best Thing by Jennifer Weiner (out July 2012)