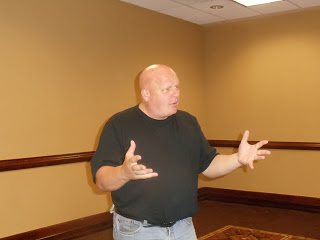 Communication evangelist Steve Crescenzo says it's never been a more exciting time to be a corporate communicator. Why? Because of all the new tools available for communicators – from podcasts and blogs to videos and social networks. This new world has led to a massive shift in how organizations communicate to each and every audience – from employees to communities to the world at large.  
"The best thing about the new tools? They're inexpensive to do and anybody can do them. The worst news is anybody can do it and they're doing it wrong," says Steve, a plain-talking Chicago native, who
 was the No. 1 rated speaker at IABC's World Conference from 2008 to 2010, and is the opening keynote speaker at this week's IABC Southern Region conference in
New Orleans
.  
Steve and his communications partner, Cindy, recently held a one-day IABC International seminar in Atlanta that attracted communicators from across North America and Mexico.  The information-packed day included 
a number of planning tools to guide attendees,  and examples of corporate communications at its best and at its worst.  
Here are four insights I gleaned from their presentation:
#1 Corporate communications is dying – including formulatic writing, jargon, buzzwords, platitudes and top-down information flow.
Says Steve: "We have to stand up to management and say the way we've always done it doesn't work — the world has changed. There is a lot more information out there. The formal style, the corporate style, the stiff style, doesn't resonate with anyone."
#2 Our role has changed – we are not just "publishers" anymore; rather, we're talent scouts, the talent itself, community organizers and conversation starters.
"We have to coach executives," Steve says. To illustrate his point, Steve shared a story of how one CFO wanted to do a podcast in which he would restate the company's earnings numbers. Instead, the company's communicator convinced the executive to do a brief podcast on "Behind the numbers – what the quarterly numbers mean to you."
 "Without the communicator's help, this guy would have run amok," Steve says, adding, "Without trained people, organizations will create really bad communications.
#3 Stop fighting the wrong battles – namely, the battle to make the deadline and to create something that will make it through the approval process.
"The only battle that matters is the battle for our audiences' attention," says Steve, adding, "The dirty secret of our profession is that we are often churning out things that no one pays attention to."
#4 Take the corporate out of communications and replace it with "creative."
–

        
Instead of communicating top-down, be interactive and participatory.
–

        
Instead of using stiff and formal language, be conversational.
–

        
Instead of talking policies and programs, focus on people.
–

        
Instead of "safe content," try creative (so-called "risky") content.
–

        
And, instead of formulatic writing, do great storytelling.
Steve shared a local example — Tim Whitehead of Children's Healthcare of Atlanta successfully creating an employee recruitment blog titled, Are You Strong Enough to Care Enough? The site features first-person stories of staff on what makes working at Children's special. 
 "Great web content is built on three things – interesting stories about people, interaction and multimedia," says Steve, observing that the Children's site features all three components. "To me, this is what communications is all about – real people telling real stories."
To conclude, Steve emphasized that the job of communications is not to give employees what they want; instead, it is to give them what they need in order to help the organization. "It's about aligning people with the business strategy."
He then asked, "What is your communications manifesto?  What are you here to do? 
If a communication piece can't be tied to a business goal or objective or to a communication goal, why are we doing it?"