Today's guest blogger is Mari Ann Stefanelli Perusek, an aspiring author and a member of my writer's group. Mari Ann and I share a common sorrow – the loss of our mothers too soon from the ravages of cancer. We also have found healing through the power of writing.   As we head into Mother's Day weekend, Mari Ann shares what her mother meant to her and how that loss has led her to the path she's on now. I hope you find it as touching as I did.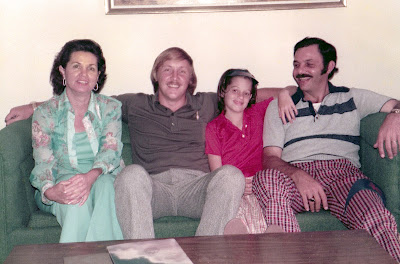 Mari Ann with her mom Betty June (left), her former brother-in-law Dave Luke, and her dad Bob Stefanelli.
I wish I could send my Mom a Mother's Day card.  I always seem to find a perfect one, and there's so much to tell her.  If I only knew heaven's address…
Betty June Stefanelli passed away December 9, 2001.  She was an amazing, fun-loving, compassionate and youthful 65-year-old woman, so cherished in her roles as daughter, wife, mother, mother-in-law, grandmother, aunt and friend, that it's sadly ironic only a rare cancer–gall bladder–could extinguish her singular flame. Gall bladder cancer is horrendous, second only to pancreatic cancer in nasty severity; my beautiful, imperfect, but kind mother–loved by everyone who met her–suffered a grueling, painful two-year battle.
Ten years later, her loss is still a raw wound in my heart and, all this time, I've felt a relentless urge to chronicle how her passing affected my life.
I didn't write.  But I felt that I should.
That urge to write was so strong that in February 2010, I pitched my book idea to Jedwin Smith, respected author of several books, including Our Brother's Keeper.  I felt an instant connection–a communion of loss, perhaps–while reading Our Brother's Keeper.   That connection solidified when I met him in person.
Jedwin loved my idea.  But I didn't write.
Yet that compelling urge was still there, gnawing at my subconscious and conscious alike.  Although I didn't know why, I knew I needed to write.  A few months later, I attended author Jessica Handler's inspirational workshop, "Writing Through Grief."  She asked, "What obsesses you?"
Oh, that's easy.  My mom.  Why didn't I talk to her about dying? How did she feel?  That's it–I don't know how she felt, and it eats at my heart.  I let her down.  Oh, how I let her down.  How could I not do this for my mother?
Jessica tells us to stop thinking and start writing.  As I clutch my pen, words pour on the paper, flowing easily, like my pent-up tears.
Why didn't I bring tissues? 
In one way, the workshop was successful–I finally had a few pages written–but I also felt guilty.  I wanted my mother with me, alive, but that felt like a betrayal to God, whose loving presence in my life has always been a constant.
Since Mom's passing, I feel her, too.  Her gentle presence keeps nudging my subconscious.  Somehow, I know exactly what those two want.
My mother and God want me to write a book.  About them.
Seriously?
Yes, I loved writing.  In my former public relations career, I loved my clients, loved their products and services, but what I loved most was sharing their stories through my writing.  Now, as a stay-at-home mother of two kids; the vision of breaking into the shimmering mirage that is the writing industry seems overwhelming.
Still, a few months later, I pitched the same book idea to Jacques de Spoelberch, a respected literary agent.
Jacques loved my idea.  But I didn't write.
It was summer now; the kids were out of school, and it was "too hard" to write.  I told myself I'd begin in the fall.
School began in August.  I still wasn't "ready" to start writing.
In September, after being misdiagnosed by two different doctors, I was admitted to the hospital with a life-threatening bacterial infection, which necessitated open-heart surgery in January 2011.  I am lucky to be alive.
Okay, God.  I thought you were furious at me for not listening.  But you and Mom were trying to save me.  That's why you've brought all these people into my life. Somehow, writing will heal my heart and help me understand her death.   As much as I miss Mom, I want to be here on earth for my children.  Like she was for me. 
I write, knowing that it's no longer optional.  Writing isn't easy.
That's not entirely true.  Sometimes, the words come in a downpour; my fingers fly over the keyboard at warp speed to keep pace with the torrent. 
Most of the time, though, I still fight doubts about my ability to write and my ability to persevere.  I've since joined a writers' workshop led by, ironically, Jedwin Smith.
Jedwin tells me to trust God's plan.  "Just write."
And so I do.  Writing is healing me.  Tears, a constant accompaniment to my keyboard clicks, release years of toxic anguish.  As they leave my body, I become stronger, my heart lighter.  With support from my new writer friends, I find confidence and opportunities to share my voice, perhaps even opening doors to a new career.
I've stopped questioning this journey.  My way is becoming clearer.  Just walking, even slowly, creates a path if I do it every day.
I smile as a Bible verse drifts into my subconscious:  "In all thy ways acknowledge Him, and He shall direct thy paths."
I feel Mom's gentle hands touch my heart, hear her words in my mind: "This is my gift to you."
Maybe I don't need heaven's address after all.  Mom knows how to reach me, and I now know how to listen.  It has taken me a long time, but I am writing regularly.  My memoir, Finding My Peace of Faith, is my medicine.  I understand my mother and my Father:
Just write.


            And your heart will be healed.
She is with me.  God is with me.  That's quite a gift.
About Mari Ann Stefanelli Perusek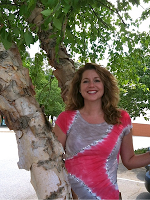 A Florida native, Mari Anngraduated from the University of Florida with a bachelor's degree in public relations and loved working in the industry.  Her career ran the gamut from managing local level politics, to helping cancer patients at the American Cancer Society, to launching life-saving new drugs at Hill and Knowlton.
As much as she loved her clients, Mari Ann loved writing about them even more.  She now lives in the Atlanta, Georgia, area with her husband, daughter and son and is launching a second career as an author.   Reach her at: mariann.stefanelli@yahoo.com