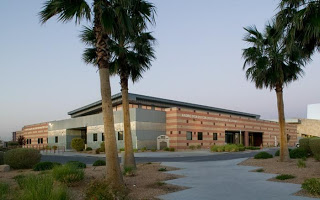 Andre Agassi College Preparatory Academy
 (Gallery photo).
I
read over the weekend that tennis great-turned-education evangelist Andre Agassi has committed to finance the construction of as many as 75 charter schools in urban US cities in the next several years through a new real-estate fund he's established with Canyon Capital Realty Advisors. He hopes to replicate the success of the Andre Agassi College Preparatory Academy, which he established in Las Vegas in 2001.
My husband and I, who met at a tennis round robin in Atlanta and got engaged at the US Open, are long-time Agassi fans:
We read his autobiography, Open, and found it incredibly heartfelt (more on that later).

We both are professionally involved in education (my husband is a math teacher; I'm writer for both college and non-profit educational clients).

We're also parents, concerned about the state of education in a country where the public school system continues to struggle.
If Andre's dream becomes reality, then that will raise the bar on education and give parents, especially those with limited economic choices, more options.
During the French Open earlier this month, Agassi talked about his post-tennis career with Christopher Clarey, chief sports correspondent for the
International Herald Tribune
. He said in part, "I don't know if tennis turned me into this or I was good at tennis because this is hard-wired, but I don't revel in things very long. It's always about tomorrow. It's always about the next step. I've had so many moments. I mean my book was a proud moment for me, even the two weeks before people got to read it and they heard about it." (read the entire 
New York Times
interview
here
).
Later this week The Writing Well will pay tribute to Andre as a storyteller, with a closer look at his 2009 New York Times' bestselling book, Open, which he wrote with J.R. Moehringer, a Pulitzer Prize winning journalist, and which was named one of the best books of the year by Forbes, San Francisco Chronicle, and The Washington Post.