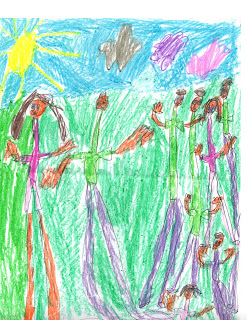 My five-year-old daughter was very proud of this portrait she created of our extended family.  "Make four copies and give them to Aunt Lisa, Uncle Mike, Uncle Matt and Grandpa," she instructed me earlier this week while putting her crayons away. I chuckle now when I think of this exchange, and today I share her creation with my siblings — at least digitally.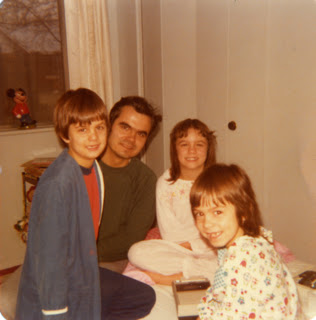 Three of us with Dad…the growing-up years.
Family ties are a magical thing…if you are lucky, you can depend on your family in good times and bad. I've been very fortunate in that department; I consider my brothers and sister much more than siblings, but close confidantes. Even though my brothers live in other states, and I wish we could be together more often, I know they've always got my back.
Virtually all books have something to say about the powerful connection of family in shaping who we become or — in some cases — don't become. Writing down childhood memories creates a wonderful  legacy to leave the next generation, and even those who faced painful childhoods can often heal themselves and others through their stories.
In an interview with The Economist, Secretary of the Royal Society of Literature and Literary Editor of Intelligent Life Maggie Ferguson said the best memoirs pull you in from the beginning.  "The disaster with memoir is when it sells sentiment. I think it's a disaster if you are settling scores with other people. There has to be generous root."
Here are two memoirs — one published back in 2005 and one coming out next week — worth a closer look:
The Tender Bar by J.R. Moehringer — a poignant memoir about a boy striving to become a man, and his romance with a bar. A national bestseller, The Tender Bar was named one of the New York Times' 100 Most Notable Books of 2005.
Blue Nights by Joan Didion — to be released May 29th – is described as "a work of stunning frankness about losing a daughter." This book already is getting significant acclaim as a New York Times Notable Book.  Didion shares memories from own childhood and married life, as she reflects on her daughter's life and on her role as a parent. She grapples with the candid questions that all parents face.