Every Friday, The Writing Well will showcase places that inspire creativity and 'your inner writer.' Enjoy this visual journey of destinations designed to give you pause from the daily grind, think outside yourself and reinvigorate your spirit. 
BAPS Shri Swaminarayan Mandir
Lilburn, Ga., USA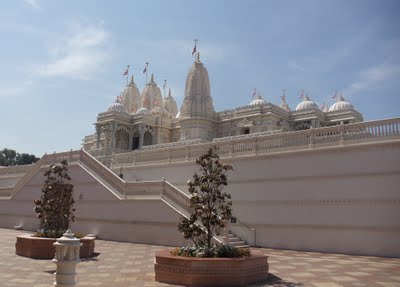 I journeyed this week to this beautiful BAPS Hindu Mandir in Lilburn, Ga., with a group from my church. Mandir is the name for a Hindu place of worship and prayer. The components making up the word, Man and Dir, mean mind and still. Therefore, a mandir is a place where the mind becomes still; a place where we experience peace from worldly problems. For centuries, it has remained a spiritual, educational, social and physical cornerstone of Indian society. The ornate carvings found throughout this structure are breathtaking. The mandir is open to the public and people of all faiths are welcome to visit, learn about this sect of Hinduism, and take in the incredible architecture and stone carvings of gurus and deities of the Hindu faith. I recommend this mandir as a destination for anyone seeking a change of pace and a peaceful respite where you can journal or just rest.