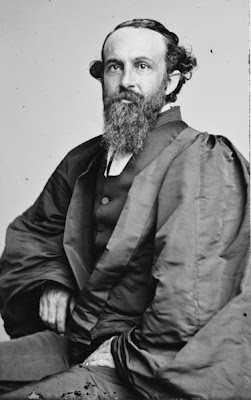 Mathew Brady portrait of Rev.
C.T. Quintard sometime between 1855 and 1865.
"If it be true that — 'They also serve, who only stand and wait,' surely
they serve who suffer and endure."                          
                 — Balm for the Weary and the Wounded by Charles Todd Quintard
T
he Fourth of July inspires many Americans to look back on their national story.
For me, it always brings to mind the most trying moment in our nation's history: the Civil War. The losses on both sides of the conflict were staggering – costing our country 1.1 million casualties and claiming more than 620,000 lives.
Much has been written about the conflict by eyewitnesses, by presidential biographers and historians, and by crafters of family memoirs. I came across a rare spiritual manuscript from that era thanks to Dr. Bill Nisbet, a retired Army Reserves chaplain who serves as an assistant pastor at my church.
A Regimental Doctor and Chaplain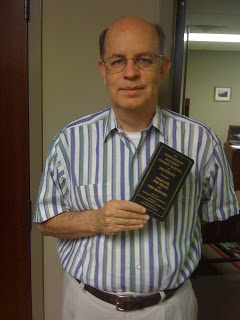 Bill Nisbet with the devotional.
The Confederate Soldier's Pocket Manual of Devotions, published in 1863, was compiled by Nisbet's great-great-great grandfather, Charles Todd Quintard, a medical doctor and chaplain of the First Tennessee Regiment, who later became the Episcopal bishop of Tennessee. Throughout the Civil War, Quintard didn't hesitate to care for the physical needs of soldiers as a hospital field surgeon. But, according to Nisbet, his primary calling was to nurture souls. As a chaplain, he counseled and comforted privates and generals alike.
Mercer University Press reprinted the devotional in 2006 and included a foreword from Nisbet. The first part of the book draws heavily from the Episcopal Book of Common Prayer, including 44 beloved Christian hymns. The last part of the manuscript is a reprint of Quintard's Balm for the Weary and Wounded.
That portion of the manual most moves Nisbet. "I know soldiers who have, as he wrote, 'exchanged active service of the field for the wearying service in the hospital in the bed of sickness and pain.'"
Ephemisms for the Scars of War
The physical wounds were an all-too-common sight from historical photos of Civil War anniversary remembrances, and the vast number of amputees from both the North and South.
Observes Nisbet: "It's only been with the generation coming out of Vietnam that we've focused on the scars of war that are more internal than external."
Nisbet notes that mental trauma of war has gone by many names over the years — in World War I it was shell shock, in World War II it was battle fatigue. In post Vietnam to present day it is called PTSD.
"During the Civil War, they used the phrase, 'He's seeing the elephant.' These euphemisms have been used to describe people who have been incapacitated mentally by war or by any kind of trauma, so the fact that Quintard began talking about soldiers who have served not only in battle, but also those who continue to serve while wounded, he was honoring that service – it was just as real and just as important to him as any other service."
Nisbet has encountered veterans and active servicemen and women throughout his career. A member of his first church included a survivor of a gas attack of World War I.
"He had lived his whole life with breathing problems," recalls Nisbet. "I always had a deep interest in those people (who had such wounds) as a minister and as a chaplain."
Quintard's Legacy as a Unifier
He thinks his great-great-great grandfather's biggest legacy was as a unifier and priest in the Episcopal Church after the war. He helped heal the divides that tore apart many denominations during the war. Catholic and Episcopal churches were among the few denominations in America that didn't divide based on their allegiances to North and South. "The Episcopalians were lucky in that way. But they also had guys like Quintard. Many Southerners were actually Northerners. Quintard was in the Confederate Army but was born and raised in Connecticut," Nisbet says.According to Nisbet, his great-great-great grandfather was never in favor of secession, but when Tennessee left the union and his parishioners asked him to be the unit chaplain, he went with them. He had by then married a Southerner, adopting the Southern culture.
Early biographical accounts note that while in Memphis, Tennessee, Quintard decided that "a man's soul was worth more than his body so he became a priest."
"That's one of the reasons he wrote the second volume. As a doctor, he saw the suffering but he had a spiritual understanding of what it was about," says Nisbet.
After the war, the Diocese met and elected Quintard as the next bishop for Tennessee.
Following in Quintard's Footsteps
Nisbet has followed somewhat in his ancestor's footsteps in the ministry and serving those in uniform. After 9/11, he spent eight years on active duty at Ft. McPherson, where he ensured that every National Guard and Army Reserve unit that mobilized deployed to Afghanistan and Iraq with its authorized chaplain and assistant chaplain.The credo of the Army Chaplain Corps, first used in the 1980s, could well be his great-great-great grandfather's epitaph:
Nurture the living.
Care for the wounded.
Honor the dead.