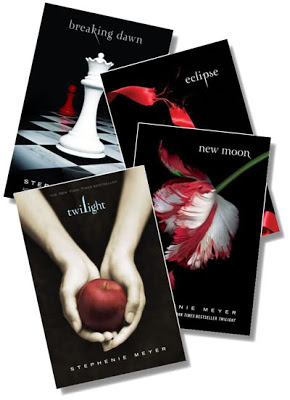 Yesterday I watched the final installment of Stephenie Meyer's vampire-human-werewolf love saga with my friends. Okay, I'll admit I sneaked a peek the morning before at my favorite cineplex that was having a "Mother's Morning Out" matinee showing. I couldn't help it. I'm what they call a Twi-Mom, a well known segment of the fan base and a group that Taylor Lautner once described laughingly as "very dangerous," in an interview on "Jimmy Kimmel Live."
While teenage girls and moms remain the most loyal fan base of the movies and books, we aren't alone.  Men, including my dad and husband, enjoy the films, as does Mark Kermode, English film critic with The Observer. His Nov. 10th column, "Move over Luke Skywalker…I'm a Twilight man," sets the record straight. He noted, "The idea that you have to be a teenage girl to 'get' Twilight is equally off the money – and I say that as a stuffy, bespectacled greying man rapidly approaching his 50th birthday who is looking forward to the arrival of Breaking Dawn: Part 2 this week with as much excitement as I await Steven Spielberg's reportedly awards-worthy Lincoln. Maybe even more…"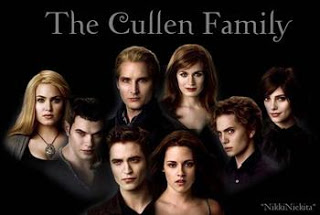 So, as I say goodbye to the "Twilight Saga," I want to share five things I will miss most:
1.The story. There's nothing quite like first love, forbidden love, conflicted love. And to have all three rolled into one story, with elements of the supernatural and fantasy, how can you not be hooked? Thanks, Stephenie, for envisioning a world where a teenage girl dared to fall in love with a young vampire, while being drawn to a lifelong friend, who happens to be a werewolf.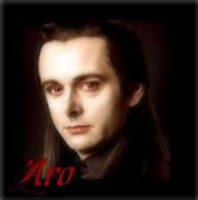 2. The incredible supporting cast.  Many movies are made more memorable with a strong supporting cast ("When Harry Met Sally" and "Moonstruck" come to mind). "Twilight" is no different, benefiting from an amazing ensemble cast of both the Cullen clan and Quileute tribe of werewolves. Three of my favorite secondary characters include Alice, played by Ashley Greene, Carlisle played by Peter Facinelli, and, of course, Bella's gruff and tough dad, Charlie, portrayed by Billy Burke. Who can forget the first time Charlie meets Edward while cleaning his rifle at the kitchen table?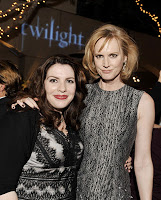 Meyer and Rosenberg.
3. The collaboration between Meyer and the screenwriter, Melissa Rosenberg. Both obviously shared the same vision to stay true to the books and I love that we had continuity of writing throughout the film franchise. The fact that Stephenie was credited as a producer in the last film is evidence that Summit knew what it was doing. I adored the final scenes of Breaking Dawn: Part 2  showing excerpts from Twilight the book, interspersed with shots of all the cast members, reminding us that these stories first began as words on a page. Well done!
4. The Volturi. Every good story needs a good villain, and the power-hungry, cultured ruling vampire coven fits the bill. Aro, played brilliantly by Michael Sheen, as well as Caius and Marcus, were a perfect counterpoint to Bella, Edward and Jacob. And who wasn't rooting for Jane's demise in the final fighting scene?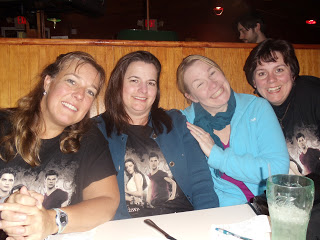 My friends celebrate after watching Breaking Dawn, Part I.
5.Finally, experiencing "Twilight" with my girlfriends. Our tradition of movie-watching together was a given after I read the books and watched the first film. I christened the experience on my blog after attending the 2009 premiere of "New Moon."
While there will be other films to enjoy with my friends, none will likely hold the same anticipation and appeal that our "Twilight" outings inspired. I applaud the cast, the filmmakers at Summit Entertainment and most of all, Stephenie Meyer. Thank you. What a fun, unforgettable ride!