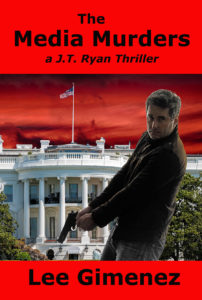 Today, The Writing Well talks with Atlanta mystery-thriller writer Lee Gimenez on his techniques for character development tied to the release of his twelfth novel, The Media Murders.
The story opens with a prominent New York Times reporter dying under suspicious circumstances right before breaking an explosive story. Then a well-known TV reporter commits suicide. Suspecting foul play, the FBI's John Ryan and Erin Welch investigate. As they probe the mysterious deaths, they uncover a shocking truth: Reporters are being murdered to suppress the news. More shocking is who they suspect is responsible for the killings.
As a writer who regularly reports on technology trends, I found the premise compelling. And, having read earlier books by Lee, featuring Ryan and Welch, I knew I would be in for a treat.  Lee has a knack for creating believable characters and suspenseful storylines. The Media Murders didn't disappoint on both counts. Below, Lee shares his process for creating well-rounded, imperfect heroes and antiheroes who readers can identify with – a component that any good story must have.
Q. Your newest thriller, The Media Murders, takes readers into the world of ethics and journalism, and the growing corruption of the field by outside interests, in this case, political forces. How true-to-life is this trend, and how did it inform your writing?
Lee: Like all of my previous eleven novels, The Media Murders, is primarily an action/mystery thriller. It's ideal for someone who enjoys a past-paced, plot-driven novel, witty and engaging characters, and a strong sense of mystery and suspense. But it's also more than that, as it tackles a serious issue that faces society today. As you mentioned, the plot revolves around the news media and journalism, and the key element is the murder of several reporters. Although the murder aspect of the reporters is fictional in the U.S. (at least as far as I could discover), it has happened in Europe and Russia in order to suppress the news.
The background of The Media Murders is based on research I did prior to writing the book. From this research I learned that the news industry in the U.S. has changed dramatically over the last 20 years. The news industry now reports news that is intended to not offend advertisers or government institutions. This trend has accelerated to the point that much news 'reporting' now is actually editorials from one side of the political spectrum or another. The 'free press' and the First Amendment to the Constitution are under assault in the U.S., something much of the public doesn't seem to be aware of. I hope that by talking about this topic in my book, more people will become aware of this alarming trend.
Q. The Media Murders features several favorite characters, including Erin Welch, J.T. Ryan and Rachel West. In fact, you actually grace this book cover with a male character, J.T. Ryan, a first for you. Your characters are always well-defined and multi-dimensional. How do you create memorable characters that people can identify with and want to root for?
Lee: I've found several effective methods of creating memorable characters. One such method is to realize that characters cannot be perfect. This is especially true in your main characters, both the protagonists and the antagonists. For example, your protagonist cannot just have good qualities. He or she has to have flaws, either physical or emotional, and better yet, a little bit of each. Remember that perfect people don't exist. We all have flaws. In order to make your hero/heroine believable, you have to include things about the person that are not necessarily positive. For example, one of the main characters in The Media Murders is John (J.T.) Ryan, who works for the FBI. He is one of the heroes in the book, and he has many good qualities in his personality. But he's also impulsive and hot-headed at times, which puts him and the people around him in some dangerous situations.
Another way to create multi-dimensional characters is to give them an engaging backstory and to include humor and wit in the dialogue. My novels all have serious, life-and-death action thriller plots, but I always try to lighten the mood by bringing in humorous and witty dialogue. It makes the novel more readable, entertaining and believable.
Characters also have to have conflict in their lives, whether it relates to their love life, their family, their jobs, etc. Without conflict there's no tension, and you have a boring novel. I try to include tension, suspense, and mystery, on every page.
Q. How much effort do you put into creating equally interesting villains? What kind of balance do writers need to strike when it comes to crafting characters on both sides of the good-bad spectrum?
Lee: Just as important as your main good guys/gals, the villains are, I've found, equally important. I don't want to give away the plot of The Media Murders, so I won't discuss the villains in this book, except to say they are extremely dangerous and deadly. So I'll use one of my previous thrillers, The Washington Ultimatum, to illustrate. The main villain in this book, Angel Stone (she's the beautiful woman featured on the book's cover) is the world's deadliest terrorist. The key to making this book successful was portraying her as evil as you would expect, but also to show that she had a human side that at times made her compassionate. Another good example of how this can be successfully done is shown in the Godfather movies, where the mobsters were killers, but they were also family men that went to church, and occasionally did good deeds.
Q. Engaging the audience through social media channels like Twitter is important for any author. How have you done this using your characters? What has been the feedback?
Lee: I find that engaging your reader audience is very important to the success of your book. I currently have over 50,000 followers on Twitter, and I've found this social media site a good way to get my message out and engage readers of my books. I'm also on Facebook, LinkedIn, Goodreads, and Pinterest. The key to social media, I found, is to realize that it's a great way to have a conversation with your readers. And what makes social media unique is that you can have a conversation with people not just in this country, but also with people around the world.
Q. What is coming up next for you in terms of book projects? Do you plan to continue with some of the character themes you introduced in The Media Murders? Will there be more interaction between J.T. and Rachel, for example?
Lee: I really enjoy writing about the main characters I've created in the last several novels. They include the FBI's John (J.T.) Ryan and Erin Welch, and my other series character, Rachel West, who is a CIA operative. Four of my novels, including The Media Murders, Skyflash, Killing West, and The Washington Ultimatum, are based on these characters. In my next novel I plan on including them as well. I'm currently working on the main plot for my next book, which I estimate would be published in the later part of 2017. Stay tuned for more details!
About the Author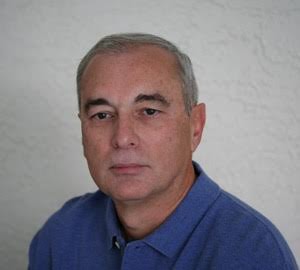 Lee Gimenez is the award-winning author of 12 novels, including his highly-acclaimed J.T. Ryan series. His latest thriller is THE MEDIA MURDERS. Several of his books were Featured Novels of the International Thriller Writers Association, among them SKYFLASH, KILLING WEST, and THE WASHINGTON ULTIMATUM. Lee was nominated for the Georgia Author of the Year Award and was a Finalist in the prestigious Terry Kay Prize for Fiction.
Lee's books are available at Amazon and many other bookstores in the U.S. and Internationally. For more information, please visit his website at: www.LeeGimenez.com. Lee lives with his wife in the Atlanta, Georgia area.