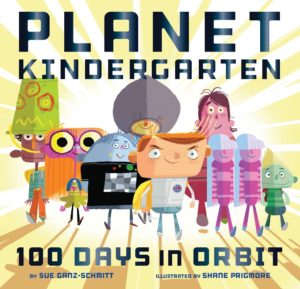 There's something captivating about space exploration that ignites the imagination. I felt it as a child watching Star Trek, and it's evident in the public interest in the ISS, NASA, and in space visionaries like Richard Branson and Elon Musk.
That's why I am so excited to feature Sue Ganz-Schmitt, a talented children's book author,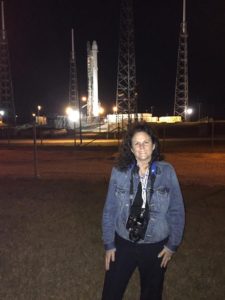 mother and philanthropist. Sue has also served as a NASA Social correspondent, an experience that I enjoyed for the first time last April at the SpaceX launch to the ISS. She has taken insights from her behind-the-scenes tour of NASA and the launch pad and applied them to her children's books.
Her third book, Planet Kindergarten, out this past August, earned a Kirkus starred review:  "A genius way to ease kids into the new adventure that is kindergarten."  The Mommy Reads blog included this positive plug from a young reader:
"T is in love with Planet Kindergarten by Sue Ganz-Schmitt and Shane Prigmore.  We have read it 38 times…..so far.  It has been our bedtime story night after night.  This book is ABSOLUTELY perfect for my guy and I feel like maybe, just maybe, it was written just for him.  I love the rich vocabulary and comparison between outer space and the classroom.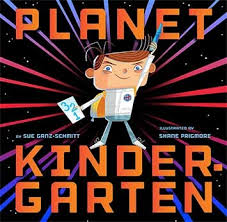 Seriously-one of our best reads this summer!"
Below, Sue shares her unique background and how she has applied her love of the stars to touch children's imaginations, and offers tips on how to connect with readers and with fellow writers.
Q. You have such an interesting background, Sue, with your interests in helping children all over the world. You also love space. How were you able to combine these passions as a book author?
Sue: My first book, Even Superhereos Get Diabetes, was inspired by a play-friend of my then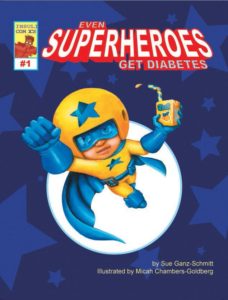 two-year-old daughter who was diagnosed with Type 1 diabetes.  I wanted to reach out and help the family facing the shock of diagnosis.  I tried to find an empowering picture book they could read to him.  When I couldn't find what I was looking for I decided to write my own book.
I watched the family become like superheroes in a blink – waking up several times a night to blood test their toddler, counting every bite of carbs he ate, injecting him several times a day.  Exhausted and worried, none of them complained – they just rose to the occasion with grace and strength.  I wanted to help them feel supported with this new unknown looming over them, and I wanted other kids to understand the medical challenge that their friends with diabetes face.
As a kindergartener, I watched several rocket launches that culminated in the Apollo 11 moon landing.  I was very inspired by NASA and had a fascination with space.   Almost subconsciously, a NASA reference found its way into this story where the hero discovers that his doctor has diabetes-related superpowers and a secret lair that looks like NASA's mission control.
Q. What inspired your Planet Kindergarten book series?
Sue:  In my third book, Planet Kindergarten, I watched the kids from my daughter's pre-school make the transition to kindergarten.  One of her best friends was having a really rough go of it and had to act as brave as an astronaut to get through it – but I could see lots of days he just wanted to abort this mission to kindergarten. A storyline came together and I wrote a book that I hoped would both inspire kids to be interested in space while easing their fears about their school journey.
Q. How did you incorporate real-life science and facts about space to make it engaging to such a young audience?
Sue: I cut my teeth on space-themed family TV shows like "Lost In Space" and "The Jetsons." I visited NASA's Kennedy Space Center while writing Planet Kindergarten and picked up some books on the Gemini/Apollo programs.  I poured through them, as well as lots of space fact books from Barnes and Noble.  One day I was online and found an article about h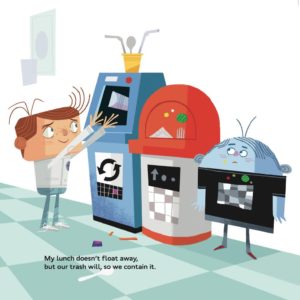 ow our earth is encircled by space trash (human created space debris).  I was so disturbed that not only are we polluting our own planet ­– but the orbit around our planet.  I had to include a nod to containing our trash in the first Planet Kindergarten book.
I love watching space-themed movies.  For my just released book, Planet Kindergarten: 100 Days in Orbit, you may pick up on some influence from the movie "Gravity" (spacewalk scene).  And the cover/last page image is modeled after a key scene in the movie, "The Right Stuff. "
Q.What was the most challenging aspect of becoming a children's author? The most rewarding aspect?
Sue: Great question, Anne. I think the most difficult part in pursuing a creative dream like becoming an author is perseverance.  There were many obstacles and self-doubts that I had to face.  I nearly gave up being a writer just two weeks before Planet Kindergarten went into a bidding war.
Being in a creative field, you are required to get feedback/critiques to make your work the best it can possibly be and that can cause you to question your abilities.  Also the road to get a publishing deal is fraught with rejection.  Even the best known authors have faced this (yes, you J.K. Rowling!).
As a sensitive introvert type – this has challenged me to grow. I have learned not to take rejection personally, but to get back to work each time to learn where my manuscript fell short, or to accept when the market isn't timed right for my story.  I have learned when to let go and move ahead on a new project.  I often remind myself of the NASA themed line from Planet Kindergarten, "Failure is not an option!"
A reward for perseverance is when you hear from parents about how your book has helped
their child.  I have heard from parents with food allergies how The Princess and the Peanut helped their child not to feel alone; I heard from one parent who shared that their child decided to become a doctor to help other kids with diabetes, after reading Even Superheroes Get Diabetes.  And from lots of parents how Planet Kindergarten helped calm their children's nerves over their first days of school.
Another rewarding part of this journey has been getting to go to NASA rocket launches and NASA Social events, behind the scenes tours at JPL, space lectures at CalTech, and spending time with the great folks at the Planetary Society.
Q. What one tip would you offer authors who want to reach a young audience, from pre-school to elementary ages?
Sue:  If they haven't already, join the Society of Children's Book Writers and Illustrators (scbwi.org).  I learned much of what I know about the craft of writing for children and the business side of publishing and promoting your work from them. They are an incredible resource for all levels of writers from those who are thinking of writing to those who have published numerous books.  A writing teacher once told everyone in our class to join, so I did.  It was the best career move I have ever made!
Q. How important is social media to building an author platform? How can parents find you?
Sue: Authors often spend their workday in solitary – we need ways to connect with our audience and others.  Social media keeps us in the face of the public. And while you shouldn't over-promote your book on social media, people will build an impression of you and hopefully remember you when they see your book in the stores or featured online.
Don't try to be everywhere, and if you aren't keen on social media, just find the platform that you are most comfortable with and show up there often.  I tweet throughout the day.  I love Twitter as a newsfeed to learn more about science, technology, and space and to share that with my followers.  I also love using it to reach out and connect with space fans and other authors so we can support each other.  And – I met you there!  So lots to gain from it.
Q. What is next for you in terms of writing?
Sue: I just won an award for my new manuscript Space Cow.  So stay tuned for an adventure with a brave bovine heading to Mars!  I am also making a plan toward getting my Master's Degree in Fine Arts (Writing for Young People).
About the Author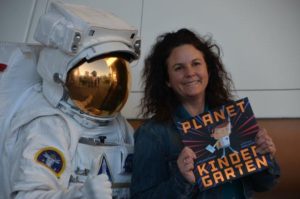 Sue Ganz-Schmitt is a children's book author, mother, musical theater producer, and philanthropist. Sue is passionate about helping children and families. She is co-founder of an AIDS orphanage in Haiti, has traveled to China to help medically-challenged orphans and set up a birthing clinic in rural India. She has performed on Broadway, run a marathon, and pursues other improbable challenges – as often as she can. Sue has authored four picture books found here:  http://www.sueganzschmitt.com/. She has served as a NASA Social correspondent and as a volunteer for the Planetary Society. You can often find her with eyes to the stars. She tweets at @planetkbooks and @royallyallergic or connect with her on Facebook under key words:  royallyallergic and planetkindergarten.
Save
Save
Save
Save
Save
Save