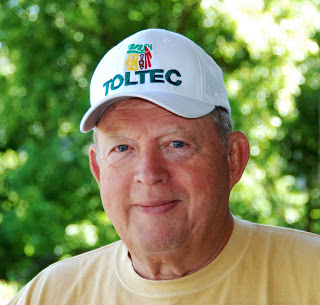 Today, The Writing Well interviews Atlanta-based author Alex Walker.  The first time I met Alex, we bonded over a mutual interest in crafting stories based on historical events — in his case, the American Civil War and early Mayan and Toltec history, which he brings to vivid life in his debut novel, TOLTEC.  This Saturday, Alex will host a pre-release book launch of his sequel novel, CUZCO, at Peerless Bookstore in Alpharetta, Georgia. CUZCO will be generally available starting June 4th. 
Below, Alex shares how his first novel came about, the critical role of research in bringing his stories to life, and the one thing he hopes readers get from his novels.

Q. How did you get into writing historical action/adventures?
Alex: I had a long career in marketing and sales management with United States Gypsum.

 

They are involved in the construction industry and this is most likely where I developed an interest and fascination for ancient building techniques.

 

I enjoy reading action/adventure books and those of a similar genre.

 

My venture into writing was quite by accident.

 

One of the characters was my great grandfather, a Confederate cavalry officer.

 

I have a good friend from Michigan whose great grandfather fought in the Union army.

 

In 2005, I wrote a brief parody about our great grandfathers meeting in a brief skirmish in west Tennessee.

 

My friend's wife read the story and called me and said she loved the story and suggested I write a novel around it.

 

The rest is history. 
Q.     How did you go about researching the lost Toltec and other ancient civilizations brought to life in your novels?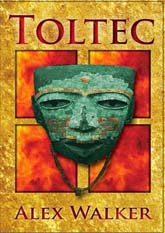 Alex: The internet is a great source to research anything involved with history or the sciences.

 

You can get a wealth of information about any of the ancient civilizations.

 

I have always had an interest in history and the physical sciences such as archeology, anthropology, and geology.

 

A bit of knowledge in these subjects helped to give me the sense of direction in my research.

 

I use the internet extensively for material research for any subject.

 

There are many unsolved mysteries about the ancients that stimulate the imagination.

 

For example: How did the Meso-American civilizations (Toltecs and Mayans) that occupied the Yucatan 700-1000 years ago, acquire the architectural and engineering skills to build their magnificent pyramids and temples, many that still stand today.

 

It is fun to speculate.

 
Q.  What was the most fun and the most challenging aspect of writing TOLTEC and CUZCO?
Alex:  The fun of writing them was the ability to inject myself into the story and travel along with the characters and experience their incredible journey.

 

I was able to envision the surroundings and let my imagination take over and develop the scenes as they unfolded.

 

A writer of novels must make the story become alive through his/her imagination—they have to become a part of the story.

 

Editing is the most challenging aspect of novel writing therefore it is imperative that any novel must have an impartial professional content and proof editor to edit the book to critique the content and correct all the pesky grammar errors that plague all authors.

 

I had an incredible editor, Ann Fisher of Creative Editing, Marietta, GA.
Q.
On June 1st, your your newest book, CUZCO, debuts. What is this story about?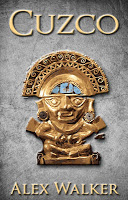 Alex: CUZCO is the first sequel novel to TOLTEC and takes our characters on a harrowing journey to Peru and the land of the Incas.

 

They are in search of an incredible treasure and most important, an improbable entity vital to the national security of the U.S. and perhaps the world.

 

Our characters face many incredible challenges and many ruthless adversaries in their quest.

 

The book ends with an explosive and unimaginable conclusion.
     Q. 
What do you hope readers get out of your books?
Alex: My main goal for writing my novels is to tell a good story for the reader's enjoyment and entertainment.  These are the things I get out of reading books and I want my readers to enjoy the same satisfaction.
     Q. Which authors inspire you?
Alex: One of my favorite authors is Clive Cussler.

 

I try to style my writing after him, especially his earlier novels.

 

Other favorites are: Jack Higgins, Andy McDermott, Jack DuBrul, James Rollins, Douglas Preston, and Lincoln Childs.