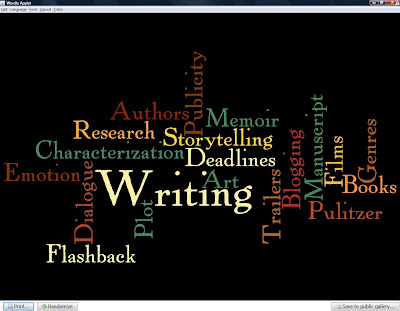 Today I am excited to showcase Wordle —  an app that creates "word clouds" from text that you provide. The clouds give greater prominence to words that appear more frequently in the source text. You can tweak your clouds with different fonts, layouts, and color schemes. Jonathan Feinberg, a Medford, Massachusetts, developer, created Wordle in the summer of 2008.
If you spend a lot of time writing, Wordles can be a fun and creative way to play with words. It's also a great visualization tool for data. The power users for Wordle, I believe, are educators, who consider it an invaluable tool. Terry Freedman, in his 2009 blog post, "Five reasons to use Wordle in the classroom," points out that teachers can leverage Wordles in the classroom to help students summarize the content of their essay. It also provides a means for self-reflection and even assessment. Finally, it gives students a way to present their work with a picture.
More recently, educators are using Wordle in conjunction with an iPad and VoiceThread to enable kids to record their voices as they comprise sentences from their Wordle.
For bloggers, Wordle can demonstrate the dominant words you use for your site. Wordle includes a very cool function that allows you to enter the URL of any website, it then creates a word cloud using the most prominent words on the site, automatically!
If you've never tried to create one, visit Feinberg's easy-to-use site and try it out! You may become a Wordle addict like me.
For general help and advice on using Wordle, there's the Wordle Users Google group, which can be used either over email or via a web interface.