I love to find new authors online — especially those with a fresh voice, fascinating settings and above all, vivid but imperfect characters. Irish writer SIobhan Davis fits the bill. She's the author of the True Calling series, three science fiction romance novels set against the backdrop of post-apocalyptic Earth.  The story opens on planet Novo, a settlement for Earth's chosen few located 1,200 miles above the Earth's surface.
The main character is 17-year-old Cadet Ariana Skye. Spirited and independent, Ariana adores her dad and is protective of her little sister. She and all the new residents of Novo have no memory of life before coming to the planet — all part of the government's vision to start a new life with no pain of those they left behind on Earth. She fights her attraction to another cadet, Cal, a gorgeous but arrogant son of Novo's military commander. Soon, Ariana, Cal and other teens are given a directive: to save the human race, they must choose a spouse through a "pageant" or calling and have a family or humanity may risk oblivion. A full-blown rebellion breaks out by the besieged people left behind on Earth and the "perfect society" on Novo begins to unravel. Ariana must balance safeguarding her family with her growing feelings for Cal and a need to find the truth about her past, including the identity of a compelling man named Zane who seems to speak to her in her dreams.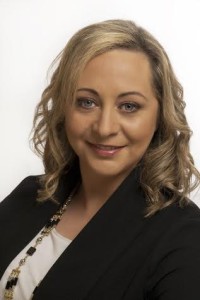 Siobhan's love of the YA genre comes through with every page of this compelling story. The author's instincts for creating characters who must grow and struggle with plenty of conflict and danger is rare in so new an author.  I applaud Siobhan's knack for developing believable love triangles  — her depiction of Zane, Cal and Ariana's anguish and passion  are reminiscent of the Edward-Bella-Jacob triangle perfected by Stephenie Meyer in the Twilight saga, and to a lesser degree Suzanne Collins' depiction of Katniss struggling with her feelings for Gale and Peeta in The Hunger Games.
I found the first two books of Siobhan's  series the strongest of the three. My one criticism is that there was too much time lapsed between the switching point-of-view characters of Zane and Ariana when they are separated on Earth and Novo,  but the overall story has a lot of punch and plenty of dramatic moments, making it a must-read series.
I look forward to reading more from this debut author.   Learn more about Siobhan on her author page, http://www.siobhandavis.com/  and check out her Q&A with The Writing Well below.
Q. Have you always wanted to be a writer growing up in Ireland? What types of stories do you enjoy most?
Siobhan: I've always loved reading and writing and books are my favorite form of escapism. English and History were two of my best subjects in school and I studied History in college. For as long as I can remember, I've been daydreaming and imagining stories in my head. In some ways, I think I'm much more comfortable in the fictional world than in the real world. Anyway, I got caught up in my career, and then after I got married I was also juggling a hectic family life, so my ambitions had to take a backseat, though, I was always writing – whether it was connected with my corporate life or as a hobby. I actually wrote True Calling years ago and never did anything with it until last year when the timing finally felt right to pursue my dream.
I enjoy the YA and NA genre the most, but I'm also an avid reader of crime/thrillers and I'm a big fan of Kathy Reichs and Tess Gerritsen.
Q. What drew you to YA dystopian novels as a genre besides the incredible commercial success of books like Twilight and The Hunger Games?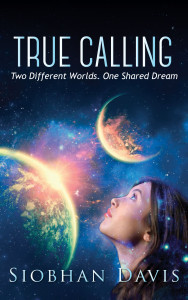 Siobhan: I love the blending of action, adventure, swoon-worthy romance and life–or–death type scenarios, and kick-ass or strong-willed heroines that are typical of the YA books I read. I enjoy YA science fiction, dystopian and fantasy more so than contemporary YA, in the main. I also tend to really enjoy the writing style of the many talented authors who write in this genre. Some of my favourite authors are Jennifer L. Armentrout, Wendy Higgins, Susan Kaye Quinn, Marie Lu, Jospehine Angelini, Laini Taylor, Marissa Meyer, and Amy A. Bartol, to mention a few.
Q. What inspired/sparked the premise of your True Calling novel? Did you always intend to write it as a three-part series or did it evolve?
Siobhan: It all started with a dream—just not my own. Like a lot of my generation, I got hooked on Twilight in 2009 and was fascinated to hear how Stephenie Meyer felt compelled to write the series on the basis of the now-infamous dream. Dreams have always captivated me and I started thinking a lot about their meaning and whether our dreams have the power to change our lives (not just metaphorically speaking). I wondered a lot about her 'meadow dream'; probably more than was normal. Who sent her that dream? And why? And did someone (or something) plant that seed knowing full well that it would lead her on a path to a significant life-altering experience? And what are dreams anyway? A malfunction of our brain? An unconscious message from our inner selves? A medium for receiving messages from others? My thoughts jumbled around like this for weeks, and my idea started to grow from this silent analysis and developed from there.
I always intended to write it as a Trilogy, however, I hadn't intended on writing a short story and Novella as part of the series. It felt natural for me to write Lovestruck after I wrote True Calling as I wanted to give the reader a glimpse into Cal's head, because he isn't a narrator in the first two books. Beyond Reach ends on a massive cliff hanger and I knew it would be unfair to make the readers wait another four months to discover the conclusion, so I wrote Light of a Thousand Stars, to help bridge the gap between publications. It also felt important to provide the backstory to Ariana and Zane's love affair and Team Zane fans had been begging me to write it!
Q. How challenging was it to create realistic (and imperfect) characters and a love triangle between Cal, Zane, and Ariana?
Siobhan: While my characters are fictional, I wanted to portray them as realistically as possible, and that meant ensuring they had strengths as well as weaknesses. I'm quite structured in my writing process and I always create a character bible at the outset of a series, and add to it with each book. This maps out the character in detail – personality traits, physical characteristics, and likely actions to certain key plot points. I also identify actors/models who match the image of the characters in my head and I put their pictures up in my office. During difficult scenes, I find that looking at the physical manifestation of my fictional characters helps me to stay in their head and understand their motivations and drivers in that particular scene.
The situations they were placed in created some natural conflict and tension and it was fun to test my characters, and have each of them act 'out of character' at least once. For example, Zane conceals something in Beyond Reach which we would never expect him to do. However, he was getting increasingly desperate, and though he's a mature, level-headed guy most of the time, he is still prone to bouts of jealousy. Up to that point, Zane had been almost faultless in his love and support of Ariana. I wanted to show that he wasn't perfect, that he did have some flaws.
The love triangle was challenging insofar as it involved so much heightened emotion. When you consider everything else the characters are dealing with on top of the romantic drama, it led to some emotionally charged scenes and decisions. I wanted to stay true to the characters as much as I could while writing this and I constantly had to question and challenge myself to ensure they were acting as naturally as possible in each scene/situation. I really love getting into the nitty-gritty of the human mind and exploring that love-hate line that often exists within intense romantic relationships. All three characters' experience that fine line at some point in the series.
Q. Your secondary characters were also rich and engaging to me – no easy feat, I know! What is the key to creating believable characters?
Siobhan:  Again, my character bible is an invaluable tool. I map out all secondary characters using the same process I apply to the main characters, though not to the same level of detail as they don't play as big a role. I give due consideration to what is going on in that characters world and how that interconnects and impacts the main characters. Reviewing that character's personality traits on a continual basis helps me understand them and ensure that they are reacting appropriately in each scene. If one character has a challenging scene, and I'm unsure how they will react, I find it helpful to pick three or four other (different) characters and map out how each of them would react to that situation. That helps me keep a clear head in terms of how the character in the scene would naturally react.
For me, bringing everything to a base emotional level really helps me relate to my characters.
Q. World building is an important part of fantasy writing. What did you draw upon for ideas and inspiration when creating your futuristic view of Earth and Planet Novo?
Siobhan: I relied hugely on my imagination and drew inspiration from other movies and books and the world around me. The two worlds in the True Calling series are vastly different, as one is a Utopian-type environment and the setting on Earth is dystopian. I pictured them as complete extremes and that helped to shape the different settings. My husband is also a fantastic sounding board and if I'm struggling to visualize something I run it past him, and we discuss it at length, and then I find I'm brimming with new ideas. He's like my own personal creative coach.
Q. Without giving away the ending, did you consider a different ending for Ariana than the one you ultimately wrote?
Siobhan: Yes and no. She was always going to end up with that life because I wanted the underlying message to be about female empowerment – that you can have it all even when it seems impossible or unachievable and when you don't even realize what it is you seek until you have found it. She was always destined to end up with that boy. However, when I was plotting the final book at the start of writing the series, the manner in which they ended up together was going to be vastly different due to events which impacted the other boy (I know it sounds like I am speaking in riddles but I'm so conscious of not inadvertently spoiling any of the plot points!) If I had stuck with that initial concept it would have changed things up considerably. When I sat down to write Destiny Rising, it didn't feel like the right path to achieve the outcome I had planned, in part because the story organically developed in a way I hadn't expected, and also because I had gotten hugely attached to the other boy and I wanted to give him his HEA. In the end, I couldn't be more pleased with how it turned out.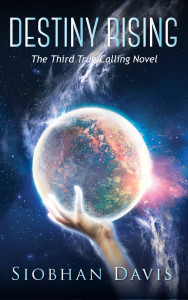 I had an idea recently to write an alternative Destiny Rising, that is, if Ariana had chosen the other boy instead how would things have panned out? I often think about that in my own life. Where or what would I be doing now if I had chosen differently at key points in my life? I find that notion intriguing. I ran my idea past my Street Team and my ARC Team and they are all unanimously in favour of me writing it. If demand continues, I will write it in 2016.
Q. What one aspect of writing these books would you have done differently if you could? You can speak to the writing aspects or publishing.
Siobhan: I wouldn't change a thing with regards to the characters or the plot and I'm very happy with how the series turned out. However, I was very green when it came to the whole promotion and marketing side of the publishing industry, and if I had my time over I would have been smarter in some of my decisions I made. They do say you live and learn though!  There are a few brilliant books I've read recently on publishing and marketing which I wished I had read a year ago.
Q. Any advice for other novelists out there staring out?
Siobhan: Never stop believing in yourself. Read a lot. Write a lot. But don't forget to live your life because you need to draw on life experiences as an author.
Q. What's next for you in terms of writing projects?
Siobhan:  I have just completed the first draft of Saven Deception, which is book one of my new YA series. It is another science fiction romance series, though the premise is almost the complete opposite of the premise in my True Calling series, and this time there are some hot aliens in the mix! The first book will be released on 15th December 2015 with the remaining books following in 2016.