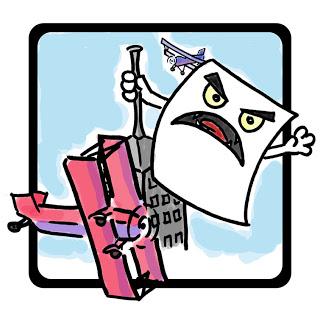 At this spring's Atlanta Writers Conference, I met a fellow aspiring novelist, A.M. Pierre, who is a whiz when it comes to crafting query letters.
I coined a nickname for A.M. that day — "query-writing ninja"  — after she sat down with a group of us novices and shared tips gleaned from fearlessly having her own letters critiqued through a number of online query-writing sites.
When I invited her to share some of what she told us that Friday, the Literature grad agreed, but insisted, "I'm certainly not an expert – just a fellow writer in the query trenches – but I love being able to pass on some of the accumulated tidbits I've acquired through my own (painful) query-writing process."
Her hard-won insights are below. She also shares a newly refined query letter that attracted interest from three literary agents during the conference!
Do you have your own query-writing tips to share?  We'd love to read them. Leave a comment below.
Q. What are 5 tips for writing a kick-butt query letter?
Here's the easiest format for a query: start with a hook, follow with a brief summary, and end with the character's choice and the stakes.
The suggestions below should help you polish it:
1. Write with Clarity and Brevity.
Limit adverbs or adjectives
Show how your story is unique but keep it easy to follow
No "name soup" – limit the proper names you mention.
Write it in the novel's voice (i.e., if it's funny, make it funny) but don't try to impress with ornate or fancy writing
Paragraphs are your friends. Break up walls of text.
NEVER let your query letter go over a page, no matter what
2. Follow Your Main Character.
Make your query about your main character's journey and keep it in their POV (rare cases involve two MC's, but it's more challenging)
Make your character likeable and pro-active
Give your character a clear choice and explain the stakes of that choice
3. Know Your Agent.
Find out everything you can about an agent's likes/dislikes before you query and tailor your letter to their preferences
4. Don't Veer Too Far From the Standard Formula (there are exceptions to all of these, but keep in mind they're called exceptions for a reason).
Don't start with a quote from your book
Don't write it in first person
Do include your word count and genre (pick one and only one – no "YA sci-fi fantasy paranormal romance")
DON'T use the term "fiction novel" (no exceptions on this one!)
5. Be Professional
It's a business letter, so don't be overly familiar or informal
Only include credentials if they are amazing and/or relevant. "My poem was voted best in my class in third grade" is not.
A simple ending is best. I prefer "Thank you for your time and consideration. Sincerely, [Name and all contact information]"
Remember, a query is NEVER perfect, but eventually it will be good enough ;-). The problem is determining when you've reached that point.
Q. What are some great website resources for writers to use to improve their query writing skills?
Q. What should you remember before engaging in this public form of learning?
The biggest thing to remember before setting foot in these public waters: Your work will be eviscerated. That's normal. It's not personal, and listening to outside criticism will improve your work. This doesn't mean every comment will be correct. If one person says, "I don't like this phrase," you might be able to disregard it. However, if five people have the same critique, they're right. Seriously, even if you think they're wrong – they're not.
Do not respond to criticisms defensively.  Even if you feel someone is being "cruel" do not respond in kind. Even if you think they are totally off-base and being big bad meanies, simply say "thank you" and move on. "Whatever, you just don't get my work" is NEVER a valid argument.
Q. Can you share one of your queries that netted you an agent's interest?
I was unbelievably fortunate to receive three requests for pages from the three agents I spoke to at the conference, but I've actually made some more tweaks since then (it's the whole "it's never perfect" thing – I'll probably tweak some more before I'm through).  I've incorporated suggestions the agents made to make the stakes clearer, and I've vetted this newer version on some of the sites listed above:
Seventeen-year-old Christopher Smith never had much of a life, so when he gets kidnapped by a beautiful time-traveler with rainbow-colored eyes, he thinks that's as crazy as it gets. Not even close.
His kidnapper, a warrior named Isabeau, brings Christopher to a future where high technology meets history in medieval-inspired city-states, with towering walls protected by impermeable energy barriers and knights who ride AI-enhanced hover bikes.
Then Christopher meets the king, Alexander, who looks just like him. King Alexander says it's coincidence, and Christopher's too distracted by this amazing world (and Isabeau) to delve too deep. Besides, it seems simple enough – the king protects the citizens from the bandits outside, and Christopher protects the king from the rebels inside by being an occasional body double.
But when a public event goes violently wrong, Christopher lands in the rebel camp, and they show him proof that the world outside is alive and well. The king isn't locking it out – he's locking them in. Finally, there's the biggest bombshell of all: Christopher's actually an android. Hidden in the past to avoid detection, Christopher was to be the king's new, undying body when the time was right.
Christopher, however, has other plans, like helping a city forge its own destiny and forging his own with an amazing rainbow-eyed girl. To do all that – and to avoid being body-snatched – he'll have to seize the role he was made for…by replacing the king.
Complete at 83,000 words, WHAT FUTURE LIES is a YA Sci-Fi re-imagining of The Man in the Iron Mask. Where the original novel followed the rebellious conspirators, keeping the titular character as a mere pawn in his own story, WHAT FUTURE LIES moves him front and center, telling the tale from his point of view.
Thank you for your time and consideration.
Sincerely, …
________________________
About A.M. Pierre

Atlanta-based YA writer A.M. Pierre has a degree in Literature. She has always loved telling stories in whatever form, but only recently — at the urging of family and friends — has she pursued a writing career. A.M. has completed two books – SHARD, a YA Sci-Fi that could be described as Mission: Impossible meets the X-Men, and WHAT FUTURE LIES, the YA Sci-Fi book from the query above. She is in final revisions with her latest book, and expects to be out in the trenches of the submission process before the month is out. Connect with her on Twitter @A_M_Pierre or A.m. Pierre on Facebook.