A week from Friday I will join other writers in Macon, Georgia, for the 2012 Crossroads Writers Conference. I went last year and was wowed by the quality of the program. (Read my blog post highlighting my experience, including meeting conference headliner Jay Parini, New York Times' bestselling novelist and biographer).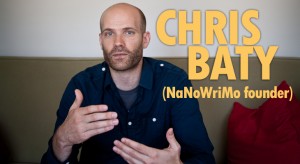 This year, Crossroads has new and bigger digs — at the Marriott City Center Hotel. The fun kicks off Friday, Oct. 5 with a Freelancers Summit followed by the writers conference on Saturday and a book fair Sunday. This year's keynote speaker is Chris Baty, founder of National Novel Writing Month, and author of "No Plot? No Problem!"
Back in 1999 Baty first christened November as National Novel Writing Month, or NaNoWriMo, and the world's largest writing challenge and nonprofit literary crusade was born. Last year, 250,000 people worldwide pledged to write 50,000 words in a month, starting from scratch and reaching "The End" by November 30.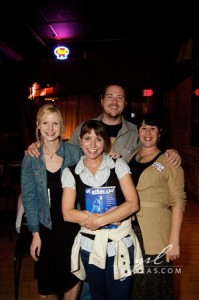 The foursome who founded Crossroads.
"We have charged Mr. Chris Baty with the task of inspiring and motivating our crowd, which is to say we've asked him to be himself," says Chris Horne, conference director, who I caught up with yesterday to learn what attendees can expect this year.
In addition to Baty's talk, attendees will see many more featured authors than in the past thanks to a new format.
"In the past, we've had several concurrent sessions and attendees had to choose which of the headliners to see and which they had to miss," says Chris. "This year, we're introducing the Talk Block, a block of short and focused plenary talks by our presenters on what moves them the most. So everyone gets to see most of our guests."
The format also will feature morning and afternoon "Speak Easy Sessions" covering creative nonfiction, poetry, scripts, publishing and fiction, and two breakout sessions.
Among the featured presenters are:
Chuck Wendig, author of "Blackbirds," "Mockingbird," and "500 Ways to Be a Better Writer," who speaks during Saturday morning's Talk Block, and
Susannah Breslin, a freelance journalist and Forbes.com blogger, who will speak Friday during the Freelancers Summit.
"Chuck and Susannah have a sort of refreshing ruthlessness about them — neither will sugarcoat anything for the audience, in print or in person. Plus, they're incredibly smart and really talented," Chris says.
Who should attend Crossroads? Anyone who takes their writing seriously. Chris hopes that the conference will help new writers build up their confidence, and serve as an inspiration to everyone to more fully devote themselves to their craft so they can be "a better writer tomorrow than they are at the moment."
"The thing about writing–about anything really–is that you have to do more than just wish for success," says Chris, explaining that Crossroads is really about finding a community of writers, regardless of whether you are just starting out and or are a published professional.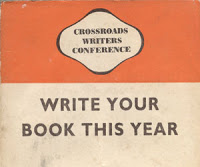 To make this event even more successful, the organizers have established a fundraiser to offer scholarships to help writers-in-need attend.
"The world needs good storytellers –we want to enable as many writers as possible to join us," says Chris.
Pre-order
Crossroads Guide to the Writing Life
, featuring insights from headliners such as Baty, and proceeds will help cover conference expenses for individuals facing financial hardship. View this nifty
video
to learn more.