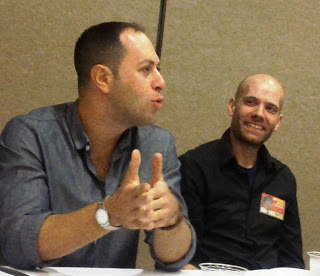 Adam Mansbach and Chris Baty (right) at the Crossroads Writers Conference Saturday.
That's what a weekend like this does – mingling with established and aspiring writers alike, and connecting with a community of people who share my same passion for storytelling.
Crossroads organizers asked headliner Chris Baty, founder of
National Novel Writing Month
(
NaNoWriMo)
, to inspire and motivate. By all accounts he delivered. I can see how his energy and enthusiasm have ignited people around the world every November to tackle the impossible – writing a 50,000-word novel from scratch.
Baty recalls how the idea started small in 1999 when he invited a group of friends to write a novel in a month.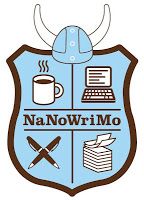 Seeing NaNoWriMo Grow from 20 to 250,000
Twenty people joined his challenge. Some of them came together each night after work to write. By week three "something interesting started happening" — these books "started to come alive." That moment when energy really starts to flow into a writing project for the first time, "is really electrifying," Baty says.
At the end of the month six of them had crossed the 50,000-word threshold.
"It changed the way I saw my potential and it changed the way I saw the potential of everyone around me because I knew if we could do it, anybody could do it," Baty says. "I saw in fact that novels aren't written by novelists; they're written by every day people who give themselves permission to write novels. Nothing was the same."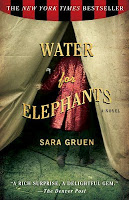 The following year 21 people grew to 140, then 5,000 and then 40,000. In 2011, 250,000 adults in one month wrote three billion words of fiction. Baty says I50 NaNoWriMo writers have sold their manuscripts to traditional publishers, and four became
New York Times
' bestsellers, including Canadian Sara Gruen, whose debut novel,
Water for Elephants
, was made into a film in 2011 (Read my
film review
).
Baty turned
NaNoWriMo
into a non-profit six years ago. The organization employs a staff of seven and offers summer programs and a Young Writers Program that offers classrooms free creative writing curriculum workbooks, stickers, and buttons.
"Last year we had 2,000 classrooms take these free resources," he says.
In January, Baty, decided to leave the organization he has nurtured for the last 15 years to set off to be a full-time writer.
"It feels great to feel unchained. No more getting up at 5 a.m. to sneak in that writing time – no more of those steady paychecks to hold us back," he said, inspiring laughter from the audience. "It has been a really adventure-filled, educational, fantastic nine months."
Baty admits he's had moments where he's felt on top of the world and moments when he's wondered, "What the hell have I done?"
Embarking for the Open Sea
He takes comfort from an old quote by
John Shedd (Salt from My Attic, 1928):
"A ship in the harbor is safe. That is not what ships are built for."
"I spend the last 15 years of National Novel Writing month watching thousands of people get inspired by their books and decide to make writing a more central part of their life, which means they are guiding their ships out of the harbor – into the open ocean, and I've been monitoring their progress from shore. One thing they all shared – they heard this clear, mysterious, sometimes maddening call to sail out and meet that adventure on the horizon. The fact that we are all here today means we also have heard that call."
Packing Four Indispensable Items
From watching all these ships set sail over the years, Baty says the most successful have remembered to pack four important things:
A deadline.

 

"To me, having a great deadline for your book project is more important than having a good idea for your book.

 

It's true because the human imagination is one of the most formidable imaginations on earth. Given the right amount of prodding it will take this half-assed concept and turn it into something dazzling. But sadly, the human imagination, left to its devices, will happily spend its entire life eating Cheetos® and watching TV…Ultimately, we have to be as creative with our deadlines as we are with our books."
Momentum.

 

"In 1687 Isaac Newton wrote this amazing book for writers. The book was called, The Mathematical Principles of Natural Philosophy. This book contains these two natural laws you remember from middle school – the first one, objects in motion tend to stay in motion. So, from watching so many of my novel revisions remain so peacefully at rest the last decade, I can attest that Isaac Newton was really onto something. Sometimes projects stall out. Once your book does achieve a state of rest, it's hard to get it moving again. The great thing about writing is that small steps, taken several days in a row, have a way of turning into very big strides. It's really not speed; it's about momentum."

 

An appreciation of messes.

 

"I think our job as writers – especially at this point in our careers – is to make as many messes as possible. Messes we make on first drafts – unholy nightmares, grammatical car crashes, flat dialogue, one-dimensional characters, clichéd plots. Then there are messes on the business level where we are experimenting sometimes successfully and sometimes less successfully on doing things like building our platforms, leveraging social media, trying to stay on top of all these changing technologies in the publishing industry.  In the pursuit of making writing a more central part of our lives, we will make mistakes and we have to forgive ourselves. Because, if we are making mistakes, we are learning. And by trying and failing we are growing by leaps and bounds as writers."   
Faith. "We need a big truck full of faith. We need faith that our books don't suck on some monstrous level. We need faith that we are getting better over time and we need faith that our projects will eventually matter to someone. As writers, we are observers. And we've observed that it's hard to make a living writing. We realize that this dream of being a writer is impractical — maybe an impossible one. But I will tell you as someone who has watched hundreds and thousands of kids, teens and adults write a book they never dreamed they could write… that success is often a lot closer than you know. The biggest lesson I've learned from my time running National Novel Writing Month is that everyone has so much more in them than they realize and that when we make the time and when we give ourselves permission to follow our inspirations and our impractical dreams, we have power to do unimaginably great things."
Baty concluded his remarks by saying that when times get tough, he relies on the faith of his friends and family to pull him through. "I hope for today you will let me carry your faith for you and you will believe what I tell you that your story is important; that your voice matters. And that there is someone out there who has waited their entire life to read the book you are writing right now…Those readers are ready. Let's go give them something amazing."