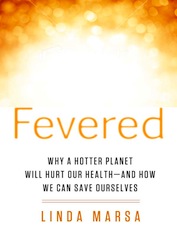 Books, books, books. Labor Day weekend 2013 for me was all about celebrating authors and their gift to us — storytelling in all its forms.
I attended my first Decatur Book Festival, beginning Friday with the festival's well-organized Writers Conference, which I will blog about in more detail soon. It concluded with two great Science track author talks on Sunday, including a presentation by Linda Marsa, author of Fevered:  Why A Hotter Planet Will Hurt Our Health and How We Can Save Ourselves.
This is not an abstract, jargon-filled climate change book; it's a no-holds-barred examination of what she calls the "most critical issue affecting our very survival in the coming century."
In more than two decades as a journalist, Linda considers this book to be the most important story she's ever covered. I believe her.
Linda and I have a common passion – public health writing. I've spent 13 years as a freelance writer for CDC; she's a contributing editor for Discover, where she regularly reports on science, medicine and health trends. We met "virtually" earlier this year when I was looking for editorial help with a client project.
Not surprisingly, Linda's major reporting focus has been on climate change. Her December 2010 Discover Magazine cover story, "The Hot Zone — A Warming Planet's Rising Tide of Disaster," was the springboard for her 2012 book, The Future of Water:  Going to Extremes, that dealt with climate change in Australia and was selected for inclusion in the anthology, "The Best American Science Writing, 2012."
"I don't have a science background at all–I was an English major in college back in the Stone Age when women didn't go into science," Linda tells me. "I fell into science writing about 20 years ago and discovered I had a knack for it. I think my lack of science background has been a blessing and a curse. Because I have to laboriously unpack the material to understand it myself, I think I might be better at explaining it then someone who is steeped in it and writes above the head of the average reader. But it can be difficult to decipher–and be accurate!–when you don't have that background."
Linda's devotion to getting the science right while crafting a narrative that engages people — is her gift in Fevered. She balances expert interviews from leading scientists, climatologists and public health practitioners, with real-world examples of climate change's disruptive force pulled from today's news headlines.
One of her more credible sources is not an environmental scientist, but a British physician who has devoted his career to the "silent emergency" of infant and maternal mortality in poor countries. Dr. Anthony Costello, head of University College of London's Institute for Global Health, said, "Climate change is the most important public health threat of the 21st Century," and predicted, "Unless this challenge finds it sway to the top of the international health agenda, this century could be a disaster movie without a happy ending."
The message in Fevered is indisputable: Global Warming is here and is the biggest threat to human survival.  "Rising temperatures could trigger pestilence, drought-induced food shortages, raging firestorms, massive migrations, political instability and wars," writes Linda.
During her talk, this California author observed that most Americans see Global Warming as an abstract concept — "something that is going to happen in 20 or 30 years." But, it's already happening and not in far-flung places but right here at home, from the hot weather and intense rains and hurricanes exploding across the country to the emergence of exotic diseases such as Hantavirus Pulmonary Syndrome that claimed two lives of people who visited Yosemite National Park last summer, and West Nile Virus, where more than 1,400 people have died in the U.S. since it was first detected in New York City in 1999. Rising temperatures that trap carbonates in the air has also led to spiraling rates of asthma and allergies, as well as spikes in heatstroke-related deaths.
A key culprit for the heating planet is no surprise: the staggering amount of CO2 being dumped into the atmosphere. Linda noted that the planet has headed up 2 degrees Fahrenheit since the Industrial Revolution, a very significant development, as Linda shares below in an expanded Q&A interview with The Writing Well.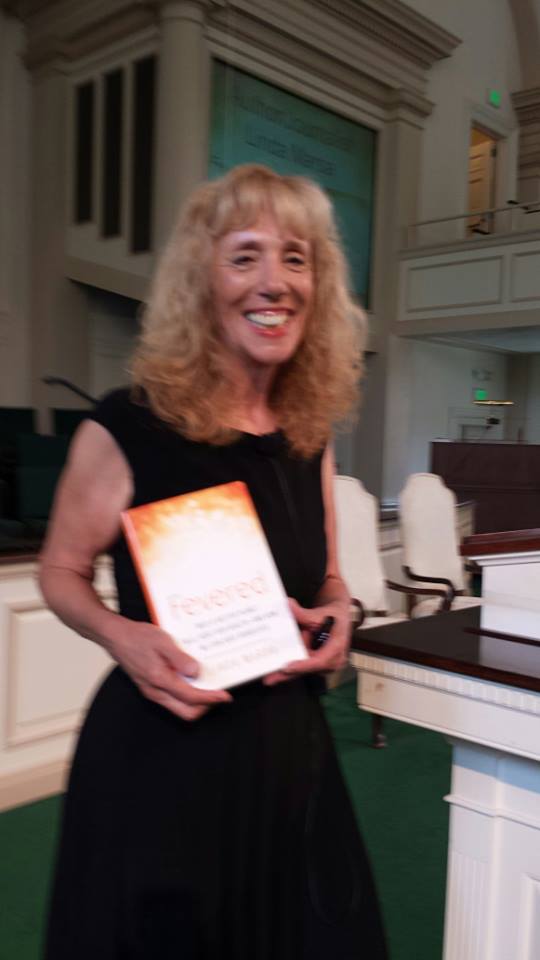 Q. What locations did you visit to help understand the effects of global warming?
I want to various places around the country that are already feeling the effects of a warming planet, including New Orleans, New York, California's Central Valley, the SF Bay Area, and Long Beach. I also went to cities that are pioneering model programs that will smooth the path to a cleaner, greener, more sustainable future, like Vancouver, Seattle, and Orange County, California, which is a world leader in water management.
Q. What was the most challenging aspect of working on Fevered?
There were two very challenging aspects. I had to come up to speed on some very complicated science, including climatology, atmospheric physics, oceanic currents, farming techniques, water management history and strategies, and migratory patterns of disease vectors, like mosquitoes and ticks. Then I had to figure a way of describing all these things that was accessible to the general public. The other difficult piece was finding ways to bring climate change–which can be abstract science–to life and illuminate the harsh reality of what life will be like on a warming planet with stories about real people who were already feeling the effects of climate change here in the U.S. (and in Australia).
 Q Which scientific / public health sources did you find most compelling in writing this book? 

I stumbled across NASA research that indicated that the 1930s Dust Bowls were caused by just a one degree change in the surface temperatures of the oceans. That's when I realized I had a book because this illuminated the fact that just a one degree change in the weather can have far reaching consequences. There were many public health officials, especially at the CDC, who were very helpful. I think the stories of the heroic doctors in New Orleans–who worked round the clock in unimaginable conditions to keep their patients alive–were incredibly compelling.
Q. What would you like to see happen as a result of your book?
People need to understand the climate change is real, it is happening and it is affecting all of us, even here in the U.S. I'd like to see people become motivated to dramatically reduce their carbon footprints, and get active and get involved to smooth the path to a cleaner, greener, healthier future before it is too late.