Below is a reprint of my company news release from last night's IABC Atlanta Golden Flames Awards.
S
trategic messaging and editorial services firm Anne Wainscott, Inc. received two 2012 International Association of Business Communicators (IABC) Golden Flame Awards in the writing category last night during the Atlanta chapter's annual awards gala at the Fox Theatre in Atlanta.
Wainscott earned a Silver Flame Award for "CDC 24/7: What's Really in a Cigarette?" that appeared in the employee intranet portal, CDC Connects, on May 23, 2012.
The article took employees inside CDC's Tobacco Lab at a time when

new tobacco legislation has increased the partnership between CDC and FDA.
A c
ondensed version of the story also appeared on
CDC.gov's 24/7 page. 

"
The relationship between CDC and FDA's Center for Tobacco Products is of critical importance for advancing the efforts to reduce disease and death from tobacco product use. This article clearly highlighted this relationship and how the collaboration between these two agencies will make them both more effective in carrying out their missions," said

David Ashley, PhD, Director, Office of Science in FDA's Center for Tobacco Products

.
This was Wainscott's third IABC award for writing work supporting CDC in the last two years.  She previously received a 2011 IABC Golden Flame Award and a 2010 IABC Southern Regional Silver Quill Award for feature articles on CDC Guinea worm eradication efforts and on employees living with childhood cancer.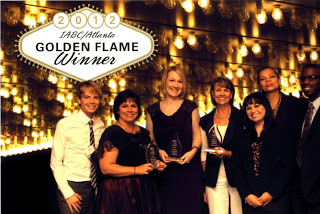 Anne (second from left) with the Cbeyond team and their three Golden Flame Awards.
Wainscott's client, Cbeyond, a
t
echnology ally to more than 60,000 small and mid-sized businesses
,
also received three awards, including a Bronze Flame Award for recurring feature articles and a Bronze Flame for the company's "Era of Transformation" Change Management Communications efforts.
Wainscott was recognized for writing  weekly department spotlights for CWorld, the  employee e-newsletter
— efforts that helped engage employees during a period of major change
.

 
Golden Flame award winner Amy MacKinnon
, internal communications leader at Cbeyond, said, "We've received great response
. The spotlights not only helped employees understand what their colleagues

 

do every day, but also they helped explain how they're a part of the transformation. The stories did an excellent job of showcasing how we're all touching the transformation in some shape or form."
About IABC Atlanta's Golden Flames Awards
IABC's Atlanta Golden Flames are awarded annually to recognize excellence in writing, graphic design, video, live events, media relations and social media, among other categories. The awards acknowledge merit for form, function, process and creativity, and, most importantly, measured results.  Entries are judged by members of other IABC chapters across North America, and scored on their own merit.
About Anne Wainscott Inc.

    
Anne Wainscott Inc. is a strategic messaging and editorial services firm founded in Atlanta in 1999. The company's founder, Anne Wainscott Sargent, brings nearly two decades of experience as a journalist, author and award-winning writer. The firm offers a unique, senior-level storytelling experience to every client engagement — balanced with an understanding of clients' big-picture positioning goals. For more information, visit:
https://annewainscott.com
.