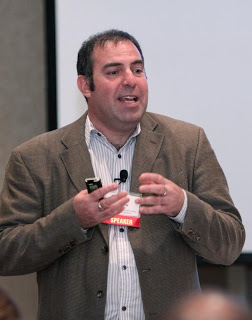 Adrian Cropley, ABC. Photo: Leland Holder
Adrian Cropley, ABC, fresh from serving the past year as chair of the International Association of Business Communicators (IABC) executive board, talked trends and the future of the communication profession during a special appearance with IABC's Atlanta chapter on Tuesday.
"The landscape is changing quite rapidly for us," says the former food-chef-turned-communicator.
Cropley began his career in internal communications at Ericsson 20 years ago, when the CEO challenged him to improve communication with employees.
"I became hooked ever since," says Cropley, whose career has included working with Unilever, Ernst & Young, Shell, NAB, ANZ, National Foods and Kraft, as well as various government organizations. Today, Cropley runs Cropley Communications, a global internal communications training firm based in Melbourne.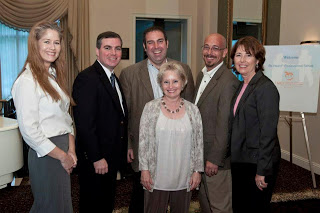 Cropley with members of IABC Atlanta's board. Photo: Leland Holder
He observes that communications professionals are starting to take on more roles that encompass
engagement and culture – functions historically belonging to the HR organization – as well as embracing digital platforms for their communication messages. 
"In this day of communications, it's not just about internal communications that drive engagement; it's internal and external because the boundaries have completely blurred. We're crossing over boundaries and we're seeing this happen globally," he says.
While communications is going to get bigger on the agenda, we as professionals "could face an identity crisis if we don't clearly outline our value to the organization and continue to make ourselves relevant," he cautions.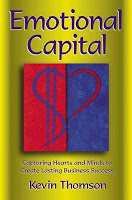 One area we can't take control of is the message with citizen journalism and social media today.  He referenced Kevin Thomson's book, Emotional Capital, which contends that organizations have two types of capital – intellectual capital that firms harness, and emotional capital, or the will of people in an organization to put their knowledge and abilities to the betterment of the organization.   
An interesting insight is that the value of both of these to the organization is "identical."
"Today we are looking today that this blurring of the boundaries between on internal and external means we really need to focus on things like engagement no matter who the organization is – it's all about that emotional message- how do I engage people in a very honest, open way?"
In the future, we are all about multi-disciplinary communication globally because that's where the landscape is eventually going."  That's the beauty of IABC, he adds, given IABC's multi-disciplinary focus.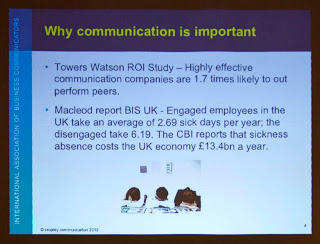 Why should companies care about engagement? Communicating and connecting with employees can have a major impact on organization productivity, he says, citing the Towers-Watson Change and Communication  ROI Study Report, which found that companies that are highly effective at communicating are 1.7 times likely to outperform their peers. He also quoted a study that found engaged employees in the UK take significantly less sick leave than those who are disengaged. 
Three findings from the Towers-Watson report are that sustainable business performance depends upon:
Clarity – having a clear direction for everyone
Competence – competence in leadership and in organizations
Community – it's all about giving everyone a shared experience
He cited the 2011 European Communications Monitor study that tracks the evolving role of the communications profession in Europe and where the field is headed. The report pointed to the changing perception of PR globally and whether "PR" as a title creates a negative connotation in the market. To illustrate his point, Cropley shared a press article in New Zealand that complained that the government employed too many "spin doctors."
"We have to reposition communications to make it very clear that it is a business value to organizations: What is our scope? What is it that we deliver?" Cropley says. "We have to start to clearly brand ourselves and what we do for the organization, then we've got to measure the tangible of what we do."
Cropley contends that communicators are at a key moment in their profession where they can play influential roles. What do we need to do today as communicators to thrive in the future?
Understand the cultural context in the global business world.
Understand that our audience is different and it is we who must adapt our approach based on the audience – with honesty and a desire to build a relationship with our audience.

 

Broaden our skills as we converge – understanding the path for communications is knowing a lot of different disciplines.
Meet our audience where they are.
Don't drop the tactics, including core skills like writing– "find the sweet spot between tactics and strategy," he advises.