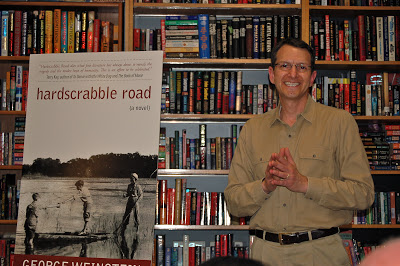 Storyteller extraordinaire George Weinstein at his book signing last month.
Today, The Writing Well features a guest blog post by Atlanta author George Weinstein. His critically-acclaimed historical novel, Hardscrabble Road, compellingly captures the struggles and bond of three brothers growing up in Depression-era South Georgia. More than a decade in the making, Hardscrabble Road is an unforgettable read. It accomplishes what only great books do — transporting you to a different time and place, and into the brutal life of these young boys (told through the eyes of Bud, the youngest son). Bud and his brothers' story lingered with me long after the closing chapter, and I'm delighted George has agreed to share an excerpt and some thoughts on his journey telling their story.
Chet's tenth punch knocked me down for good. I spun and toppled face-first into a ditch. As usual, his fists brought my world into sharp focus: the army ants toiling beside my nose, furrowed snake tracks, straw-colored weeds like human hair. Stubborn grains of sand clung to my lips when I tried to spit out the South Georgia dirt.
Any fool would've known not to mess with my brother Chet. At fifteen, he seemed to be held together by coiled springs vibrating with tension. Papa used to slap the fire out of me, getting in as many licks as he could, but Chet always struck like he meant each blow to end the fight. Still, I'd shake my head, listening to the loose parts rattle like coins in a Prince Albert tobacco can, and come back for more. I never beat Chet, but I never quit.
I scrabbled out of the trench alongside Hardscrabble Road, appreciating that he didn't offer his hand. Chet never tried to humiliate me; being a year older, he only whipped me to confirm the proper order of things. He even said, "Sorry I landed one on your birthmark."
A port-wine stain colored the upper-left quarter of my face, like a clock shaded crimson from nine to noon. Proof of the Injun in my blood, a rawboned bully once joked, a heartbeat before Chet cleaned his plow. He and my oldest brother, Jay, would defend me against the whole world with bloody knuckles and bared teeth.
Frigid wind blew icy needles of dust at my eyes as Chet and I resumed trudging along the dirt road, pulling sleds of firewood. He tugged the heavier one, its frayed rope taut over his shoulder. Though it was my turn to drag the larger share, Chet's fists had just settled that argument. I hoped we'd collected enough to keep Mama's rented house warm during the late-winter freeze.
Ahead of us the sky and land looked equally pale, one heavy body mashing down the other, both drained of life. A car took shape down the road. Dust rose high behind it like a cock's plume as the '42 Chrysler Royal Sedan, painted in lurid oxblood, tore up the ground heading our way. Chet seized the pitted hatchet from his sled. He raised his arm, weapon poised.
As if in response, the driver waved to us and tooted a melody with his car horn. He flashed past in a blur of chrome highlights and white walls. Behind the glass, fur-trimmed coat sleeves and hands swaddled in calfskin gloves were all I noticed.
Chet lowered the hatchet as cold dust settled over us: South Georgia snow. I shivered in my light wool jacket and overalls as he chucked the small axe atop his load of twigs and gnarled tree limbs. He leveled his narrow-eyed stare at the receding sedan the way he sighted down our single-shot rifle. "You know who that was, Bud?"
I would've accepted a ride from Hitler or Tojo—any chance to get out of that place. I brushed away dirt with hands chapped red from our fistfight and the cold, saying, "I reckon I don't."
Chet spit between our bare feet. He muttered, "Papa's back."
* * * * *
Honoring Three Young Boys: Book Inspired by Real Life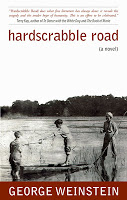 In October 1991, my wife-to-be took me home to meet her parents, and from her dad I heard the first of many stories about his harrowing but remarkable childhood in the southwest corner of Georgia during the Great Depression and war years. Born into a family of sharecroppers, he was at the bottom rung of society. Worse, as the son of brutal, self-absorbed parents who had no interest in child rearing, he and his brothers had to fend for themselves–and the only love they experienced was their bond with one another.
Every story fascinated me. It was like hearing about a distant country in a long-ago age. Raised in middle-class, suburban Maryland, a kid who watched Star Wars countless times in air conditioned theaters and played Space Invaders on a console color TV, I couldn't get enough of his otherworldly tales. I began to write down as many as I could remember, with a vague notion that his early adventures with his brothers could be a book.
However, I didn't get serious about writing the book about the boys until I got to know the men much better. Starting out with nothing, they were truly self-made: loving husbands and fathers, very successful in their careers, well read, humorous, thoughtful, questing for knowledge, and speculating about the nature of reality and the meaning of life. Seeing how they turned out–and how they turned adversity into motivation to not repeat the sins of their parents–made me want to write about the boys they must've been.
Getting Details of Time and Place Right
I'm a novelist not a biographer, and, in any case, my father-in-law had no interest in telling me all of the details about his childhood. He often reminded me that he was taking the worst stories to his grave, that to tell me everything he experienced and witnessed would be to pass along a curse. He didn't want anyone to look at him and think, "That poor man, so-and-so happened to him." In any case, I wanted all of the elements of a coming-of-age story, including a love interest, so I wasn't tempted to tell his precise story but instead tell a story inspired by his childhood.
Thus, what occurs in Hardscrabble Road is fiction, but many elements of place and certain components of individual characters were real. The hardest part of the writing process for me was not the creation of the story but the capturing of those real elements: the five senses that the reader actually would have experienced in that time and place, the way people spoke and acted. When readers tell me how much they enjoyed the book, I'm heartened (and relieved) if they mention that I got those details of time and place correct. It appears that I bugged my father-in-law sufficiently to nail down those sensory elements.
Writing in First Person
I'd written a historical novel prior to Hardscrabble Road, so I was familiar with the genre. What further stretched me as a writer, though, was choosing for the first time to write a first-person narrative. Third person is much easier, since neither the writer nor the reader has to live inside a single character's head very deeply or for very long. I don't like a lot of first-person novels because so much time usually is spent on the protagonist pondering, debating, emoting, reacting, and engaging in other mental contortions that interrupt the story. Though I decided that the novel would work best in first person, I made a conscious effort to only give readers what was necessary in terms of the narrator's thought processes. If the narrator's character and convictions are clear from the start, I think the writer can trust the reader to understand the narrator's reactions to events so that these don't bog down the scenes and slow the story.
For Hardscrabble Road, I relied on the readers to react to what the hero was experiencing or witnessing and trusted that they would anticipate his mental gyrations; it didn't need to be explained to them every time. I guessed that technique wouldn't work if the reader was a sociopath, but I figured that most people would respond appropriately. A literature professor might label my narrative as a "distant" first-person since the reader spends much more time in the story instead of in the narrator's mind.
My father-in-law passed away before he could read the published book, but he did contribute the cover photo, which depicts him and his brothers on a creek, one of the few pictures that exist of them as children. It no longer surprises me how much I wanted to honor those three young boys I could only imagine and the three senior gentlemen I'd come to know over the years. Writing the book had gone from an intellectual, literary exercise to an emotional quest to "get it right" for them. It wasn't their story per se, but I was writing it for them and because of them.
Inspiring People to 'Never Quit'
What I hope readers get out of it is not only the feeling of being transported to another time and place but to also feel deeply for the hero's plight and root for his never-quit attitude. Perhaps it will inspire someone to endeavor for one more day despite many obstacles and perhaps that will make the difference. To change someone's life for the better is the greatest thing we can do in any walk of life. For a writer to do this with mere words seems like the most wonderful and potent kind of magic. I hope Hardscrabble Road contains some of that alchemy.