Graphic: Technorati
I
met today's guest blogger Alison Sky Richards at DragonCon this past Labor Day weekend. She led a one-hour Social Media 101 workshop for writers. Her tips were on target and based on real experience building her own fan base for her fantasy writing.  Below, she offers writers six indispensable tips for carving out a place for themselves in the social media landscape.   
* * * *
If you are a writer planning on using social media to help you create and connect with your fan base, there are a few basic rules that you need to remember:
 

U

nderstand that you will only get from social media what you put into it.

 

Don't think you have to be famous to start building a fan base; however followers will not show up overnight either.

 

They won't remember you or stick around if you don't post regularly, talk about your projects, and interact with them on a "personal" level.

 

Make sure you interact using your author persona

.

 

Just like you don't reveal all of your personal data to complete strangers, don't feel that you can or should tell your audience everything.

 

Avoid topics like politics and religion unless that is part of what you're writing is about.

 

Choose your accounts wisely.

 

You don't need to be on every single social media out there.

 

Find two or three that you are most comfortable with and focus on them.

 

Facebook and Twitter are the most popular ones, so having at least one – if not both – is advisable.

Claim your name in your URL's

.

 

That not only includes your website, but also your social media accounts.

 

It will make it easier for fans to find you as you expand onto new sites.

 

And make sure you have links to all social accounts on your website so people can friend you there.

Make sure you manage your time wisely.

 

Social media can become addictive if you don't manage yourself, and then you will lose precious writing time.

 

Make sure you schedule it into your day, and then keep yourself on that schedule to get off the sites as well.

The internet is forever.

 

Once something is posted on a social media site, don't expect there to ever be a "take back" function.

 

Always think twice when stating a personal opinion or talking on a "controversial" topic, as once you say it, those comments will follow you for the rest of your career.
About Alison Sky Richards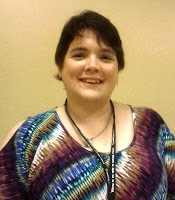 Originally from Yonkers, NY, and currently living in Nashville, TN, with her best friend Bethany and her cat Jojo, Alison Sky Richards is an upcoming fantasy writer who draws her inspiration from the creative energy surrounding the vibrant music community. When she isn't working her day job at the Legal Aid Society, she is either at her local Starbucks working on her next writing project, or down at Bridgestone Arena cheering on her beloved Nashville Predators hockey team – when there isn't a lockout. She can be reached on both her Facebook page and Twitter, as she operates both in the few remaining free minutes of her day.