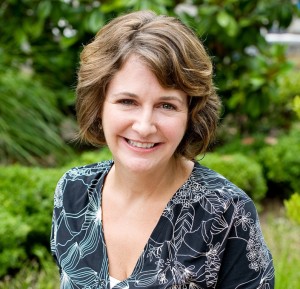 Atlanta has its share of talented writers, especially in the romance genre, as noted by the number of Georgia Romance Writers chapter members who have received the coveted Maggie Awards that frequently lead to successful publishing careers with major houses.
In 2011, Jennifer McQuiston earned her first Maggie in the unpublished category. Within two years, she would be a New York Times bestselling romance novelist with Avon nominated for the 2013 RT Reviewer's Choice Award for best First Historical Romance for her novel, What Happens in Scotland.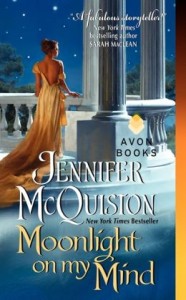 I recently caught up with Jennifer at the book signing for her third novel, Moonlight on My Mind.  A mother and veterinarian by training, Jennifer has managed to balance her new literary career with motherhood and demanding work as an infectious disease scientist at CDC.  I  literally "inhaled" two of her three Victorian era novels, including her second novel, Summer is for Lovers, in a matter of a few weeks, and can't wait for her next series.  The vitality and irreverence of her heroines are unforgettable, as are the circumstances they find themselves in.  The Writing Well is proud to showcase Jennifer and her writing journey below.
Q. How did a veterinarian and CDC scientist become a historical romance novelist? You don't normally associate the two types of professions together.
Jennifer: When I sat down to write my first book, it evolved as sort of a "see if I can" experiment, and what emerged was a romance set in a historical setting. (It sucked, by the way. In case you were wondering.)
But the why of it is more difficult to explain. Although I had dabbled a bit in flash fiction and short stories with a contemporary feel, my first attempt to write a book was unapologetically a historical romance. Looking back, I think it is because the rhythm of it felt most natural to me. I had always loved to read historical romance, and in fact, it was the process of discovering amazing historical romance authors like Madeline Hunter that made me first want to try my hand at writing anything.
With respect to the seemingly incongruous nature of my professions, I can only point to a scientist's great love of research as a natural fit for the research required to craft believable historical fiction. And as for the romance? I spend my days writing the most tedious scientific articles imaginable… I would even welcome the opportunity to write limericks as an escape!
There one was a highly trained vet
Who never practiced on a pet
She worked as a fed
And was very well read
Happy endings were always a sure bet.
Q. Your heroines in at least your last two books are all independent, spirited women who often are misunderstood by the society and the men that they eventually love. What do you hope readers "get" about these strong characters who defy stereotypes or limited views of what they can accomplish?
Jennifer:  So many historical romance authors take heat for writing stories with romance at its core—as though that is something incompatible with a strong, modern woman! Rubbish, I say. I am an unapologetic feminist, and have never felt that my gender was something I needed to "overcome", either professionally or emotionally. It was refreshing to arrive in veterinary school waaaaay back in 1993 and realize that 80% of my class was female, and that all of us were going to wrestle pigs and palpate cattle. And it is refreshing now to meet fellow romance authors and realize that 90% of them are more extreme feminists than I am.
History is full of examples of women who challenged feminine stereotypes, from Joan of Arc to Florence Nightingale. While they may not be "typical" women, they were real, and by studying and sometimes emulating them, I have been able to create romance heroines that are firmly anchored in their era, but that contemporary readers of historical romance can root for.
Modern notions of feminism do create enormous conflict in the Victorian era. For example, if I make my heroine a swimmer (as I did in Summer is for Lovers), in an era where a woman could only enjoy the ocean in archaic and frankly terrifying bathing machines, I have beautiful, instant conflict for my story.
But conflict is a good thing in fiction, so it works out well for me.
Q. I've heard from other novelists that "voice" is often the hardest to master but is one of the most critical attributes of strong storytelling. Do you agree? How would you describe your narrative voice?
Jennifer: Voice is something that belongs uniquely to each author, and I have to say, it didn't sync into place for me until my second attempt to write a book. (I wrote 5 before I finally got published, if you would like to count along). Workshops and conferences help you sort out form and function, and genre fiction can have certain elements that must be there that you can learn and execute as a matter of course (i.e., the requisite happy ending for Romance).
But nothing can teach an author their voice. You have to discover it, not learn it, and there is no way to do it but time, luck, and repetition.
It is funny, but I am not sure I CAN describe my narrative voice. I know I can point out specific differences from the rhythm of my writing versus other writers. I favor certain combinations of rhetorical devices, and love rich word choices (I LOVE words. Sometimes my critique partners have to call me down). I also believe my voice captures my strong sense of humor, and reviewers and readers often say my voice is witty, snarky, and irreverent at times.
It figures…my sarcasm got me into oh-so-much trouble in high school, but now it is at least earning me a bit of a paycheck.
Q. You mentioned at your book signing that your favorite novel was your first – can you explain why?
How do I explain What Happens in Scotland, and describe what it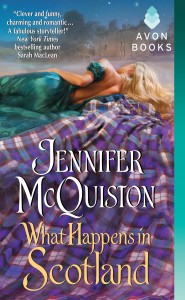 has done for me and my family?
1) It was the FIFTH book I had written, and all the other had gotten "No's", so I was beginning to wonder if I was going to be able to "do" this thing.
2) The plot for the book hit me like a thunderbolt (I was turning 40 and planning a party with close friends in Vegas). I was watching the Hangover one night and thought, "Wow. There are certain elements of this that would totally make an original and fun historical romance." The idea was so high-concept and I was so excited to write it, it poured out of me in only 3 months (no, that isn't normal. Who do you think I am???)
3) It immediately felt different to me. Better than anything else I had written. Editors who had roundly rejected me for past book submissions thought so too, and it sold at auction a week after going out. So in many ways, it was a total fairy tale for me. And with the advance from that sale, I was able to buy my kids a freaking pony. Enough said.
4) Even though it was a polarizing book (reviewers either loved it or hated it), it generated a lot of buzz, and I can now claim "NYT Bestseller" on my list of accomplishments.
So yeah… totally my favorite book. Later books are almost certainly better written. And I enjoy the process of plotting new books a lot. But you never forget your first love…
Q. Do you have a favorite time period and geography to place your characters? If so, what makes that period and/or place so compelling to you?
Jennifer: My preferred time period to write about (and read about) is definitely the Victorian era. I find it so much more fascinating than the narrowly viewed Regency period. From 1840-1890, the world was changing in a head-spinning way. Railways replaced coaches, new money moved in, Americans went abroad, and medicine and science were growing by leaps and bounds (spurred by discoveries like anesthesia, the mode of transmission of cholera, and eventually germ theory). So much more interesting than waltzing!
To date, my stories have been British-set, but I do like to move them around. What Happens in Scotland is based in the Scottish Highlands. Summer is for Lovers is set in the Victorian seaside resort of Brighton, and Moonlight on My Mind is based largely in the Yorkshire countryside. My new series is heading to London (see question #6 below).
I also have a simmering idea for a west-Africa set missionary story based in the mid-Victorian era, but we'll see if I ever get to write that!
Q. How do you approach period research to ensure your characters' world is authentic? Any research tips for other writers with a bent toward historical settings?
Jennifer: Simply because it fascinated me, I had done a good deal of reading and background research on the early Victorian era even before I tried to write my first book. Historical settings can be hard, and if you are a perfectionist, be warned: worrying TOO much about the details can sometimes derail the story. For what I write (historical romance), the developing love story needs to be the actual heart of the book. For me, the key is to go into detail about things I DO know well (chamber pots, horses, historical methods of birth control), and not dwell on things that could trip me up (such as when door knobs were officially invented…I have very differing accounts from very different sources, and have no idea which to believe!)
My biggest tip is, whenever possible, read primary sources. I have read a lot of medical texts from the 1850's, and I also have a huge, room-sized map of London from 1851 that I use to place me in that city for my current works in progress. And given that photography was invented in the Victorian era, I LOVE looking at old photographs.
Q. Congrats on getting another three-book deal from Avon – any hints on what you have planned next in terms of story lines?
Jennifer:  Thank you so much! I am terribly fortunate to have been given these opportunities, and I am excited to write a new series, tentatively known as "The Seduction Diaries". The series follows two sisters and a brother as they navigate London Society on their own terms.
I am nearly finished with book #1 in the series, which is called "Diary of an Accidental Wallflower", and it has some echoes of "Mean Girls" in it. Briefly, the reigning "It" girl in London sprains her ankle on the eve of the biggest ball of the year and is relegated to the (gasp!) wallflower line, where she eventually discovers there is more to life than dancing, and more to falling in love than dukes.
Q. Who are your favorite writers? Where do you go online for writing "inspiration"?
Jennifer: There are so many amazing authors, and when I'm not actively writing, I am still a voracious reader. Historical authors on my auto-buy list include Meredith Duran, Joanna Bourne, Julia Quinn, Sarah MacLean, Julie Anne Long, Cecilia Grant, Courtney Milan (do you want me to keep going? Because I totally can…) My critique partners are also fantastic writers…shouts out to Romily Bernard, Tracy Brogan, Kimberly Kincaid, Sally Kilpatrick, and Alyssa Alexander!
For even more local-to-Atlanta inspiration, my favorite writers all gather at a Norcross hotel once a month for Georgia Romance Writers. I always leave their meetings feeling energized and ready to tackle the whole industry!

Online writing inspiration… I love reading Smart Bitches/Trashy Books (even if they gave What Happens in Scotland a hell of a snarky review). I blog with a group of fantastic historical authors called the Dashing Duchesses, and every one of those ladies is an inspiration. And of course, there is nothing more inspiring than connecting with readers and other authors.I love seeing folks on Facebook (www.facebook.com/jennifermcquistonauthor) and Twitter (@jenmcqwrites).