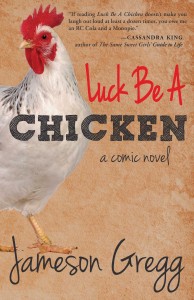 In today's final post focused on the craft of humor writing, The Writing Well is delighted to spotlight the work of Jameson Gregg. His just-released book, Luck Be a Chicken (Deeds Publishing), a comedic novel about south Georgia rednecks scrapin' by in their wheel-estate, is earning rave reviews.  Cassandra King, New York Times' bestselling author, writes:  "Anything can happen, and does, in this rollicking farce, set in a sleepy south Georgia town where the Sweat family resides in the Garden of Eden Trailer Park. Jesus returns to earth as a Mexican forklift driver at the Majestic Chicken Plant, a NASCAR-loving redneck named Butterbean takes on corporate corruption, and the scales of justice swing every-which-way. If reading Luck Be A Chicken doesn't make you laugh out loud at least a dozen times, you owe me an RC Cola and a Moonpie."

According to Amazon reviewer MaryLou Cheatham,  "Jameson Gregg mixes raw realism and compassion with brazen satire in Luck Be A Chicken. He paints the rough side of life with comic relief. Farce and embellishment live on the top drawer of his humor toolbox.  The sensory impact, the humor when it is least expected, and the nail-biting anxiety propel the rapid turning of pages to the end."
The excerpt below captures the humor of this talented Southern storyteller.

"I got a man here to drive for you. His name is Hay-Seuss."
The well-postured man of medium height was light skinned for a Latino. His black hair skimmed his shoulders, and a thick beard hedged his chin. His clothes were threadbare but clean.
The man smiled and nodded as Bean looked him up and down. "How you spell that?"
"'Fraid he don't speak too much English," Wilbur said. "He spells it J-e-s-u-s. Like in the Bible."
"You mean Jesus is coming to work at Majestic Chicken?"
"He ain't Jesus," Wilbur said. "He's Hay-suess. I wish he was Jesus."
"How you make a 'Hay' out a 'J'?"
"Beats me, Sweat, take it up with Mexico. Job center claims he can drive a lift. All you got to do is show him what to do."
"Guess I'll have to show him 'cause I damn sure can't tell him, now can I? How long has he been drivin'?"
"I don't know, Bean, ask him. You need to finish cleanin' cause we're probably going live after lunch. I got to go." Wilbur whirled and shuffled away.
Bean sized up Jesús. Clear, intelligent eyes. Sincere and agree¬able attitude. Seemed anxious to work. Bean felt an odd compul¬sion to show this man respect.
"Buenos días. Mi nombre es Butterbean Sweat. Mucho gusto. ¿Es usted de Mèxico?"
"Sí, Señor Sweat. Soy de Veracruz."
Bean remembered last week's special at Amigo Gordo with great fondness—Chili Rellenos del Veracruz. This feller cain't be all bad.
Bean walked him over to the second Nissan forklift and point¬ed. "You know how to drive this?"
Bean pretended to hold his hands on the wheel, turning left and right.
"Sí, Señor Sweat."
Bean released a key from his belt ring and tossed it to the new man, pointed to an open area,
and twirled his wrist. "Drive around this area and do some stop-and-goes and turn. Compre¬hend-o?"
"Sí."
In seamless movements, Jesús mounted and cranked her. She beeped when he threw her into reverse then she glided like an ice dancer, cutting flawless geometric, loop-de-loop patterns, backward and forward, curving in perfect concentric circles.
Bean's jaw dropped. The smoothest thing I ever seen on a forklift. A tear welled up.
Jesús glided the lift beside Bean, stepped down, and nodded.
Bean tried to gather his composure. He started to speak, stopped himself, and stood in awkward silence. Finally he stepped close to Jesús and whispered. "Are you really Jesus? I mean
Christ, like in the Bible, who come back like You said You would?"
Jesús smiled and shrugged. "No comprendo."
"Come on, you can tell me. I won't tell nobody. I always knowed You was real. Really, I swear I did. I knowed You'd sneak back when we wasn't watchin', but I didn't think You'd be drivin' no forklift in a chicken plant."
Jesús shook his head. "No comprendo, Señor Sweat."
Bean studied genuine confusion in the man's face. The real Jesus would know English, I'm purty sure. He walked Jesús through the work routine in Spanglish then heard Wilbur's voice and turned.
___________________
About Jameson Gregg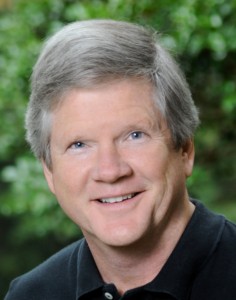 Jameson Gregg has worked as a lawyer for two decades, most recently practicing business, corporate, banking and real estate in Georgia's second-oldest law firm before leaving the legal field to devote himself to writing full time.
His 2014 debut novel, Luck Be a Chicken, won first place in the annual Northeast Georgia Writers' Club competition.  Jameson is a member of the Atlanta Writers' Club, the Northeast Georgia Writers' Club and the Stonepile Writers' Group.
A native of Mississippi who now resides in the North Georgia Mountains, Jameson has a BBA from the University of Mississippi and a JD from the Mississippi College School of Law.
Check out his recent author interview on Gainesville, Ga., radio.