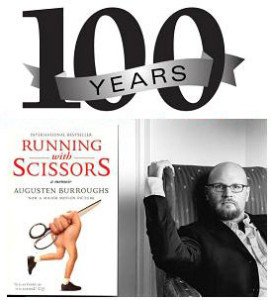 The Atlanta Writers Club recently celebrated its centennial as the Southeast's leading club devoted to the writing craft.  More than 100 fellow members gathered to look back on the club's history and hear from past and present presidents.   A highlight of the evening was an appearance by New York Times' bestselling author Augusten Burroughs, who kept everyone entertained with his own brand of humor and insights from his writing life and battle with alcoholism.
Burroughs, who was born Christopher Robison, is best known for his 2002 book, Running with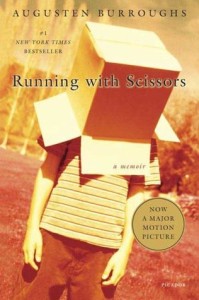 Scissors, which details his bizarre childhood after his mother sent him to live with her unstable and unorthodox psychiatrist.
In 2006, the book was adapted into a film starring Annette Bening and Alec Baldwin. The accuracy of Burroughs' depiction of his traumatic early years has come under fire in the media and in a lawsuit that has since been settled out of court. To the assembled Atlanta writers, he was steadfast in the truth of his memoir, sharing that he kept detailed journals.
No one can doubt Burroughs' talent for putting readers into his frame of mind, or his ability to move people emotionally. Consider these excerpts of his writing;
• "Suddenly, this word fills me with a sense of sadness I haven't felt since childhood. The kind of sadness you feel at the end of summer. When the fireflies are gone, the ponds are all dried up and the plants are wilted. It's no longer really summer but the air is still too warm and heavy to be fall. It's the season between seasons. It's the feeling of something dying." ― Dry
• "I came to think that maybe God was what you believed in because you needed to feel you weren't alone. Maybe God was simply that part of yourself that was always there and always strong, even when you were not."―A Wolf at the Table
• "My mother began to go crazy. Not in a 'Let's paint the kitchen red!' sort of way. But crazy in a 'gas oven, toothpaste sandwhich, I am God' sort of way." ― Running with Scissors: A Memoir
The low-key yet charismatic author also was generous with his time, opening up his one-hour talk to questions from attendees.
"For an author and speaker famed for his humor and offhand glibness, Mr. Burroughs planned his talk to the Atlanta Writers Club (AWC) quite seriously," observed George Weinstein, AWC Officer Emeritus and author. "He understood his audience and addressed us as literary colleagues. I was impressed by the amount of time he spent answering questions. While he did keep the mood light, he also provided thoughtful responses that revealed insights into the craft and business of writing, which is what the AWC is all about."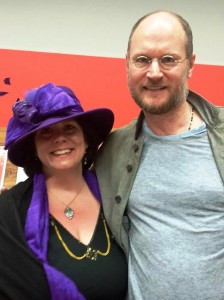 Burroughs urged all of us to "let the words flow" – and to not let self-doubt, self-criticism, or other distractions keep us from the work of writing.  After his appearance, I asked over email how he gets himself back on track during times when there is no writing inspiration to be had — something with which every writer struggles.
"When my writing isn't going well, I try to understand why. Am I trying to write something that doesn't belong? Am I approaching the material from the wrong perspective? And sometimes what i do is just continue to write anyway, knowing that I'm having an off-day and hoping that it turns into an 'on day somewhere along the way," he says.
When asked what has been the most rewarding part of his journey as a memoir writer, Burroughs said, "Meeting my readers, both here in the states and all over the world. That's been a wonderful, amazing and humbling experience. It's also made me more human."
What should a writer wishing to succeed as a memoirist never forget?
"The truth. A memoirist must never lie to themselves," Burroughs says. "How much they divulge is another matter. The process of discovering the truth is fascinating and best explored on the page, as opposed to arriving at the keyboard with what believes to be the truth preinstalled in the mind. Often, the truth of ones circumstances resides just behind what one believes our assumes or has been told is true. The memoirist much reach the deeper truth; the truth behind the truth."
While unable t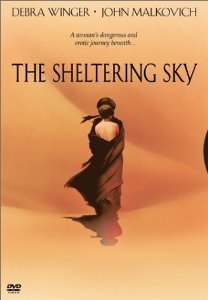 o single out a favorite writer or filmmaker, Burroughs did admit to being a fan of actress Debra Winger and the book, The Sheltering Sky, by Paul Bowles. It's a story about three American travelers adrift in the cities and deserts of North Africa after World War II.  Bowles examines the ways in which Americans' incomprehension of alien cultures leads to the ultimate destruction of those cultures. In 1990, it was adapted into a film starring Winger.
"I admire the masterful use of language in the book, the way the author creates such a powerful sense of place. It's a fever-dream of a novel and it truly transports, which I absolutely admire," he said. "It's important to read books that fill you with awe."
As for that intangible but uniquely distinctive writing attribute known as "voice" that many elevate above even plot and character in a story, Burroughs had this to say:  "If a writer has either created or released a voice that is so compelling and unique, yes, we're more likely to forgive or even overlook a plot. American Psycho by Bret Easton Ellis would be an example. There's not much — if any — plot to this book but the main character is so horribly compelling we continue to turn the page to see what he does next.  In my own case, my literary voice is simply my most personal, deepest self. It's the voice in my head."
And that, I believe, is why we will continue to be captivated by Augusten Burroughs' brand of storytelling.