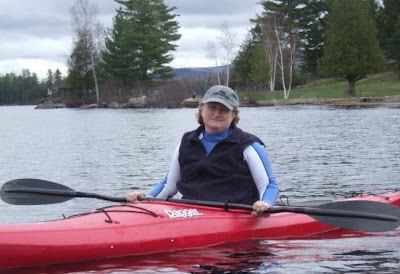 Writer and avid kayaker Jane Shirley.

Writer Jane Shirley, today's guest blogger on The Writing Well, shares her process for creating a strong narrative voice. Jane knows of what she speaks — she has one of the most distinctive voices I've had the honor to hear during her readings in Jedwin Smith's writers' group that we both participate in every Tuesday evening.   Jane, take it away!
F

or me, voice is the sound of the persona narrator's words, how they tell the story —what they leave in or leave out, how they get from point A to point B.

 

The narrator's voice is his or her expression of attitude, agenda, and reliability.

  

Voice encompasses mood and tone, but also supersedes it.

  

Some writers seem to have an individual voice without working at it.

 

But some, like me, work to find it.

 

There are lots of sneaky ways I tease a voice out of my narrator.   The "tracing technique" described below works well.  Whenever I feel that I've lost my narrator's voice (frequently!), I return the original inspiration and try again with the next section of my story.   I credit the Writers Studio with this teaching me this method.  I've heard Georgia Writer Hall of Fame inductee Terry Kay and other successful authors mention this method in various workshops.
First, an important clarification:   This is NOT plagiarism… the idea is to use the other writer's technique to get at how you want your narrator to tell the story — NOT to steal their work — which we don't ever want to do. 
Second, here's how you do it:
Step 1) Find an author you admire.  Select a paragraph or so where their character expresses an emotion, performs an activity, or engages in dialog where the narrator's VOICE is clearly rendered.
Step 2)

Copy the paragraph verbatim to get a sense of the Persona Narrator's language, rhythm, and attitude.
Step 3)

Now write your story from your narrator's POV using the other writer's technique as a springboard.
To show how sad and alienated my character was, I could have had her say:
"I was so sad, depressed, and suicidal that the only thing that made me happy was a A&W root beer diet soda."

 
Not very artistic or interesting, is it?  So I went to Silvia Plath's book, The Bell Jar. and studied her character, Esther Greenwood.  At one point, after a traumatic experience, she describes how a hot bath makes everything better.  Here's what she wrote: 
"There must be quite a few things a hot bath won't cure, but I don't know many of them.

 

Whenever I'm sad I'm going to die, or so nervous I can't sleep, or in love with somebody I won't be seeing for a week. I slump down just so far and then I say "I'll go take a hot bath."….
"I remember the ceiling over every bathtub I've stretched out in.

 

I remember the texture of the ceilings and the cracks and the colors and the damp spots and the light fixtures.

 

I remember the tubs too:

 

the antique griffin-legged tubs, and the modern coffin-shaped tubs, and the fancy pink marble tubes overlooking indoor lily ponds. And I remember the shapes and sizes of the water taps and the different sorts of soap holders."

 

— Silvia Plath, The Bell Jar
Plath wrote this book in first-person singular and the character IS the narrator.

 

Plath renders this character though multiple techniques, most especially voice.

 
1)

    
She reveals the character's personality via a constant stream of internal self-talk.

 

Instead of just saying "I'm so traumatized I want to die."

 

She has the character pontificate on her personal souvenirs: baths, bathrooms, and bathtubs… As readers, we are drawn in — but somewhere we're saying to ourselves — "she's a little nutcase," and "this isn't going to have a good ending."
2)

    
Plath accomplishes this discord by having her character project an effervescent tone to contrast the sad, lonely, mood.

  

She feels her character's pain deeply —this is an autobiographical novel — but she doesn't want the tone to be maudlin or dark, she wants it to be interesting.
3)

    
She develops the moodthrough the character's word choice.

 

Using physical objects and images to foreshadow events (coffin-shaped tub).
So, using the Tracing Technique, here's what I came up with for my sad character:
"I always kayak when I go to town for a martini at night.

 

I like to play slalom with speedboats.

 

I secretly suspect myself of hoping that one of them will hit me broadside.

 

On a large lake with ninety-nine miles of shoreline, what's one kayak more or less?
We now know my character is depressed and suicidal.  But, we need more if we're going to follow Sylvia Plath's lead and flesh out the character's personality.
"As I paddle home, I recite my litany of memorable martinis.  I especially remember the first sip, because that forecasts how the rest will go.   I remember the comforting warmth of Gray Goose in a grungy overcrowded bar in Boston when I was a college student.  I remember the icky watery taste of weak vodka in the pseudo hi-tech SFO airport bar, and the awful cyber-security job that followed.  I remember barstools, bartenders, and counter tops.  I yearn to return to the ice-encrusted bar at Red Square, the Russian restaurant in Mandalay Bay, where my Imperia vodka martini was the most perfect temperature I have ever had."
Now we know her history and that she's desperate and lonely.
Two other techniques that Plath uses are a) repetition and b) "I remember."

 

Both of these are pretty effective.

 

I tried to use them as well.
I frequently remember what I was wearing….
I remember glasses too, the way different shapes encase the swirling currents of icy liquid, and how they skew perspective when reflecting back to me the moments that comprise my life…
I think you get the point.

 

Without the model that Sylvia Plath offered, I would never have gotten to what I call my "Martini Serenade."

 

I would have been stuck with telling NOT showing.

 

Once I got started, it took off on its own, Plath was my springboard.

 

AND thank heaven she was.
I hope this helps.

 

I welcome your examples of how you have used the Tracing Technique or other writing exercises to better define your narrative voice. Share your favorite author excerpt and your characterization example here.

 
About Jane Shirley
With a BA in English from Wellesley College and a Master's in Technical Writing from Southern Poly, Jane Shirley worked as a technical writer for fifteen years.  From 2006 through 2010 she attended TheWriters Studio in New Yorkincluding one year in the online Master Class. She currently participates in writing classes with Jedwin Smith through the Atlanta Writers Club.  Jane is developing three different projects:
Short Story Collection: "Human Jerky – Scary Corporate Fairy Tales"
Memoir: The Pervert Café – a Memoir
Fiction: What Passes for Joy – Love and Loss in the Adirondacks 1938/2008