Working on a novel, memoir or other major writing project takes much more than a story line you believe in and core writing skills – it also takes a belief in yourself, literary creativity and a dogged determination to see your work through to completion.
Obstacles emerge from all directions and often when you least expect it – from competing demands on your time to periods of self doubt and loss of inspiration.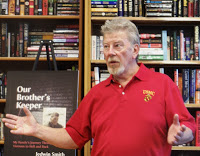 Author and writing coach Jedwin Smith.
A great resource to combat these hurdles is allying oneself with other writers, who can inspire and support one another.  I've been blessed with being part of such a community in the last year. I've participated in two eight-week writing groups led by veteran author Jedwin Smith, whom I featured on The Writing Well last April. In an expanded interview at the end of the post, I asked Jedwin what motivated him to start writing groups over three years ago.
"I'm a big believer in the writer's community…We do our best when in the company of other writers," he told me. "As a body, we know how sharp is the spear of rejection, how painful is the ax wielded by critics. Yet, we can learn by the failures of others—and, admittedly, there isn't a writer who hasn't tasted failure."
He said he wanted to form a small circle of writers, to whom he could pass on his skills honed as a Marine, where "impossible was never a part of our vocabulary."
"I figured I might be able to accomplish the same results in a small, diverse writing community by passing on the skills I've learned, being honest about all the mistakes I'd made, and pump up the individual's enthusiasm with a positive, complimentary approach to the craft."
Well, Jedwin's Tuesday night group did create that kind of healthy give and take he envisioned…so much so, that a group of us wanted to continue to meet during the two-month break over December and January.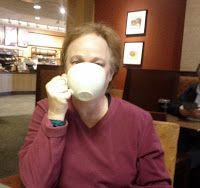 Jane enjoys a latte Sunday evening.
Sunday was the last informal gathering of this small enclave of our group as we look to begin another eight-week session with Jedwin starting Tuesday.  For me, the weekly accountability to write and share has helped me continue to keep the momentum going for my historical fiction novel, Torrential, where I recently crossed the 33,000-word mark. Not bad for a mother of two with a demanding consulting business!
To my writing confidantes — Mari Ann, Susie, Jane and Carolyn, a big thank you for your insights, generosity, writing wisdom and, above all, friendship. I couldn't have gotten as far with my book without you! Below they share how our group has helped further their craft.
On what's been the most helpful aspect of participating in our writing group:
"The suggestion from Mari Ann to totally change my format and write my book in letter form, Epistolary style, like the 1983 Pulitzer Prize winner, The Color Purple, has really accelerated my writing. She was spot-on with her suggestion! Sharing with people who know what I am writing allows them to know if what I wrote actually works! Sometimes I think I've gone off the track too far. They reel me in if I have, applaud when it is good, and make suggestions if needed. Our group is very supportive of each other's passion for their writing. There is cohesiveness that is priceless. We want each other to succeed!"– Susan (Susie) Jimison

"Seems to me that writing a book – a piece of literary art – 'takes a village.' Feeling the support of those who want me to succeed energizes me, uplifts my spirits, when I need a special something to motivate me to get down to the business of writing. And maybe most of all, I feel cared about. My writing is my passion. When others are eager to support me, even after my heart has opened and emptied words of darkness onto a page, could anything be better than that?" – Carolyn Graham

 

"One of the best aspects is that over the past few months, we've all become good friends, understanding one another on a level that other friends or family members may not. That friendship gives us the confidence and buoyancy we need to search deep within ourselves to bring our best writing to the surface." – Mari Ann Stefanelli Perusek
On advice to other writers considering joining or forming a writer's group:
"Know thyself as a writer — your goals, your voice, your story.

 

Share these to learn more about them and also how they work with an audience.

 

If you have the right group, you will be amazed at your own growth." – Jane Shirley

"It's not a good idea to get married without going on at least a few dates––so get to know each other before committing to the critique relationship!   Our group met over the course of a terrific eight-week writers' workshop.  By the time the workshop concluded, we knew we could––and should––keep that momentum going."–Mari Ann

"Keep going until you find the right mix for you. Be flexible. As one grows as a writer, a different mix might be called for.

 

Be careful about the numbers. Staying on task, five of us take three hours to read and critique each other's work.

 

Find people who are willing to offer honest support as suggestions, honoring your right to make the final decision about your work. Listen when someone critiques another's work. Seek out those who do a good job at that. They'll give the best feedback —the kind that will take your writing from good to great." – Carolyn
"

A good critique group should work like a good therapy session, leaving you inspired, encouraged and open to new ideas. If you feel angry, hurt or discouraged —run, don't walk —and find a new group.

 

Trust is another important consideration. Make sure your group understands that your writing and your conversations are confidential, unless otherwise agreed upon." –Mari Ann
"Finding a time that works for everyone is hard but worth it. It is so important for other eyes to see your work before submission, whether it is for submission to a class, a contest, or a publisher. Someone else will see things you don't!" – Susie