In observance of this Memorial Day weekend, I share three books — two works of historical fiction and one non-fiction work– that memorably capture a soldier's struggles and experiences in wars past and present.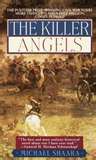 The Killer Angels by Michael Shaara
"Lee raised a hand. 'General Pickett, I want you to re-form your division in the rear of this hill.' 
Pickett's eyes lighted as if a sudden pain had shot through him. He started to cry. Lee said again with absolute calm, 'General, you must look to your division.'
Pickett said tearfully, voice of a bewildered angry boy, 'General Lee, I have no division.'"
Michael Shaara's Pulitzer Prize-winning Civil War classic takes you to July 1863 and the four most bloody and courageous days of our nation's history. It tells the story of soldiers on both side of the battle, and in so doing, leaves you with an indelible sense of who these men were and how they felt.
"He dreamed of Maine and ice black water; he awoke to a murderous sun." This quote in the book's second chapter on Joshua Chamberlain perfectly captures the homesickness felt by soldiers, and the stifling discomfort of that Pennyslvania summer.
In 2005, Jon Thompson, a retired English and Civil War history teacher from Ohio, argued that Shaara's masterpiece was the best Civil War book ever written at a meeting of the Cleveland Civil War Roundtable. His reasoning? The book "describes Civil War combat as no other book ever has…vividly, graphically and accurately…Because it takes the reader into the minds and hearts of the soldiers…to know their thoughts…and feel their emotions…to know their ideas and ideals….their fears and frustrations…their dedication…their courage….their sense of duty."
Ken Burns, acclaimed filmmaker of The Civil War, said this about the book, which was first published in 1974: "Remarkable…A book that changed my life…I had never visited Gettysburg, knew almost nothing about that battle before I read the book, but here it all came alive."
In November 2000, Jeff Shaara, an historical fiction writer in his own right and the son of Michael Shaara, spoke about the legacy of his father's book at the Lincoln Forum at Gettysburg. Mr. Shaara recalls that the book was originally rejected by 16 publishers — a result no doubt of the bad timing as the country was coming out of the Vietnam War era — before it was picked up by a small independent publisher, The David McKay Company, which was going out of business. When the book first won the Pulitzer Prize, people couldn't get a copy and were calling Shaara's house requesting a copy. Eventually, Random House acquired the small publisher.
A Soldier of the Great War by Mark Helprin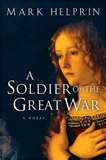 "
I'm not afraid," Rafi said.
"Why not?"
"If I die tomorrow it will have been useless to have been afraid today."
This lengthy book of war, love and life, focuses on an elderly Italian professor and veteran of the Great War, who is moved to tell the story of his life to a young, illiterate Sicilian industrial worker, as they take a long walk from Rome to a village in the mountains. The boy learns about the elderly man's experience as a soldier in the First World War, of how he lost one family, gained another, and lost it, too.  
Author Mark Helprin formerly served in the British Merchant Navy, the Israeli infantry, and the Israeli Air Force. His essays and articles have appeared in
The New Yorker
for almost a quarter of a century. His
Memorial Day tribute
just published in the
Wall Street Journal
provides clarity in regard to how, where and when to go to war. 
Helprin shares his journey writing the book, including the loss of his father during its writing, in an interview with Connie Martinson Books.
Here are a few reviews of A Soldier of the Great War:
"Vast, ambitious, spiritually lusty, all-guzzling, all-encompassing." (NY Times Book Review)

 "Helprin stands bravely apart . . . taking on all comers with a tone that recalls Hemingway." (The Boston Globe)

"An incredible tale…a fascinating story, so rich with detail that you almost think it is a factual account. Helprin does such a wonderful job of crafting the soldier's life story, you would think that he had firsthand experience as an Italian soldier in the same time period." (Amazon.com reviewer)
WAR by Sebastian Junger
 

"He throws his last grenade and then sprints the remaining ground to where Brennan should be. The Gatigal spur is awash in moonlight, and in the silvery shadows of the holly forests he sees two enemy fighters dragging Josh Brennan down the hillside. He empties his M4 magazine at them and starts running toward his friend."  — WAR by Sebastian Junger
Sebastian Junger, a contributing editor at Vanity Fair and the author of The Perfect Storm, spent months shadowing an American infantry platoon deployed in Afghanistan between 2007 and 2008.
The result is War, which chronicles the 15-month deployment of a platoon in the Korangal Valley, which was considered the most hostile and dangerous valley in the country. The valley, the author explains, "is sort of the Afghanistan of Afghanistan: too ­remote to conquer, too poor to intimidate, too autonomous to buy off."
Junger, who cut his teeth as a freelance wartime reporter during the Bosnia conflict in the 90s, shares details of his journey at a May 2010 meeting of The Commonwealth Club of California, the nation's oldest and largest public affairs forum.
 One military reviewer called WAR "the most definitive book I've ever read about soldiers in combat."  Another said, "a well-crafted story that tells the story of what our troops in Afghanistan are enduring on a daily basis….A MUST-READ!!"