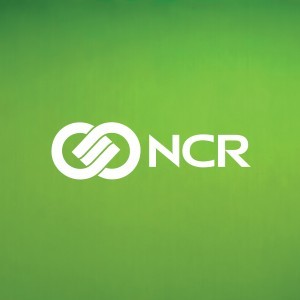 "People don't have relationships with products, they are loyal to brands."
So says Scott Goodson in his September 2012 Forbes Marketshare post, "Why Brand-building is Important." 

My client, NCR, gets this — on Oct. 10, this Duluth-based leader in consumer transaction technologies launched its new brand — Everyday Made Easier™ through a companywide "Live the Brand Awards" webcast that showcased some of the company's best brand moments. The company's storytellers have adopted the new engaging voice of the brand in all their internal and external communications.
"The NCR brand reflects a new look, feel and voice that clearly communicates who we are and the difference NCR is making in people's lives all over the world," says Caroline Rose, integrated marketing partner in NCR Travel Marketing. "NCR technology empowers 450 million consumer transactions everyday, many of them in the travel space, whether checking in for a flight, navigating your way through an airport, picking up a rental car or buying something at duty free. Our goal within NCR Travel is really to build upon that story by conveying to our customers and prospects how NCR is making everyday travel easier for their customers as well."
(To get a feel for how the Travel marketing folks are using the new brand language, check out their engaging animation video).
But, well before the official brand launch, NCR's Corporate Communications team was promoting the brand internally.  As anyone who has gone through a corporate rebranding effort will tell you, getting employees on board with telling your company's brand story is critical to success. For one, if your employees don't buy into your brand, why should customers?
Employees can be your biggest asset as brand ambassadors, notes Michael Brito, senior VP for social business strategy at global PR firm, Edelman. In his August 2013 Edelman Conversations' blog post,  "Employees and Brand Journalism," Brito emphasized how your brand must empower employees to become storytellers.
Citing his firm's 2013 Trust Barometer report that measures the level of trust people have in institutions, industries and leaders, respondents were very clear about who they find most credible when seeking information about a brand or company:  half of those surveyed found a regular employee in the company as credible.
NCR fully embraces this idea — sharing helpful resources such as its new brand voice guide with employees, and engaging in a cross-cutting communications campaign to get staff excited and engaged well before the brand debuted publicly.
Beginning in early September, NCR began running a series of intranet features (including fun facts,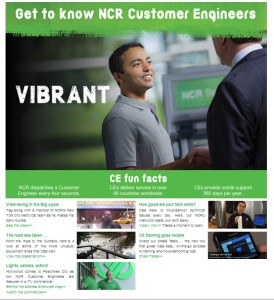 employee interviews and videos) designed to showcase how its customer-facing Services employees "live the brand' every day.
The largest division, NCR Services, includes the company's global team of service support professionals. NCR Services' goal is to deliver innovative customer service while ensuring on-time installation and maintenance of consumer transaction technology worldwide.
"Our brand is all about making every day easier," notes Nancy Berry, senior communications manager for NCR Services. "We wanted to celebrate the members of our services team who directly represent the NCR brand to customers in their daily work. In the process of telling these Services stories, we sought to convey how are Services team members are trusted, innovative, vibrant and agile – key attributes of our brand."
The campaign ran during September on the company's intranet, and began by focusing on the work of NCR service technicians, who are known as Customer Engineers or CEs. The feature included a flash video that provided a glimpse into the CE's daily work, photos of some of the unusual locations CEs visit to service equipment (e.g., an ATM in the visitor center atop Europe's highest mountain), and an interactive video where viewers could test their equipment troubleshooting skills. Another spotlight focused on the Services Parts team and included a photo montage depicting a part's journey from order receipt to delivery in the field as well as interviews with Parts team members about the importance of representing the brand. Each intranet feature included compelling graphics and little-known facts about the featured group.
"The features served two purposes," says Nancy. "We wanted to make sure our employees in the field were well-represented in our brand launch celebrations, and at the same time, we wanted to educate the rest of NCR about the great work these team members are doing to support our customers on a 7x24x365 basis."
"Representing the NCR brand well is indeed something I think about in my daily work," says Heather Dunham, who was featured in a story about the Parts team. "When it comes to customer service, parts availability is a top priority. My goal is to have service parts readily available when they are needed."
To learn more about NCR's brand launch, visit http://www.ncr.com/about-ncr/everydaymadeeasier or read the company's recent blog post about living the brand.