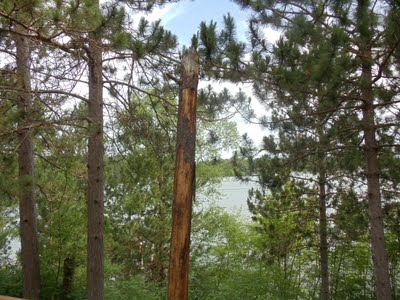 Lake 26 from the Sargent family cabin deck. Photo by: Anne Wainscott-Sargent
3,000 miles.  Four states. Nineteen cousins. That's what my family just completed – a Midwest roadtrip that took us from Atlanta up through Tennessee and into the Midwestern US to spend time with family.
My husband and I had planned for this vacation for weeks and were excited to be underway.  Our van was loaded to the gills – I had healthy snacks and plenty of DVDs packed to keep the kids entertained in the car, as well as my own cadre of books to read during the long drive. My husband serves as volunteer chauffeur during our road trips – preferring to drive than having to deal with incessant demands and chit-chat from the backseat – "Can I have a drink?" "I want something to eat." "Ryan hit me." "Are we there yet?"  "I need to go to the bathroom" (usually about 10 minutes after giving in to the first request).
In spite of the interruptions, I welcome my time in the passenger seat because I get to sink into my favorite pastime – reading – and can finally make a dent in the pile of neglected books that sit on my nightstand at home. For this trip, I brought an eclectic mix of non-fiction and fiction, including Manhunt: The 12-day Chase for Lincoln's Killer by James Swanson; and Water for Elephants, Sara Gruen's historical novel about life on a circus train during the 30s.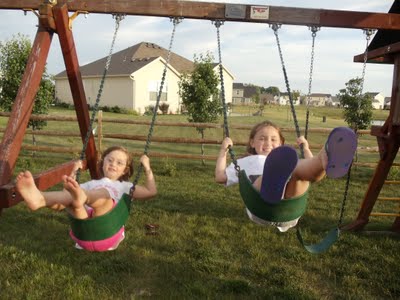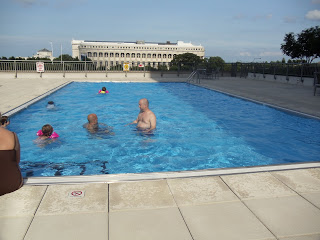 The first weekend of our journey was split between my two brothers, who live about 5 hours apart – one in northern Ohio, the other in Chicago. Both my siblings have three children – including new infant sons, 9 and 6 months of age. In Ohio, our kids played together in my brother's backyard; in Chicago, they swam in a heated outdoor poor on the fifth floor of my brother's condo in MuseumPark. The pool was warm but the air was brisk as we felt the wind from surrounding skyscrapers buffet us from all sides.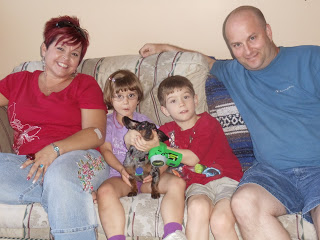 Cousin Kristen and her dog, Lizzy, with Sarah, Ryan and Jeff.
From there, we visited cousins in Indiana on both my and my husband's side of the family, picking up a speeding ticket along the way while driving through a stretch of highway surrounded by Indiana corn fields and other farm land.  It was fun to meet Kristen, my husband's cousin – a free spirit and animal lover, who took us to a nearby lake and took time out to color my hair! The kids fell in love with her dog, Lizzy.
The trip culminated with a visit to a northern Wisconsin lake-side cabin that my husband's grandfather built in the early 40s. There, we reconnected to my husband's two cousins – Brian and Stephanie — and met their families. Jeff hadn't seen them in nearly 30 years!
It was Friday, the start of the fourth of July weekend.
All day during our push into Wisconsin – my first to this beautiful state of lakes — temperatures were in the 90s – too hot to spend the night in a cabin that lacks air conditioning. We decided to stay in a hotel at St. Croix Casino in Danbury, courtesy of Brian and Stephanie's mom, who had a room voucher.  After a brief visit with Brian, we first drove to Johnson Yellow Lake Lodge for dinner. Unbeknown to us, a series of fast-moving storms were brewing. The storm system spawned supercell thunderstorms and tornadoes as it moved from southwestern Minnesota northeast across the state and into Wisconsin and Upper Michigan.
We had a 30-minute wait in the crowded pub known for its view of the lake. We had just started eating dinner when the first cell hit – winds created a whirlwind of lake water that was blinding. The wind was so fierce that large trees overlooking the water blew down like matchsticks. The crowd in the bar uttered a collective "ahhh" when the trees went down. Then, a tree hit the deck just to the right where we were seated and the restaurant went dark. We spent the next 40 minutes in the pub's dank basement along with other locals and vacationers. My husband kept trying to reach his cousin, knowing that his house did not have a basement. We connected later, and were immensely relieved to hear everyone was okay.
We had to wait for trees to be cleared before making a run for the casino, which was running on an emergency generator when we arrived.  As we drove away we saw the sky behind turning black again and were glad to be going in the opposite direction!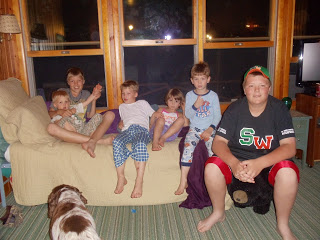 The Georgia and Wisconsin Sargent cousins.
The next day we made the decision to go to the cabin – even though there was no electricity. Jeff had come too far not to see the place. Brian met us at the hotel, cracking a joke, "Welcome to Wisconsin," as he picked up supplies on our way to Lake 26. The devastation from the storm was evident everywhere – trees were blocking part of the roadways and in some places, there were downed power lines. We made our way slowly until we arrived at the driveway leading to the cabin, which was blocked by several downed trees.
Not long after we pulled off the road Brian's neighbor arrived with a chain saw and other equipment to clear the tree logs. His only payment? A Bud.
Everywhere we went we saw devastation and the hands-on helpfulness of neighbors and volunteer road crews, who worked tirelessly to clear the debris and help stranded travelers. Brian's wife, Dawn, was called into work as a spokesperson for the county, where she fielded press calls from
CNN
and other news outlets throughout the weekend.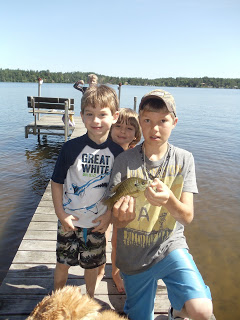 Catching a fish on Lake 26.
Over the next three days, we made the best of things and got to know each other, talking late into the night by lamp and candlelight. The lake was a godsend – it was clean, serene, beautiful. My son and daughter caught their first fish at Lake 26; they took their first kayak and canoe rides; and they enjoyed picking blueberries and roasting marshmallows by fire.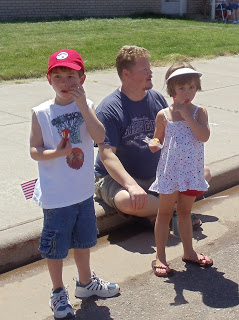 Fourth of July in Webster, Wisconsin.
The cabin slept 13 in total – and we all got along remarkably well given disrupted sleep schedules, a baby, and toilets that needed an infusion of water from the lake in order to flush. All of us from Atlanta got a healthy appreciation for Wisconsin flies (they bite), and the state's voracious mosquitoes who take over outdoors during the witching hour of twilight. On the fourth of July we drove into Webster and enjoyed a small-town parade, fire hose water contest, ice cream social and bingo.
The time flew by and concluded with a sunset cruise on Brian's boat through the lake, with the children taking turns in the captain chair. I'll never forget the last morning in the cabin being awoken to the sound of loons on the lake. If you have never heard their unique call, check out this YouTube video shot in Minnesota in 2006.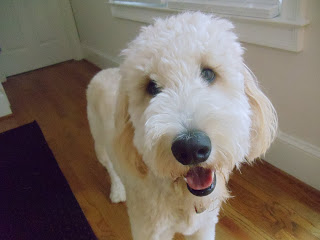 Two hotel stays and four books later, I found us rounding the turn into our subdivision in northern Atlanta , happy to be home with our functioning but empty refrigerator, air-conditioned house, running water and our Goldendoddle Missy.  I am thankful for the time we spent with all our family this summer, especially my husband's cousins on Lake 26 – where we now share much more in common than just a last name — but have a collective experience of being together in the aftermath of Wisconsin's summer storm of 2011.