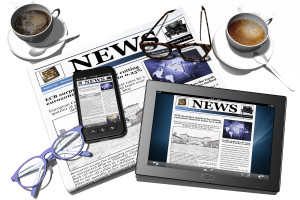 "Were it left to me to decide whether we should have a government without newspapers, or newspapers without a government, I should not hesitate a moment to prefer the latter."
                         – Thomas Jefferson
Not long after moving to Southwest Florida last November, I ran into a gentleman in front of Publix selling subscriptions to the local newspaper, The Naples Daily News. A journalism grad who had just relocated with my family from Atlanta, I was keen to sign up. I'd always loved printed papers, and mourned the decline of print journalism – a byproduct of the online revolution.
I asked him how sales were going, fully expecting to hear the same depressing outlook. He smiled, telling me that Naples has one of the best demographics of newspaper readers with its influx of affluent retirees. He predicted his community will always have a thriving newspaper, even as much of the rest of the world embraces online sources for staying informed.
I was excited to learn that sentiment echoed on Tuesday when two area newspaper publishers talked about the news business at the Gulf Coast chapter luncheon of the Public Relations Society of America.
Publishers Talk State of News Biz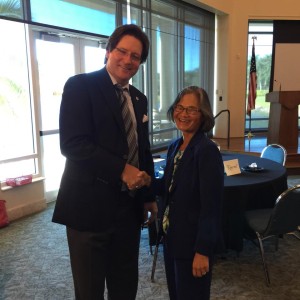 Bill Barker of The Naples Daily News and Mei Mei Chan of the Fort Myers News-Press were both upbeat about the health of their newsrooms and advertising base in remarks made to a room of professional communicators.
Chan, who joined the Ft. Meyers paper five years ago from Seattle's news market, kicked things off with a video marking her paper's 130-year anniversary that culminated this past November with an open h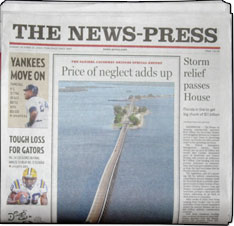 ouse at the paper.
Describing the complex processes that come together to get a paper out 24×7 as "The daily miracle," Mei-Mei admits that how we access news has changed since the early days of newspapers. Some readers remain loyal to print papers while others have evolved to e-editions, usually through their iPad.
Storytelling  that Resonates
"How can we reach this very fragmented world? How do we keep ahead of it and don't leave behind the legacy of the printed world?" she asked the group. Her answer: storytelling.
"Storytelling makes the difference – it's what drives us every day," she said.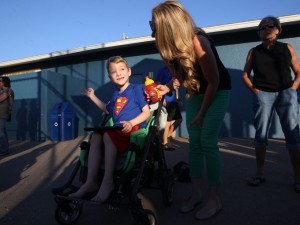 The challenge for news reporters is to find the stories that need to be told that can't be told any other way such as the story of Gavin, a five-year-old Cape Coral boy who was diagnosed with an incurable disease.
The human interest story told online and in print detailed his family's financial struggles and spirit, including his sister's super hero comic-book writing to give her brother hope in fighting the disease. The series on Gavin earned an Edward R. Murrow Award. More significant, the story touched readers, resulting in the family receiving $40,000 in aid within a week of the initial piece running.
"That's the kind of love and outpouring great storytelling can inspire," Chan said.
She considers the emergence of social media and new technology as a positive development because "we can compete as never before with our broadcasting brethren."
Reporters today have to wear many multimedia hats — not only interviewing sources and filing their stories on deadline for the print edition, but also shooting video so that the story can be told across channels.
Newspapers need to Engage, Report the Good and the Bad 
Bill Barker agreed with many of Chan's points, acknowledging that "we are in a big transition."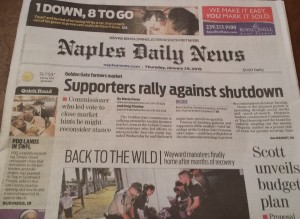 Barker was appointed publisher of The Naples Daily News in October 2013 after serving as publisher of The Tampa Tribune and president of Tampa Media Group Inc.,
"Engaging content is the key today," he said, adding that newspapers today must report both the good and bad news in a way that is "engaging, deep and meaningful." "Our role is to tell stories in a way that grabs you…enriches your life and helps you be a better person."
Barker told the group he loves coming to work at his paper's new headquarters and seeing the community engaging with the paper. "We open our building all the time to community events."
Sunday News Readers Eclipse Super Bowl Viewership Every Week
Even as many papers around the U.S. have shut their doors or gone to "web only," the E.W. Scripps Co. invested $95 million in the new 186,000 square-foot facility in 2009. In addition, both publishers reiterate that Sunday remains a huge news day for their readership. In total,  more people read the Sunday paper each week than tune in to the Super Bowl.
Barker said papers need to once again embrace their editorial voice – and take a stand on issues, noting, "Isn't it great that we're having conservations on Facebook about issues?"
He contends that newspapers don't have "an audience problem" – "we have a business model problem."
The news media's biggest challenge:  to leverage content and distribution to challenge how people think about issues.
"Newspapers still set the agenda nationally and locally. You should expect your newsrooms to be accountable – to have a voice and to have a reference to debate," Barker concluded.