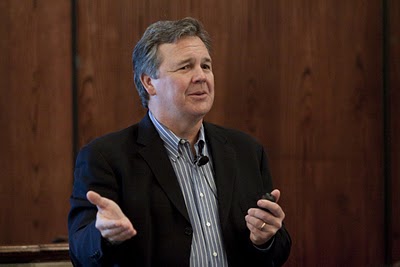 Jim Geiger. Photo by Leland Holder.
Companies often say that their employees are their most valued asset. But, few actually live those values.  I know of one exception, though —
Cbeyond
, a l
eading Atlanta-based IT and communications services provider to small businesses.
I've served as a freelance writer for Cbeyond for the last year, assisting with numerous internal communications writing projects. Those assignments gave me frequent access to employees, who I interviewed on topics ranging from customer retention and call center efficiency to team building and integrity.  While the story topics varied, one thing did not: how much Cbeyonders love their company. For someone who had long ago left the corporate ranks of Fortune 500 behemoths for independence from corporate politics, I found the culture at Cbeyond inspiring.
So, when the Atlanta chapter board of the International Association of Business Communicators was looking for candidates to present on internal brand building, I could think of no better company to present. Earlier this week our chapter had the honor to hear from Cbeyond's founder and chief executive who spoke to a packed audience.  I knew Jim Geiger was much more than a successful entrepreneur; he was someone who lives the values of his company. I have to say, his presentation did not disappoint.

Some facts about Cbeyond:
I

n 12 years, the company has grown from less than a dozen employees to more than 2,000.
Cbeyond sells voice, data, mobile and cloud services as well as website hosting, and has grown into nearly a half a billion in revenues, mostly through organic growth.
Today, it serves 60,000 US small businesses, and one-third of customers are referred to Cbeyond by other customers.
"We have very deep relationships with each one of our customers," says Geiger.
The company establishes feedback loops in various ways to ensure communication is strong with customers and employees. These include ongoing customer surveys and a commitment to world-class service for every customer.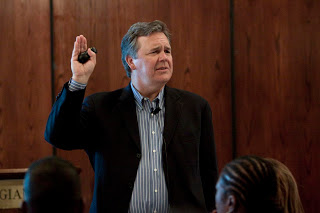 In launching the company, Geiger was guided by the idea that "what we did was as important as what we did for a living." He told seed investors that he wanted to "work with smart people I liked." For the last 12 years, he has focused on making the internal culture at Cbeyond driven by character and engaged employees.  
Geiger frequently speaks to employees in person and through videocasts. He hosts employee lunches.  In a company of 2,000 employees, there are only two assistants. Everyone works in cubicles. No one has job titles. When employees achieve their five-year anniversary, they are invited to a party – at Geiger's home.
"I am dedicated and try really hard to be a good communicator to our employees," he explains. From the beginning, Cbeyond's entrepreneurial CEO recalled, "We had a very strong culture but it just wasn't written anywhere."
That changed a few years ago, when the company developed Cbeyond's
Character Statements. At the presentation, Cbeyond's employee ambassadors in the audience took turns reading each character statement:
Care Relentlessly

Act Graciously

Lead Courageously

Learn Continuously
"We don't place blame," says Geiger, who also has found that as employees assume positive intent in every interaction, more positive behavior occurs and with it, a better working environment.  "It's a mindset," he says. "It's also okay to say, 'I don't know.'"
When hiring people, Geiger assumes that candidates are smart and capable, but what he really wants to know is if they will fit inside the character of the company.  "If you are a jerk I am going to fire you," says Geiger. That's why employees go through several interviews before being offered a position. 
"We are trying to desperately understand who you are as a person," he says.
During the presentation, Geiger quoted Tom Cruise, who once said, "Life feeds work and work feeds life."  He urges employees to be themselves and to share who they are personally and professionally "because in my world I can't separate the two."
As Cbeyond has grown to 2,000 staff, Geiger has focused on developing and training employees to ensure the company has a strong base of leaders in the future given its intent to promote from within. To guide those efforts, Geiger created a leadership model – an eight-point star that encompasses values such as creating vision, achieving results, demonstrating integrity, listening and learning, and empowering and trust.
"Do what you are going to say you do" is part of the fabric of the company's culture.  As evidence of his inclusive style, Geiger invited audience members to shared ideas and feedback to him directly through e-mail.
"I'm happy to learn from you," he told the group.